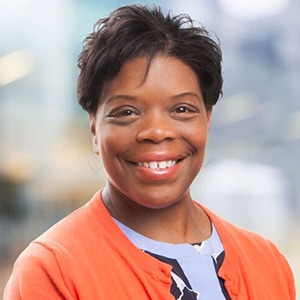 Felicia Cumings Smith
President
National Center for Families Learning
---
Board Secretary
A lifelong educator and national thought leader for teaching and learning, Dr. Felicia C. Smith brings decades of valuable experience to advance NCFL's mission of working to eradicate poverty through education solutions for families.
Prior to joining NCFL, Smith was the senior director of Global Delivery at the National Geographic Society, where she oversaw the domestic and global education strategy implementation and programming focused on transforming the classroom experience for millions of students and educators. She oversaw a team of regional directors charged to enhance partnerships with various education entities to inspire the next generation of planetary stewards.
Smith's career in education spans more than two decades where she has served in a variety of leadership roles in P-12, higher education, nonprofit, and philanthropy. Her career has allowed her to experience leading systems and understand every vantage point of a young person's educational trajectory from preschool to adulthood. She is driven by her commitment to equity and excellence for every learner. She has been a fierce advocate for teacher leadership programs, competency-based education, college and career readiness, policy transformation, and professional learning. Her non-traditional pathway to leadership has helped her maintain a focus on improving learning outcomes by ensuring effective classroom practices spread and scale across systems. She has advocated for transforming teacher preparation and in-service practices to promote the knowledge, skills, and dispositions necessary for educators to effectively implement innovative practices addressing the needs of learners.
Before working for the National Geographic Society, Smith served as assistant superintendent of Teaching and Learning in the 27th largest urban district (Jefferson County Public Schools, Louisville, Kentucky); as a senior program officer at the Bill & Melinda Gates Foundation; associate commissioner for the Kentucky Department of Education; and teacher leader. She began her career as a classroom teacher in the elementary grades and has taught as a preservice lecturer at the University of Kentucky. Smith has been recognized as an Aspen-Pahara education fellow and serves as a member on several national and local boards. In 2020, Smith was appointed by Kentucky Governor Andy Beshear to the Southern Regional Education Board, and recently, was elected to serve as vice chair. At the forefront of centering equity in education through inclusive programming, in 2020 she was selected to participate in The Equity Lab's prestigious year-long Nexus Fellowship.
Smith holds an Ed.D. in education leadership and administration from the University of Kentucky, and an M.A. in elementary education with an emphasis on K-12 literacy development and B.S. in elementary education from the University of Louisville.