Image Credit: Visit Palm Springs
Greater Palm Springs is Southern California's resort oasis, comprising nine distinct cities. From international film, sporting, and music events to over 100 golf courses and more than 300 sunny days annually, Greater Palm Springs presents a unique combination of escape, adventure, inspiration, and relaxation. For more: www.visitgreaterpalmsprings.com.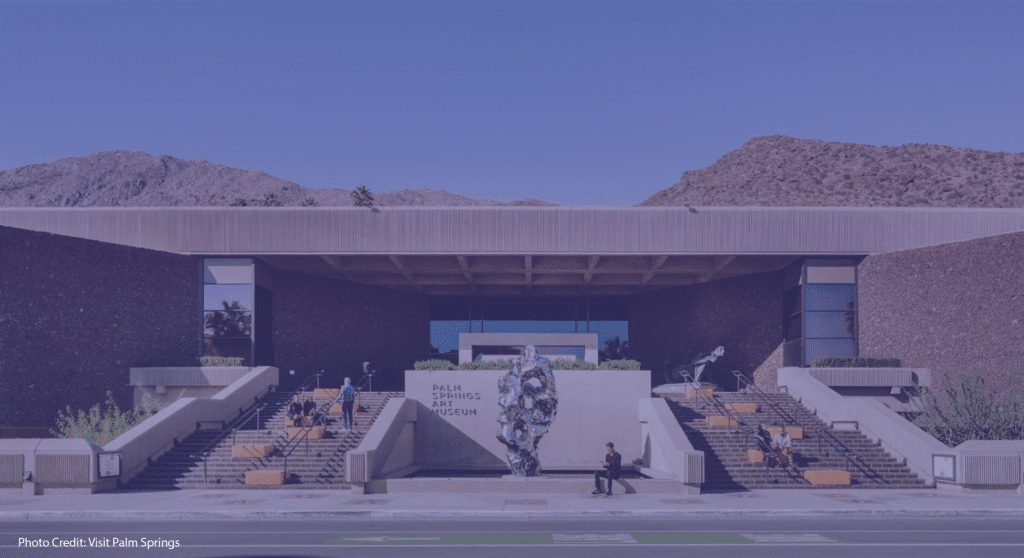 Black History in Palm Springs: Notable Architectural and Historical Sites 
Architect Paul R. Williams broke racial barriers when he became the first Black member (and later, Fellow) of the American Institute of Architects (AIA). Visit three of his prominent Palm Springs projects: The Town & Country Center, El Mirador Hotel, and Palm Springs Tennis Club. Additionally, learn about Lawrence Crossley, often known as Palm Springs' First Black Entrepreneur, who played instrumental roles in the development of the city, and was an advocate for better housing for Palm Springs' Black community. In the early 1930s, Crossley acquired some five acres, near East Ramon Road and South Sunrise Way, which he developed into Crossley Court, the first-known example of Black land ownership in Palm Springs. He also assisted in the development of Indigenous lands and was appointed as a guardian for ten members of the Agua Caliente Band of Cahuilla Indians. You can pay respects to him by with a drive along Crossley Road, near East Ramon Road and East Palm Canyon Drive, which skirts the Lawrence Crossley Neighborhood, guided by its proudly active Lawrence Crossley Neighborhood Association.
Indian Canyons Palm Springs
Centuries ago, ancestors of the Agua Caliente Cahuilla (pronounced Kaw-we-ah) people settled in the Palm Springs area and developed extensive and complex communities in Palm, Murray, Andreas, Tahquitz and Chino Canyons. Abundant water and hundreds of plants and animals found throughout the area ensured stable living conditions. Crops of melons, squash, beans and corn were grown, animals were hunted, and plants and seeds were gathered for food, medicines, basket weaving, etc. Many traces of these communities exist in the canyons today, including rock art, house pits and foundations, irrigation ditches, dams, reservoirs, trails, and food processing areas.
Joshua Tree National Park
With nearly 800,000 acres of mystical beauty, Joshua Tree National Park is undoubtedly one of the world's most incredible natural desert treasures. Sweeping, grand in scale and populated by granite monoliths and voluptuous rock and boulder formations, the park offers wonder to eco-travelers, outdoor adventurists, and naturalists. Two large ecosystems come together to form this quiet land, conducive to meditation and roaming, that have been carved by extremes in climate from wind to rain to an ever-present, relentless sun. Evidence of many diverse forms of plant life from creosote and ocotillo are found everywhere, but none as unique or prevalent as the park's namesake: the Joshua tree, standing majestically across the vast topography. During the day, life may seem scarce since the park is largely nocturnal – featuring reptiles and animals that adapt to the lack of water and high temperatures by going underground.
Living Desert Zoo and Gardens
The Living Desert Zoo and Gardens in Palm Desert is a unique zoo and botanical garden that specializes in the deserts of the world with a mission of desert conservation through preservation, education and appreciation. Mountain lion, leopard, warthogs, bighorn sheep and Peninsular pronghorn are just a few of the more than 450 incredible animals found in their natural setting that take you from Africa to North America. Feed a giraffe, watch the cheetahs run, admire the zebras, mimic a meerkat, interact with goats, explore nature and so much more.
Moorten Botanical Gardens
Located at the southern end of Palm Canyon Drive, the Moorten Botanical Gardens and Cactarium is a favorite Palm Springs attraction and the enduring legacy of Patricia and Chester "Cactus Slim" Moorten. Both shared a love of the Desert and its beauty, plants and wildlife. Nicknamed Slim for his tall lanky form and work as a contortionist, Moorten was one of the original Keystone Cops and became the stand-in for Howard Hughes. Poor health led him to Palm Springs in the 1930s with his young wife Patricia, a biologist with a special interest in botany. Together they explored the surrounding area collecting desert plants and in 1938 created an arboretum.
Palm Springs Aerial Tram
No trip to Palm Springs is complete without a ride up the Tram! Ascend 8,000 feet in the world's largest rotating tramcars. It is forty degrees colder at the top and a completely different universe as you soar through four different temperate zones that are analogous to traveling halfway across the globe! At the summit, you will find great hiking, horseback riding, (in winter, cross-country skiing), and, of course, some of the most incredible views on earth. On a clear day, it is possible to see Las Vegas.
Palm Springs Air Museum
The Palm Springs Air Museum is dedicated to the restoration, preservation and operation of America's legendary fighters, bombers and trainers. It contains one of the world's largest collections of flying WWII airplanes, including the Robert J. Pond Collection.
Palm Springs Art Museum
Founded in 1938, the Palm Springs Art Museum (formerly the Palm Springs Desert Museum) is the largest cultural institution in the Coachella Valley, featuring compelling art exhibitions, a vast permanent collection, and the 433-seat Annenberg Theater, all in a 150,000 square-foot, architecturally-significant building. It is the only major art museum located between Los Angeles and Phoenix. The museum's permanent art collection features 19th, 20th, and 21st century works focusing on contemporary California art, classic western and Native American art; Mesoamerican art, Mexican art, and European modern art; glass studio art, American mid-twentieth century architecture, and American photography.
The Shops on El Paseo
Over 250 delightful discoveries including enchanting shops and boutiques featuring fashion, jewelry, art, home, spas, dining and more. On El Paseo, you will find treasures every step of the way. Check the website site for a list of stores, a style guide, event information and the history of El Paseo.