Image Credit: Visit Palm Springs
The Aurora Institute Symposium 2023 will take place at the Palm Springs Convention Center (California) on October 15-17, 2023. The Convention Center is connected to the Renaissance Palm Springs Hotel. We have negotiated special group discount rates at the Renaissance, as well as several nearby hotels. Group rates for each of the hotels are offered up to three days before and three days after the conference dates based on availability at the time of your reservation.
Venue Information
Palm Springs Convention Center
277 N. Avenida Caballeros
Palm Springs, CA 92262-6440
The Palm Springs Convention Center is located in downtown Palm Springs, CA, just five minutes from the Palm Springs International Airport (PSP) and within walking distance of 1,600 hotel rooms, restaurants, museums, downtown experiences, and more. Nestled against the mountains, with sun-filled days and star-lit nights, this desert oasis is sure to rejuvenate and inspire Symposium attendees.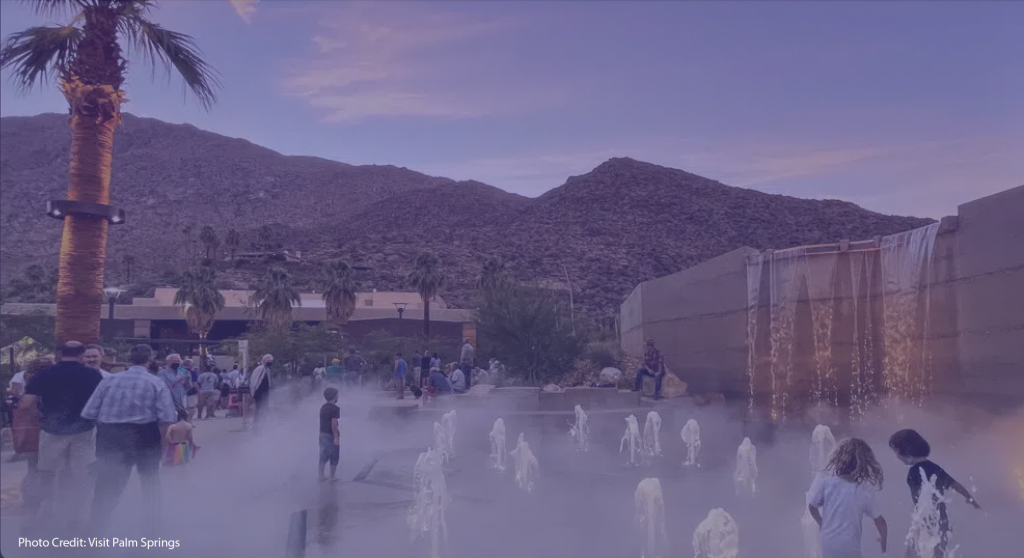 Margaritaville Resort Palm Springs
Reservation Deadline:
October 6, 2023
1600 North Indian Canyon Drive
Palm Springs, CA 92262
Quick Facts:
1.8 miles from Convention Center
Self-parking for 1 vehicle, Wi-Fi, fitness center, in-room coffee and tea, bicycle usage
Room Rate – $239
Guarantee
All reservations must be guaranteed with a major credit card. Individual hotels may require a deposit of one room night for each room booked. Please be sure to review your hotel confirmation very carefully to ensure dates are accurate. Incorrect reservations, cancellations, no-show charges, or early departure fees are not the responsibility of the Aurora Institute.
Penalties
Reservations that are not canceled within 72 hours of the date of arrival will be charged one (1) night's room and tax to the credit card used to guarantee the reservation. Each hotel's cancellation and no-show policy will be outlined on their respective booking website.
Third-party Housing Providers
WARNING! Booking hotel reservations through unofficial or unauthorized websites, or third-party housing providers may put your identity at risk and does not guarantee your room reservation. Please make your reservations via the reservation links provided on this page to secure your reservation.
Transportation Information
The newly renovated Palm Springs International Airport (PSP) is about 5 minutes from the above hotels and the Palm Springs Convention Center. Numerous carriers from major cities serve the airport. There are several transportation options available to get from the airport to the hotels, including shuttle services, taxis, and ride-sharing services. 
Ride Sharing: For pick-ups, follow the Rideshare signage to the designated area located at the south end of the terminal (click here to see pick-up location), in the commercial lane across the street from WestJet Airlines.
Parking: The PSCC has a parking lot located east of the facility (Caballeros Lot) and southwest of the facility (Andreas Lot). Other surrounding parking areas and vacant land are private property; therefore, vehicles parked on such property are subject to removal at the owner's expense.
Safety Measures
To meet the needs of the highest level of health and safety, the Palm Springs Convention Center is implementing a comprehensive and best-in-class program to provide the highest levels of cleanliness and safety, in partnership with leading medical professionals, industry experts, and public health officials. 
GBAC STAR™ is the cleaning industry's only outbreak prevention, response and recovery accreditation for facilities. Palm Springs Convention Center is one of a few U.S. Convention Centers that are GBAC accredited. This is the gold standard of prepared facilities. This accreditation means that a facility has:
*Established and maintained a cleaning, disinfection, and infectious disease prevention program to minimize risks associated with infectious agents like the coronavirus (SARS-CoV-2).
*The proper cleaning protocols, disinfection techniques, and work practices in place to combat biohazards and infectious diseases.
*Highly informed cleaning professionals who are trained for an outbreak and infectious disease preparation and response.