CompetencyWorks Releases New Reports on Key Issues in Competency Education
Education Domain Blog
---
In advance of the National Summit on K-12 Competency-Based Education, CompetencyWorks released new draft reports exploring key issues challenging the field of competency education:
These papers, which draw on the collective leadership, creativity and expertise of leaders across the country, will chart the course for the field of competency education through the next wave of innovation, implementation and expansion.
About the National Summit on K-12 Competency-Based Education
CompetencyWorks is hosting a National Summit on K-12 Competency-Based Education in Denver, Colorado on June 21-23, 2017. The Summit is invitation-only and will convene 100 leading innovators to move the field of competency-based education through the next generation of ideas and actionable outcomes, with a specific focus on equity and diversity. The Summit will tackle 6 issues: equity, policy, quality, meeting kids where they are, identifying emerging issues and revising the working definition of competency education. (Learn more about the National CBE Summit here.)
Leading up to the Summit, CompetencyWorks designed a participatory process to engage a wider network of experts and ensure we're tapping into the collective knowledge of the field through Technical Advisory Groups (TAGs). Through the TAG process, organizations, schools, and leaders engaged in deep conversations around important issues facing the field and shared their collective insights, which we incorporated into these reports. (You can see a list of TAG contributors here.) We are humbled by the dedication of these leaders in openly sharing their feedback and lessons learned to advance K-12 education.
During the Summit, attendees will discuss these key issues, collaborate on the field's challenges, and brainstorm solutions and best practices to advance K-12 competency-based education, using these reports to guide discussions. After the Summit, we will revise these reports based on the attendees' input.
Four Key Issues in Competency Education
There are four key issues that need greater clarification and guidance to expand and sustain competency-based education. Bringing together people with diverse perspectives (regional, position, race/culture, and expertise) to consider these issues and provide guidance at the Summit is an important, if not essential, step to the future success of competency education. During the Summit, participants will discuss these four important issues and generate findings to help with knowledge building and capacity building across the field.
Equity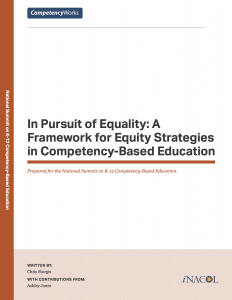 The role of public education has never been more important – it is the bedrock of democracy. Competency-based structures for education hold promise as uniquely powerful models for addressing equity, but only if equity is an intentional design feature of competency-based structures.
In the paper In Pursuit of Equality: A Framework for Equity Strategies in Competency-Based Education, three important concepts are introduced:
A definition of educational equity to guide the field's conversations.

A set of equity strategies that every district and school should fully integrate into new designs and instructional capacity.

A framework that includes a set of guiding principles for ensuring that competency-based education is fully designed to support equity strategies and ensure all students are growing and progressing.
Driving questions around equity in competency education include:
How can we promote equity within a competency-based system?

How can competency-based learning systems and schools make outcomes more transparent and take responsibility for addressing equity issues?

What do we know about improving equity? What elements should be integrated into competency-based structures? What practices should be integrated into any learning environment?

How can we work together as a field to ensure that competency-based systems take full advantage of what we know about equity strategies to benefit all students, especially those who have been historically underserved?
Quality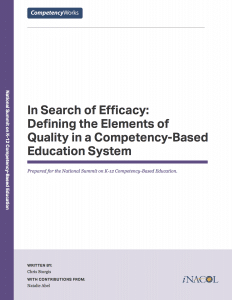 The paper In Search of Efficacy: Defining the Elements of Quality in a Competency-Based Education System seeks to identify what makes up the structures of a competency-based system and launches an exploration of what we might ask or see in a competency-based district and school that would be identified as high quality. In the paper, learning environments of a school are organized into four components: structure, culture, pedagogy, and learning experiences. The paper then explores nine domains of a competency-based structure with suggested questions and look-fors that would open discussion about quality.
Quality is necessary to realize the full potential of competency-based systems; however, defining quality, especially in an emerging field, is not easy because ideas are in flux, knowledge is developing, implementation of even the best designs is likely to be bumpy, and there is little evaluation to provide feedback. Weak design, piecemeal or poor quality implementation of competency-based education could have a damaging effect on the ability of competency-based education to advance or be sustained. Certainly, it will not provide the full benefit to students that's possible in fully developed, high-quality models.
Driving questions around quality within the report include:
What are the features one might expect to see in a quality competency-based school?

What are the approaches that can be used to promote quality in a competency-based system?

What does a high-quality competency-based structure look like?
Meeting Students Where They Are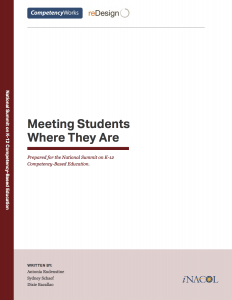 Competency-based education models are organized to meet students where they are in terms of academic, cognitive, and lifelong learning skills (growth mindset, habits of work and learning, metacognition, and social and emotional skills) whereas in traditional education systems, the focus is on grade-level content delivery to students based on age, rather than their appropriate zone of proximal development.
The paper Meeting Students Where They Are, written by a team from reDesign, provides school and district leaders with an in-depth exploration of the relational, pedagogical, and structural dimensions of meeting students where they are. The paper then explores what needs to be in place in a school so that teachers can better meet students where they are. The final section identifies five strategies that schools must put in place in order to minimize the impact of the traditional environment's focus on organizing learning by age and time, which most districts operate within.
Driving questions around meeting students where they are within the report include:
Which strategies help us navigate systemic constraints to address students' individual needs and strengths?

How do we know where students are in terms of academic and lifelong learning skills?

What do we do, once we know?
Policy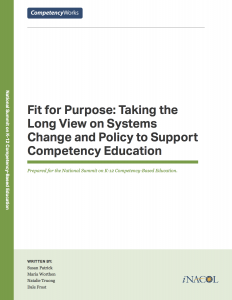 The purpose of the paper Fit for Purpose: Taking the Long View on Systems Change and Policy to Support Competency Education is a thought leadership piece to examine the necessary concepts for transformational change to competency education in the long term and introduces 'threshold concepts.' Threshold concepts are "core concepts, that once understood, are needed to transform a given subject."
Four threshold concepts are introduced and explored: certifying learning, assessment literacy, pedagogical innovations based on learning sciences, and meeting students where they are.
Driving questions around policy within the report include:
What are the issues, or

threshold concepts,

that state policymakers could be thinking about as part of a long game for transformation to student-centered learning?

What main challenges need to be addressed in the long term to create enabling policies and structures needed to support a fully-developed personalized, competency-based learning system?

What issues can policy start to tackle to address the challenges and create sustainable, coherent systems that help all students succeed for the long term?
The issues of equity, policy for the long-term, meeting students where they are, and quality are all important to explore more deeply at this time in the evolution of the field of competency education. This field could not have advanced as far as it has without the generous, collaborative spirit of its leaders and collective willingness to examine key issues. Stay tuned for more: CompetencyWorks and iNACOL will be sharing various sections of the reports in greater detail through an upcoming blog series.
Please join us in sharing these reports:
Ne

w @CompetencyWorks

reports out today on #EdEquity, Quality, #EdPolicy, & Meeting #Students Where They Are

http://ow.ly/Ty8J30bzbsN

JUST RELEASED:

@CompetencyWorks

reports on #EdEquity, Quality, #EdPolicy, & Meeting #Students Where They Are

http://ow.ly/Ty8J30bzbsN
Learn more: