New Report on Next Generation Learning Models for English Language Learners
Education Domain Blog
---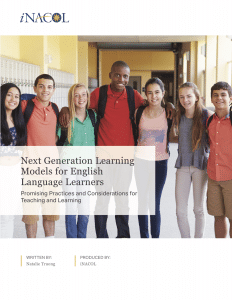 Next generation learning models hold promise for meeting the needs of English language learner (ELL) students and supporting them towards lifelong success.
iNACOL released a new report: Next Generation Learning Models for English Language Learners: Promising Practices and Considerations for Teaching and Learning, which seeks to highlight the promising practices and trends in personalized learning and competency-based education for English language learner students. This paper is designed for practitioners, including educators and education leaders, who want to advance next generation learning models to reach every student, and informs and empowers the field with examples from schools and programs creating personalized, competency-based environments for ELL students.
Our focus on ELL students is twofold: First, in order for next generation learning models to realize the promise of delivering high-quality educational opportunities to better meet students' unique needs, we must take responsibility for ensuring that every student benefits by mastering the skills they need to succeed, and that every student, no matter their background or primary language, is learning, progressing, and on their way to building the competencies required for college and careers. Second, ELL students are the fastest growing and largest student subgroup in our public schools today, yet many traditional instructional models struggle to apply the research on how students learn best by meeting students where they are academically, socially and emotionally. We have an imperative to examine promising practices across next generation learning models to transform teaching and learning for ELL students.
As the number of ELL students continues to grow in the U.S., education programs face an imperative to improve achievement for these students. Education programs must recalibrate to become more student-centered. Learner-centered teaching and learning is necessary to better serve students with diverse backgrounds and skill sets. Not one approach may work for all ELL students; however, competency-based education and personalized learning approaches hold promise for meeting students' needs no matter where they are in their learning. Next generation learning models need to be designed to embrace the diversity of ELL students, provide innovations in support of equity and transform learning for all students. By supporting ELL students toward achieving mastery in language development, literacy, social-emotional and academic knowledge, skills and dispositions, educators are discovering new ways to provide research-based practices that better preparing students for future success.
The field of K–12 education is in early stages of designing new, next generation learning models that hold promise for better meeting the needs of all students. This report is focused on analyzing how schools are beginning to innovate, how their approaches are aligned to the research on how students learn best, and specifically, how ELL students learn best. While these next generation models are nascent and most are fewer than ten years in implementation, our goal is to provide examples of case studies of how the field is beginning to take hold and suggest lessons learned for the evolution forward.
The case studies in this paper represent promising practices in the field using personalized, competency-based learning specifically for ELL students. Case studies in the report include:
International High Schools

Distinctive Schools

UCLA Project ExcEL Schools

Lindsay Unified School District

Westminster Public Schools

Cesar Chavez Multicultural Academic Center
For more information on next generation learning models for ELLs, download the full report here, and stay tuned for a blog series sharing insights from these reports.
Learn more: