New Report Outlines Functional Requirements for Integrated Systems to Optimize Student-Centered Learning
Education Domain Blog
---
This is the second blog in this series featuring the report Student-Centered Learning: Functional Requirements for Integrated Systems to Optimize Learning. See the first blog post here.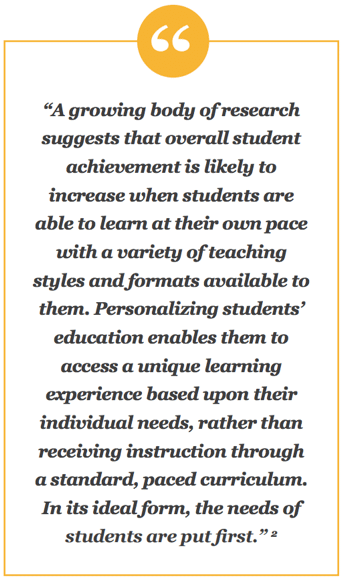 Today, we know more than ever about how students learn, acknowledging that the process isn't the same for every student and doesn't remain the same for each individual, depending upon maturation and the content being learned. We know that students want to master new concepts and skills, to access a variety of resources, to receive timely feedback on their progress, to demonstrate their knowledge in multiple ways and to get direction, support and feedback from—as well as collaborate with—teachers, tutors, experts and other students. How do we take these needs into account as we support educators and prepare all of our learners for success?
Student-centered learning encompasses personalized learning, competency-based education, anytime, anywhere learning and student ownership. How districts and schools implement student-centered learning varies greatly according to the organization's philosophy and the needs of the students.
Technology can play a powerful role in the implementation of student-centered learning if used for empowering educators and students and learning teams. Schools and districts across the United States are exploring new and powerful ways to design education around proficiency, requiring current IT systems to offer functionality to support student-centered learning.  This includes easy-to-use tools for educators to upload evidence of demonstrated competency attainment through student work and recording proficiency-based grading as well as teacher dashboards for useful resources to personalize instruction.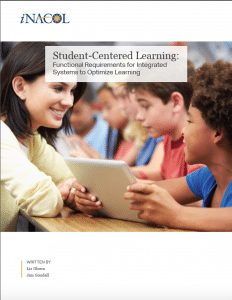 The report Student-Centered Learning: Functional Requirements for Integrated Systems to Optimize Learning helps build understanding on the functional requirements to create integrated systems for student-centered learning. This framework explores the facets of designing a truly student-centered, integrated information learning management system to drive and scale personalized learning, creating world-class learning opportunities for every student.
Download the report to learn more about:
The promise of student-centered learning;
Designing student-centered learning integrated information systems, with requirements and use cases;
Shifting from traditional course-based information systems to student-centered learning integrated platforms;
The core functions of a robust, student-centered learning ecosystem needed by educators and students alike; and
Understanding and applying interoperability standards and specifications.
This research examines the needs of practitioners, educators, parents and students and explores how technology tools can address those needs within the context of student-centered learning. It proposes a specific set of enterprise-level capabilities and discusses the functionalities that information systems need based on a student-centric instructional cycle. It also outlines the system requirements and functional capabilities for an integrated system to manage student-centered learning. The approach taken in providing this framework is comprehensive. It is unlikely that a district or school would implement all of the functionality and correlated systems in the beginning of their journey towards student-centered learning. In determining what systems to use and integrate, an organization must determine what it wants to accomplish through the use of these systems and how this aligns with the organizational vision, educational goals and strategic plan. The paper includes some suggestions on how to approach this.
Susan Patrick, iNACOL President and CEO, said: "This paper will help school and district leaders prepare Requests for Proposals (RFPs) for new, integrated systems to support student-centered learning in understanding the requirements and needs beyond simple feature lists. The research helps identify the integrated systems functional requirements and specify needs of teachers and students in student-centered learning environments. As schools and districts analyze their own requirements, they can walk through the various scenarios in this report from the teachers' and students' perspectives to ensure that platforms can meet the practical needs of student-centered learning. By creating systems to support learner-centered instructional models, we can optimize and maximize the learning opportunities for each and every student's needs."
Download the report and share with your colleagues and peers.
For more information, please see:
Learn more in our upcoming June Leadership webinar: Exploring Integrated Learning Systems to Optimize Student-Centered Learning.