CBE in Chicago
CompetencyWorks Blog
---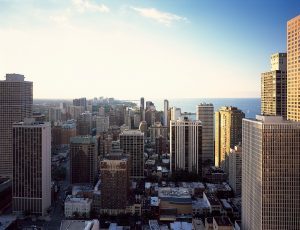 This is the first post in a series covering my recent trip to Chicago.
Chicago perseveres. And it is paying off in education – most trend lines are going in the right direction. I started visiting Chicago to learn about their efforts to improve education over twenty years ago. It's a huge city (the district has 516 district-run schools and 125 charters serving a student population with over 80 percent at an economical disadvantage) working within the context of historical racism that created rigid segregation. (Please put The Warmth of Other Suns: The Epic Story of America's Great Migration on your reading list.) It's obvious that these dynamics are still at play, limiting opportunity and sometimes breaking the social contract. Yet, there are hundreds of organizations and thousands upon thousands of educators who, day in and day out, are working to improve educational opportunity in Chicago.
In terms of competency-based education, there aren't 1,000 CBE flowers blooming in Chicago…yet. There are shoots popping up in the city, school by school. I visited four schools on the move. Thanks to Amy Huang at LEAP and Alan Mather and Dakota Pawlicki from CPS's Office of College and Career Success, I was able to visit Lovett Elementary, CISCS West Belden, Robert Lindblom Math and Science Academy (Lindblom), and Benito Juarez Community Academy.
State Policy Context
In 2016, Illinois state legislature passed the Postsecondary and Workforce Readiness Act, which included a competency-based pilot as well as an effort to begin the calibration process between graduation expectations in mathematics and freshman-year mathematics in higher education.
The IL Department of Education has launched the Competency-Based High School Graduation Requirements Pilot Program for twelve districts to "replace high school graduation course requirements with a competency-based learning system." The pilot only focuses on grades 9-12, although districts will quickly learn that they are going to want a full district system – otherwise there is a constant flow of students with big gaps in their learning, as students in the earlier years are passed on without ensuring they are mastering the fundamentals.
See articles on IL for more information:
CPS Pilot
Chicago is already in high gear to create a pilot under the state legislation. Mather explained that they are looking for a "coalition of the willing" among high school principals. They also want it to be a full vertical progression so that one academic department can be the pilot, but not any one single grade level. They also are working with Chicago City of Learning powered by the Digital Youth Network to develop a platform that will support anytime/anywhere learning, such as through Genesys Works or other citywide CTE programs. This is important: For Chicago to successfully transform their community and reduce violence, they need to make sure that teens and young adults are forming strong bonds with the labor market and employers.
Mather explained that their approach is to be inclusive so the pilot will show how competency education would look in different schools. Right now, the short list includes three selective schools, Brooks, Peyton (one of the US's higher performing high schools), and Lindblom (see upcoming article); two alternative schools, Southside Occupational and York (serving incarcerated young people where the average stay is 180 days in the Cook County Jail); and Juarez, a neighborhood high school (see upcoming article). The Board President and CPS CEO are behind the pilot as an important step toward personalizing learning. Chicago Teachers Union President Karen Lewis is also supportive of competency-based education.  
LEAP
Chicago has a lot of different organizations supporting education, including the catalytic University of Chicago Consortium on School Research. LEAP has quickly grown to be one of the leaders in supporting schools and teachers to personalize learning. They have received funding through Educause's NGLC Breakthrough Schools and also provide national leadership with the Learning Assembly. (See upcoming article on LEAP.)
The schools in the LEAP network are making inch-by-inch progress toward competency-based learning. For the most part, Chicago schools are structured K-8 and high school. A number of the K-8s have introduced standard-referenced grading (based on progress in grade-level standards) to think about how to move to competency-based progressions (teaching and monitoring progress based on where students are in their own progression).  
What Chicago is Bringing to the Conversation about Personalized Learning and Competency-Based Education?
Intermediaries make a huge difference in how schools move forward, the ideas and resources they tap into, and the culture that forms within and across schools. LEAP's four part framework for personalized learning (they are just now building capacity around competency-based education) is challenging ideas of what the learning environment looks like (with modular and diverse seating, including hallways) and new insights on scheduling so that both students and teachers have an opportunity to reflect, get extra help, and access time for learning and planning. There is a strong learner-centered philosophy opening up opportunities for students to take more responsibility and more leadership. They are also playing a catalytic role in helping online learning vendors improve their products and teachers learn how to implement them with fidelity.
Chicago is also raising questions about what personalized, competency-based learning is going to look like when a majority of students enter the classroom without the prerequisite skills for grade level standards. In the elementary schools I visited, there was a strong emphasis on meeting students where they are so that they fully build their foundational skills.
It looks to me like there is also going to be an issue of calibration. Teachers remarked that the CPS performance tasks are lower than what they think the Common Core and trajectory to college really requires. As more schools become intentional, transparent, and competency-based it may be helpful for LEAP and/or CPS to support a cross-school calibration process.
See also: