Conversations about Learning at Da Vinci
CompetencyWorks Blog
---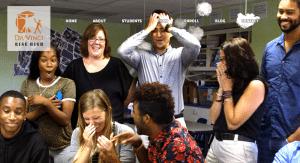 This is the second in a three-part series on Da Vinci Schools in California. Start the series here.
"Fail forward, fail fast." That seems to be the mantra of Matthew Wunder, co-founder of Da Vinci Schools, about designing and running schools. This phrase popped up several times in our morning together, "Failure is a chance to reflect, a chance to get to know students better, a chance to improve a project or instruction."
Creativity flows within the Da Vinci team. In fact, there was even a resistance to thinking of their approach as a model, as there isn't just one way to do anything. Wunder noted that running different models that stretch from schools for homeschoolers, more traditional high schools, DVX Extension (a bridge program for students to pursue college credits while still in high school), and RISE (for students needing highly personalized approaches) keeps the creative juices flowing. "Having different models challenges our idea of how we organize the set of schools." Every year they select a professional learning theme. They encourage staff to visit other schools. They seek ways to support parents as educators.
As we talked about what made the Da Vinci system of schools effective, Wunder noted, "Our principals have a lot of autonomy. That is what is wrong with districts and most CMOs – decisions are made too far away." A principal we spoke with emphasized, "Autonomy and cultivating educational leadership in every staff member is why Da Vinci is able to do what it does. There isn't one way of instruction. We are always in the process of discovery. The art of leadership is to determine what should be similar, what needs to be co-designed, and what has room for individual discovery and innovation."
The culture of Da Vinci is often described as a family (an indicator of a high performing organization). A principal explained, "We are solutions-oriented. When there is a problem, we go to the source. And we avoid triangulation. We celebrate and are very intentional about celebration." Social time together with staff and with parents is important. So is unstructured learning time. They call it unprofessional development or unconferences. Teachers or parents define what they want to talk about and what is on their minds.
Wunder expanded on this idea in terms of the culture they are building for students. "People don't care what you know until they know you care," he explained. "How we treat students, the culture across the schools, is held tight. We hold that guardrail closer in because it is so important. On the other hand, staff have room to explore beyond signature practices and processes."
Somewhere in the Da Vinci website I discovered a fun list of resources. I think it is worth sharing, as it might be helpful to districts and schools making the move toward cultures of learning and inclusivity and more inquiry-based pedagogy:
What Inspires the Da Vinci Community
Articles and Videos That Make Us Think
Read the Entire Series: