Everybody Learns: Communication Tool Kits
CompetencyWorks Blog
---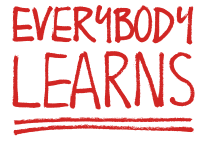 For any district or school leader starting to talk about the need move away from the traditional, standardized education system to a personalized system, you know that paying attention to communication is important.
First and foremost, you are going to have to be ready to engage in and facilitate conversation – it is through dialogue that people can shed their old assumptions and embrace the idea that we can do better by all of our students through personalization.
However, it helps to organize your thoughts and practice a bit before you go forth. No one should lead with why we need competency-based or proficiency-based systems – we want to lead with the story line of why this is good for kids. Then, as you begin to get deeper into the conversation, you'll pull out the language to help people understand the limitations of a time-based, A-F system and the potential of one that actually has the structure in place to make sure students are making progress, not languishing in the back of the class.
Here are three resources that will be very helpful in preparing (and also a third piece that just inspired my language and vision after reading it):
And for inspiration, check out the Common Ground Ecosystem to see how folks in Brussels are putting these ideas together. Everybody Learns!