Getting to Know Students' Business: A Conversation at Lincoln-West's Schools of Global Studies and Science & Health
CompetencyWorks Blog
---

This is the third of a five-part series on competency-based schools in Cleveland Metropolitan Schools.
Lincoln-West is a large comprehensive school being redesigned into two smaller schools: the School of Global Studies and the School of Science & Health. These two schools are being designed as mastery-based schools. Both schools had only six months under their belt when we visited. They have used the same design principles and design process but have created cultures, learning experiences, and established community partnerships that reflect their themes. For example, students at Science & Health spend time learning in a hospital, and Global Studies offers an array of service learning opportunities. Below are conversations with principals and teachers at the two schools.
A Conversation with Principals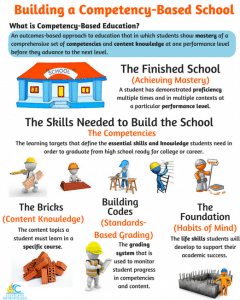 Christopher Thompson, principal at the School of Science & Health, said, "We've learned that it is important to be very intentional about onboarding veteran teachers. They've learned and worked in traditional schools all their lives. Resetting their orientation and mindset takes time." Irene Javier, principal at the School of Global Studies, emphasized that the growth mindset is important for students and teachers. "We took advantage of the design process for all of us to reset our mindsets," she said. "We used the process almost like a meditation so that each person was able to see their new roles and how they could contribute. It's important to celebrate how much is being accomplished in such a short period of time."
The process of hiring came up several times. The principals emphasized that attitude is equally important to skills. It's important to make sure that teachers understand what they are signing up for. Thompson noted, "We found that we needed to look for a specific set of qualities. Teachers need to have a growth mindset for themselves, expertise in differentiation, a positive attitude toward learning and building relationships with students, and strong knowledge of instruction and assessment. Oh, and they need to know the standards."
Javier expanded, "This looks daunting at first, until teachers understand that there are lots of supports to this structured way of teaching and learning. Essentially we are staging the learning curve. We are intentional about what we want students to learn with clear plans balanced with flexibility because students shape the learning process as well. What's most important is to always celebrate what teachers bring to the learning process and their accomplishments in expanding their skills."
Darcel Williams, Program Manager for New School Model, explained, "Principals play a critical role in instruction at any school. However, at a brand new school it is particularly important for principals to be engaged with teachers." Javier continued, "We have 75 percent brand new teachers and 25 percent veterans. They have different issues. The older teachers struggle because they feel less confident than they have in the traditional system. But they are already saying that the change has been worth it to see students so engaged." The district has also been helping with building the educator capacity by offering professional learning before the opening of the new schools, much of it introducing and role modeling the new practices.
One week of professional learning was offered in May for the staff of the new schools. During that time they worked together to create curricular maps with their peers. For example, a team might include one ELA teacher, two interventionists, and two bilingual paraprofessionals so that important strategies for serving students with disabilities and those learning English are embedded into the curriculum. Javier smiled in recalling this process, "Teachers can conquer the world when they collaborate." The curricular maps went through two to three reviews to improve the quality, make connections with the themes of the schools (service learning for Global Studies and hospital internships at Science & Health), and ensure they were organized for students with different sets of skills to be able to make progress. Advisory also created its own ten-week map, including introducing students to learning within a competency-based structure.
A Conversation with Teachers
The teachers highlighted many of the benefits of the competency-based approach and the overall model. Teachers found great satisfaction in building relationships with students. Andrese Howard, a first year teacher explained, "We have lunch with students every day. We talk about what's going on. We get to know the students' business. We text kids who aren't in safe environments." This kind of trusting relationship is important in finding the things that matter to students to help them build intrinsic motivation. Offering choice within the curriculum also helps, as teachers can learn what is interesting to students. Another teacher noted that the way the schools were organized allows and encourages relationships. For example, advisory is an important part of the overall design of the school to ensure teachers are checking in with students daily.
Vicente Suarez, a first year math teacher, noted that seeing students' growth inspired him. "You can see the growth of the students, whether they are struggling or they are one of the kids at the top. They are all growing and there isn't any sense of failure – just that you aren't there yet." He paused and added, "It's really true – no child is left behind, even the students with the biggest gaps who take the longest amount of time to learn something are making progress. Kids are growing as students and also in terms of their own understanding of themselves. They are discovering their inner selves."
Teachers noted that students were motivated by having more control over their learning and could take more or less time before they moved on. Daniel Greiner, a math teacher with four years of experience, pointed out, "Peer pressure is proving to be helpful. Many students are motivated to catch up with their peers."
Michael Gong, a second year science teacher, remarked that it was really helpful to have more focus on skills rather than just content. "In science you can Google just about anything these days," he said. "Any student can look up the answer to what is a mitochondria. Our classes are more challenging and more interesting because we engage students in thinking about what they do with the information and how they use it."
A discussion with relatively new teachers in brand new schools illuminated many of the struggles teachers face in getting their feet under them in the teaching profession. For some, planning was the only thing helping them to stay on top of things. Teachers commented that they have to stay ahead of the students who are moving quickly through the units, otherwise they end up just giving supplemental work rather than truly allowing them to advance. In terms of challenges, working in a new school meant that there were bumps along the way, and the power of the model didn't really become clear until January. Teachers are finding grading to be more difficult as they have to think carefully about why they are marking a student a certain way using the rubrics and becoming intentional about how to provide feedback. Others noted that when the focus is on standards, sometimes the larger competencies can start to get lost.
Greiner explained that as students build their ability to manage their studies and become high functioning self-directed learners, they increasingly work at their own pace. They can take advantage of adaptive programs such as Khan Academy to advance more quickly, sometimes at twice the speed as the rest of the course. Of course, differentiation requires teachers to be prepared to offer different units to different students at different times. It also requires them to be prepared to offer instructional support as needed on a wide range of standards.
Gong noted, "Competency-based education works best if students are independent learners. But they've been raised to be totally dependent learners. It's important to remember that part of the learning process is helping students to become more independent and to know themselves as learners."
Read the Entire Series:
Post #1 – Cleveland: Where Pedagogy Comes First