How Schools Develop Student Agency
CompetencyWorks Blog
---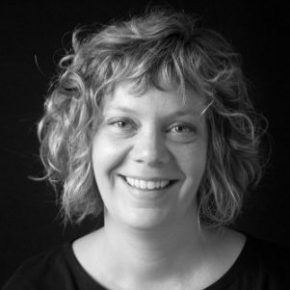 This post originally appeared at Getting Smart on May 28, 2017.
Through the tenets of agency, we help students see effort and practice in a new light and associate both as growth paths and, ultimately, success. We can provide students with the skills to rebound from setbacks and build confidence as they welcome new challenges. Instilling the principles of agency helps students find personal relevance in their work and motivates them to participate actively, build relationships and understand how they impact themselves and their communities. – New Tech Network
Developing student agency. Given the rate of change in the world, helping young people take charge of their own learning is more important than ever. This post includes an interview with Alix Horton, a School Development and Literacy Coach for the New Tech Network, as well as a few thoughts from Randy Ziegenfuss, a Pennsylvania superintendent.
What is agency? In short, managing your own learning. New Tech schools share rubrics that identify the ability to develop and reflect on growth mindset and demonstrate ownership over one's learning. Below is the rubric for fifth grade.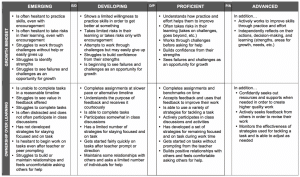 How does NTN measure agency? 1) Growth mindset, or the belief that through hard work you can get better, and 2) Learning strategies to gather information, manage stress, and work with other people in order to do the learning you need to do.
What builds agency?  Carnegie Corporation identified culture and authenticity as key:
Culture and relationships that make student feel like they matter in the school community, and
Authenticity: purposeful work that matters to students. students will have a lot more persistence and agency if the work is purposeful through high quality project-based learning.
We expect elementary students to tackle and monitor learning with a lot of teacher support in terms of what questions to ask, where to look, how to gather information. A high school student has more ability to ask questions, find resources and find answers on their own. There is a handover component where teachers are doing more support at the lower levels and handing the work to students at the upper levels.
Why is agency important? Having a growth mindset affects how a student persists in overcoming learning challenges. Persistence and the ability to manage one's own learning is an outcome that will serve a student well for the rest of his or her life in any capacity.
How is agency developed? What agency looks like in first grade is very different than 7th grade or high school. The NTN agency rubrics step down the demands by focusing on fewer learning strategies with more expectation of teacher support at the lower levels. Kindergartners will need a lot of teacher support to manage frustration, work with students and manage their learning process. At the lower grade levels we focus more on social emotional learning– managing emotions and dealing with frustration.
Have an example? Washington Discovery, in Plymouth Indiana, wanted to address growth mindset with their third grade students (featured image). By having the students prepare for a 5k race, the students were able to focus on growth mindset in a tangible and concrete way. The students read about agency in abstract ways and then trained for the race and encouraged others to join the race. In addition, they had a community partner and raised money for an accessible playground for differently-abled students. This allowed them to learn about the challenges that others may face and how others persist.
The driving question for the Dare to Dream project was, "How can we convince people to do something even if it is challenging?" Student products included five paragraph persuasive essays (prompt above), T-shirts with handmade designs, commercials for the run, a map of the path–and of course the race!
Agency in Salisbury
Last year superintendent Randy Ziegenfuss lead the Salisbury Township School District in a community conversation about what graduates should know and be able to do. They developed a new profile of a graduate which serves as a compass for all learning activities.
"Too much of education has been about the map – following a prescribed path, learning "delivered to" the learner, standards, grade levels, leadership hierarchies, and on and on," said Ziegenfuss. He added, "Learner-centered embraces the compass over the map." Randy sees agency as key to developing the agility to thrive in a world of exponential technology. Below is a picture of the Salisbury vision for learner experience.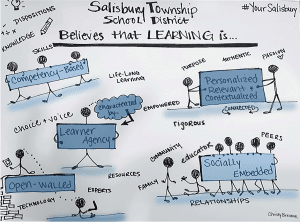 To promote learner agency, Salisbury teachers "recognizes learners as active participants in their own learning and engages them in the design of their experiences and the realization of their learning outcomes in ways appropriate for their developmental level." They identify three components:
All learners are active participants in lifelong learning, engaging personal choice and voice as they progress through competencies.
Learners should have opportunities to develop entrepreneurial attitudes and skills.
Co-curricular and extracurricular activities provide valuable opportunities for building character and developing cooperation.
See also:
---
Sydney Schaef, M.BA., M.Ed., is an educator, entrepreneur, and school design consultant. She currently works as a Mastery Learning Designer at reDesign and a design consultant for Building 21. She served at the School District of Philadelphia from 2013-2015 in the Office of New School Models, and prior to that, served as Founder and Executive Director of a 501c3 nonprofit organization that led innovative education and youth development programs in East Africa. Follow Sydney on Twitter at @sydneyschaef.