Increasing Credits Earned at Initial Point High School
CompetencyWorks Blog
---
This is the fourth post in a series on Mastery Education in Idaho. Links to the other articles in the series can be found below.
Kuna School District in Idaho established Initial Point High School eight years ago because it believes that every student has the "potential to be successful socially and academically if they choose the correct environment and apply themselves." Initial Point, founded by Lora Seabaugh, is designed with attention to building strong relationships and supporting students in their social and emotional development. Seabaugh explained that the potential of a mastery orientation was sparked when Kuna's superintendent, Wendy Johnson, asked, "What makes Initial Point alternative?" This launched a period of reflection and engaging parents and students. They realized that the traditional model of covering the curriculum was exposing students to knowledge and skills, but wasn't designed to actually make sure they were learning. They started asking themselves how they could help students get "back on track" to graduation in terms of both credits and skills.
They first turned to the state's Idaho Digital Learning Academy, but it didn't fully meet the needs of an alternative school designed for students who would be entering and exiting throughout the year. Kuna School District then selected Schoology as the learning management system, allowing much more flexibility for Initial Point's design. Students enroll in three to four classes at a time with flexible pacing if they need to fill gaps or need more time to fully learn something. They don't want students doing more than five courses, as they believe it is important for students to have the opportunity to slow down and really learn the material. When they finish a course, the school celebrates by ringing a bell and the next day the student will enroll in the next course.
They have been using a rubric from reDesign to build their capacity to design strong curriculum. Seabaugh explained that "curriculum is more rigorous than before we were mastery-based. We have to think more closely about how the curriculum will help students learn the content." They have introduced performance tasks at the end of each course to ensure that every student is able to apply their learning, not just show comprehension. As in any competency-based school, students have the opportunity to revise the performance task until they have reached proficiency. She also noted that trying to personalize and meet students where they are means an increase in the number of courses that need to be offered. This is putting strain on teachers, as they have had to prepare the online units to be placed within Schoology. This may get better as the courses get prepared, but as one would expect, teachers want to review and improve courses.
An administrator at Kuna School District is also a parent of a student at Initial Point. She enthusiastically explained, "This is the first time my daughter will answer the question 'What did you learn at school today?' We talk about the performance tasks she is doing. She understands why she is doing the task and how the knowledge can be applied in the real world."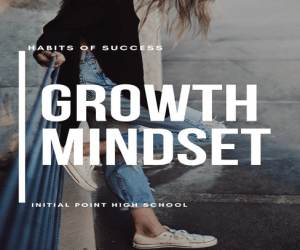 There is a strong focus on habits of success at Initial Point, with big posters that include growth mindset, self-regulation, and decision-making. At first, Initial Point tried to score the Habits of Success, but that didn't work at all. Now they introduce students to the Habits of Success when they first enroll, and teachers seek ways to bring it into the conversation. The best opportunity to help students reflect on the Habits is when students are not staying "on pace." They are also working with students to take responsibility to manage their emotions, whether this means allowing students to blow off steam by taking a break, throwing around a basketball, or seeking out a counselor when they need to talk.
Students schedule themselves to meet with teachers as they need help. There are pacing guides for the students to help them gauge if they are putting in enough effort. The pacing guides can be adjusted, and some students will request that a teacher "pace me out in four weeks" rather than the standard nine-week schedule. In this way, students have control over their pace and are also offered a timeline to help them build their efficacy and time management.
The average credit earned for students has increased from four per year to six. Seabaugh emphasized, "We are not a credit mill. The students are expected to show that they learned the material and demonstrate their learning. The difference is that we invest in helping them build the skills to be independent learners and have more control over their learning."
We began to talk about some of the challenges facing Initial Point to effectively implement mastery-based learning. As in all schools, math is challenging because of the high level of dependence on prerequisite knowledge (check out this website that shows the relationships of math standards). At Initial Point, students are directed to an intervention to help them fill in the holes. Essentially, a course is designed around their individual needs to help them prepare for the high school level courses.
Seabaugh said that in order to maintain the strong relationships (and the size of the facility), 110 students should be the maximum. However, they are currently serving 120 students and contemplating whether the model can be expanded to serve 170 given demand. It's clearly an indicator of their success that students are coming to Initial Point and also an indicator for the district to think about how to create greater personalization at the high school.
Scheduling is also something they are trying to get right. They've pushed the beginning of the day back to 8:30-2:00. Teachers want more structured time with students, and they began to consider a four- to six-period day. But 82 percent of the students preferred the flexibility offered at Initial Point. In general, students are focused and getting a lot of work done. However, Seabaugh and the teachers are still concerned that there is too much downtime during the day.
As in every competency-based school, time is now a resource to be used, not a proxy for learning.
Read the Entire Series: