Kettle Moraine: How They Got Here and Where They Are Going
CompetencyWorks Blog
---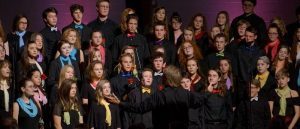 This article is part of a series on personalized, proficiency-based education in Wisconsin and the second in a ten-part series on Kettle Moraine. Please read the first post on Kettle Moraine before continuing to read this post, as it will prepare you to fully take advantage of the ideas and resources shared in this series.
Before they turned to personalized learning, Kettle Moraine School District (KM) was already considered a high performing school district, with 80-90 percent of students going on to post-secondary education and training and numerous recognitions of excellence every year. Superintendent Patricia DeKlotz explained, "How we think of success and high performance is based on what we measure. Eighty percent of our students go on to college, but only 45 percent of those students complete post-secondary. We want to measure ourselves based on things that really count for our students. We know we can do better. We know we can create more relevance for our students and their futures. "
In fact, some people interpreted the suggestion that there should be change as an indication that there was a problem. DeKlotz explained, "When we first started talking about personalization, some people didn't understand why. They saw it as we aren't good enough. But that wasn't the case at all. We are changing because we can do better, not that we are failing. This is important because trust between a district and the community, between schools and parents, begins with the belief that we are doing the very best for students. It's important to begin from a position of strength if you can." Assistant Superintendent Theresa Ewald added, "Many of the traditional measures of success used are those that were set in a time when few attended college, when knowledge was less accessible to all. The context has changed, so must the measures of success."
There was another driving force: finances. Wisconsin, like other states, hasn't been keeping up with increases in inflation, and the cost pressures are significant on districts. KM had had revenue limits in place since 1993. DeKlotz described that previous response to the tightening fiscal situation was to try to cut programs and drop things from the budget. Her background in business and familiarity with the Kaizan approach encouraged her to find another way. As did meeting Richard DeLorenzo, one of the architects of the Chugach performance-based model at a MCREL meeting. The dual drivers of costs and excellence catalyzed KM to look for more cost-effective ways of organizing education. Their answer was personalizing education to create more efficiency and to be much more effective for preparing their students for college, careers, and all they might encounter in life.
The shift to personalized learning and the district's ability to sustain the transformation is based on four major processes:
School board adoption of a policy governance model

: Working with Superintendent Pat DeKlotz, the school board clarified its role as policy, advocacy, and helping to promote the district. This left DeKlotz and her team to make strategic and operational decisions as they emerged.

Strategic visioning

: Every three to four years, the district engages 100 members of the community in building a strategic vision. The most recent developed the vision of

Learning Without Boundaries

and guides the district today. The final product is a

paper

that is shared widely in the hopes of reaching even more people to engage them in the shared vision.

District annual retreat:

Every year the school board and leadership council, consisting of twenty-four community members and educators, reflect on data about student achievement, school performance, financials, and student and parent feedback. They set the goals for the next year and develop 100-day action plans. This continuous improvement and public accountability has been instrumental in building trust between the district and community.

School annual retreats

: Every school uses the same retreat process with a leadership team, reflection on school goals aligned with district goals, action plans, and monitoring implementation of those plans.
DeKlotz emphasized, "These processes have proven to be essential. This is how we hold the change process tight and not have things slip off the plate." The strategic visioning process was particularly meaningful. As described in the first article about personalized learning in Wisconsin, the Institute for Personalized Learning describes three core elements of personalized learning: learner profile to track student learning; customized learning plans; and proficiency-based progress. KM wanted to make sure their understanding of personalized learning was embedded in their own experiences as a community. Based on the strategic visioning process, KM developed the vision statement Learning Without Boundaries, which captures the spirit of their personalized learning approach.
Common Culture and Structures
In addition to all sharing the mission and vision statement, KM schools are also aligned around a common culture and eight common structures. KM is keeping core structures to a minimum, believing that the autonomy of schools to respond to students is important. DeKlotz emphasized, "We want to keep a high level of nimbleness. It's a strength that is critical to being able to take advantage of new opportunities for students."
Culture: Each of the personalized learning environments – three at high school level, one at middle school level, and one at elementary level – are all designed as micro-schools with no more than 180 students and nine faculty. Please note: KM uses the term environment, as they aren't all schools. Some are schools, some are houses in a school, some are a career pathway in a school. The culture of the schools vary to some degree but all emphasize belonging, safety, and risk-taking as part of building growth mindsets, collaboration, and value feedback loops that enable continuous improvement. Certainly, accountability is a strong element of the culture as well.   
Structure: The core structures that support personalized learning are:
Graduate profile with six features: continuous learner, communicator, collaborator, creative & critical thinker, engaged citizen, and self-directed & resilient individual;

Micro-school configuration that enables an organic approach to tailoring learning experiences for students;

Learner continuum/progressions that indicate where students are and define next steps. These are aligned to standards;

Content teams that draw from educators across all schools in the district. Much of their work is to determine the learning targets/competencies aligned to their content. They also create and vet common assessments that provide one data set for determining competency;

K-8 students are supported in developing

Habits of Mind

as developed by Costa and Kallick;

My Learning Collaborative (myLC) information system through which students, teachers, and parents can monitor student progress, and Canvas LMS used to ensure students can access resources to continue learning any time, anywhere, and whenever they are ready to move on;

Designing facilities and space to support flexible seating, learner and teacher collaboration, and deeper learning; and

Development of a personalized, proficiency-based micro-credential and compensation strategy to link professional learning with improvements in capacity and learning.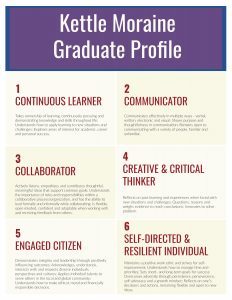 Kettle Moraine also has a strong shared pedagogy with the understanding that specific instructional strategies used by teachers will vary. The pedagogical principles are outlined in detail in the KM Personalized Learning Look Fors, with rubrics that help understand the shift from curriculum centered to learner driven. It's worth taking the time to reflect on these Look Fors to consider where your district is currently operating:
LEARNER DISPOSITION: All learners follow a customized path that considers skills and habits that impact all areas of life. The dispositions in each area are what will be developed in the learner. They are not prerequisites to work within that strand.

PATH: All learners are held to clear, high expectations, but each student follows a customized path that adapts based

on learning progress, motivations and goals.

PACE: The speed of learning and production is learner driven based on need

PLACE: The physical environment for learners can be manipulated by learners and there are opportunities to learn and make connections outside of school.

CHOICE: Learners take active role in how they learn, with whom they collaborate for learning,  and how they present their learning.

VOICE:  Learner take active role in defining success criteria, topic/theme, and culture and responsibilities of classroom.
At KM, the learning experiences emphasize the development of students as independent learners and values students as co-creators of the learning experiences. Teachers work closely with students on discovering things that interest them, developing their personal plan, designing their customized path, and helping them understand the repercussions of different types of choices. Students are prompted to reflect on how they are interacting with their peers, teachers, technology, and the physical environment. Students learn how to understand the context in which they are living and learning as they develop deeper understanding of themselves and their future. The shared pedagogy values interdisciplinary teaching and challenges the academic silo model. It also emphasizes inquiry, deeper learning, and the development of higher order skills. Schools also use different methods for organizing learning through field experience, seminars, workshops, etc.
Currently, KM is aligning instructional practices on the Personalized Learning Look Fors with John Hattie's research to ensure that they are grounded in research.
Implementation
Kettle Moraine has used a fascinating strategy in which the district authorized charters to operate on the campuses of traditional schools. Thus Kettle Moraine High School, a traditional comprehensive school complete with music signaling a minute warning of the ringing of the bells, has three charter schools on its campus: KM GLOBAL (leadership and innovation); High School of Health Services; and KM Perform (arts).
At the Kettle Moraine Middle School, the overall structure was modified into seven houses. One of the houses, Create, is a personalized, multi-age environment that serves students for all three of their middle school years. On the same campus as Wales Elementary School, a charter called KM Explore offers students K-5 a multi-aged, personalized learning opportunity. Although not formally a vertical feeder system, a parent who wants their child to have personalized learning experiences is most likely able to arrange it at Kettle Moraine.
KM has invested in renovating space to create conditions for personalized learning to take hold. Each of the charter schools have been given space within a traditional school, with three at the KM High School campus. The space for students is open, with flexible seating, smaller rooms for classes, seminars, and conferencing. In general, teacher desks are all in the same room, making it easy for ideas to flow and connections to be made quickly. Collaboration is much easier when there is frequent interaction (and time allocated for planning).
In 2010, the district invested in professional development toward balanced assessment that helped to spark the beginning of personal learning. This extensive capacity that included building capacity in formative assessment has been instrumental in helping educators to meet students where they are on their learner continuum.
It's important to note that just because a school hasn't embraced the full personalized learning approach doesn't mean that they are not embracing any of the practices. For example, at Kettle Moraine High School they've recently organized advisories for all students and are integrating re-teaching and re-assessment as a standard practice. They've also created a Computer Sciences Pathway led by Kevin Buntman. It offers a number of topics, and students can move through them in a way that makes sense based on building prerequisite skills and their own interests. Skills are organized into different topics such as Java, Python, and Web Design. There is an AP course in Computer Science Principles as well. Students can receive certifications including CISCO. There is a daily "scrum" in which students set goals, organize their schedule to meet with their teacher and set their assignments they will work on, and select seminars for the week. There are several modalities for instruction – students can read textbooks, watch videos, learn from other students, or receive direct instruction from Buntman.
Going Forward
The next step for Kettle Moraine School District is to continue scaling. They know their personalized learning approach works in micro-schools. The next question then is what might it look like and what needs to change when every student in KM is going to be offered personalized learning. DeKlotz explained, "We have entered a new stage of our work together. We now need to take what we've learned from the personalized learning schools and figure out what pieces we can do at scale and which pieces always need to be determined at the school level." The development of competency-based pathways is occurring across the district. Continuum in literacy are in place and practice across all K-8 classrooms. This allows learners to be served no matter their level, with the goal being to move across the continuum rather than doing grade-level work. The comprehensive high school has pathways in math, English, computer science, art, and music. Learners earn credits through demonstrating competencies that are aligned to standards.
KM isn't going to charter any more new schools. The work will get harder, or at least new issues will arise, as they develop transitional strategies that will help educators who may not be so ready and willing to try their hand at personalized learning. DeKlotz emphasized, "We need to provide structures for teachers to find their footing."  
Read the Entire Series: