Lincoln Orchard Mesa: What Did You Notice?
CompetencyWorks Blog
---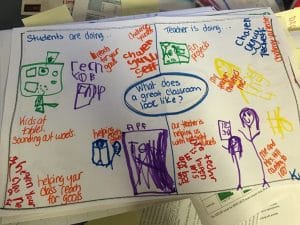 This article is the eleventh in the Designing Performance-Based Learning at D51 series. A reminder: D51 uses the phrase performance-based learning or P-BL.
What I noticed at Lincoln Orchard Mesa (Lincoln) is that every teacher in every classroom I visited would at some point or another engage a student with the question, What did you notice?
What did you notice about the drawing of the sheep in the book? What did you notice about differences in the charts on how we are doing learning words? What do you notice about the words in the sentence? The constant reflection is aimed at building meta-cognition, one of the Habits of Mind needed to become a self-directed learner. The question wobbles right next to its shadow question, What weren't you noticing? When prompted, frequently reflecting on what you are noticing (or not) soon helps you become very intentional about where you are directing your attention.
Background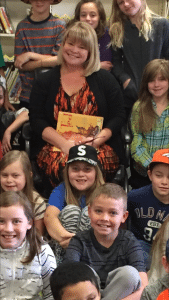 Lincoln, serving 380 students in the mixed income neighborhood of Orchard Mesa, is one of the seven demonstration schools in D51. It's a "title school" with over 50 percent of the students on Free and Reduced Lunch. As Principal Leia Kraeuter escorted us from one classroom to another, she would point out the strategies being explored by different teachers: This teacher is experimenting with flexible seating. This teacher has co-created an expectation rubric with students to guide their behavior, such as what it means to be on task.
As in all the demonstration schools, teachers are learning the effective practices needed for personalized, performance-based learning to take root: a classroom that includes culture, transparency, and a learner-centered environment. Personalized learning has a variety of meanings, ranging from online learning and differentiated instruction and support to engaging students by increasing relevance and student agency. At D51, their vision for a personalized, performance-based system starts with organizing the learning environment to help students build the skills they need to take ownership of their learning. Transparency is one of the keys to unlocking student agency.
The Classroom Environment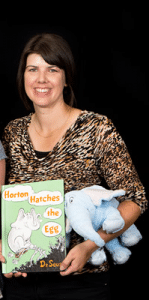 We walked quickly through several classrooms, with a little extra time to chat with students and the teacher if they had a moment. Each classroom had a very different feel, even though you could see signs of the effective practices in all of them. The first thing you noticed walking into LaNae Bordon's first grade class was the lovely, calming music playing. There was flexible seating, although at one table the students preferred to stand to do their work. Students had a strip in front of them to remind them of the Habit of Mind they were working on. One student had grit (she explained to me it meant never giving up); another had being on task (he needed some help from his friends to explain that it meant doing the job you are supposed to do). From what I could tell, 99 percent – if not 100 percent – of students were engaged in their learning activities.
Bordon described the personalized approach as "having students work at their own level." That was the moment I realized D51's approach to performance-based learning is different than many other districts, as they often lead with describing competency education as working at your own pace. Will it make a difference in the long run if a district emphasizes meeting students at their level (different from tracking) instead of pace?
Bordon told me that the personalized approach has been going so well that some students are already beginning to advance to second grade work. Her commitment is that every student will gain one year of growth no matter where they started. Bordon did note that this approach requires even more careful grouping of students and bringing new curricular resources into her classroom. Her main concern is that it would be very easy to slip into spending substantially more time on assessing students at the expense of instructional support. Teachers will need to use their judgement in balancing instructional support with assessing, as both are important in the cycle of learning.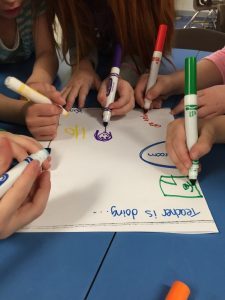 Kraeuter described that what she looks for in the classrooms is changing as teachers are building new skills and practices. Currently, she is keeping an eye for how teachers are embedding the growth mindset and the level of engagement of students in the classroom. She explained, "It's important to pay attention to who is doing most of the talking. In a student-centered classroom, students are talking more and teachers talking less. That allows the teacher to hear how students are learning and quickly identify if they are having difficulties. As teachers build their set of effective practices, I'm also looking for examples of gradual release of responsibility. As students take on more responsibility, teachers are leveraging the time and learning experiences in the classroom."
Kraeuter's enthusiasm for the conversion to performance-based learning is infectious. She understands that they are only at the very beginning of the process. She is clearly humbled by the amount of learning she and all the other principals in demonstration schools are doing. And she feels that it is all going in the direction toward what is best for kids.
Read the Entire Series:
Post #1 – Designing Performance-Based Learning at D51
Post #2 – Building Consensus for Change at D51
Post #3 – The Vision of Performance-Based Education at D51
Post #4 – Holacracy: Organizing for Change at D51
Post #5 – Growing into the Framework: D51's Implementation Strategy
Post #6 – Laying the Foundation with Culture and Climate
Post #7 – Supporting Teachers at D51: A Conversation with the Professional Learning Facilitators
Post #8 – Creating a Transparent Performance-Based System at D51
Post # 9 – New Emerson: Learning the Effective Practices of the Learner-Centered Classroom
Post #10 – Transparency and Trust