Making Mastery Work
CompetencyWorks Blog
---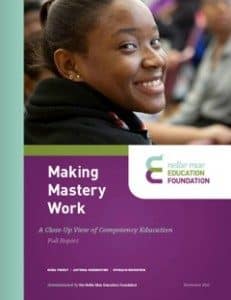 The Nellie Mae Education Foundation (NMEF) is releasing Making Mastery Work: A Close-Up View of Competency Education today. You can find the report here. The report, authored by Nora Priest, Antonia Rudenstine, and Ephraim Weisstein, examines several issues through the collected experiences of the ten schools that participated in the Proficiency-based Pathways Project (PBP)  with co-funding from NMEF and the Bill and Melinda Gates Foundation. The PBP grantees are Big Picture Learning, Boston Day and Evening Academy, Diploma Plus, Expeditionary Learning, MSAD #15 otherwise known as Gray -New Gloucester District in Maine, National Center for the Education and the Economy, and Vergennes School District.
Making Mastery Work provides insights into how the schools, all of which have different approaches and are at different stages of development as a competency-based model, are aligning their schools around learning. Topics include the creation of a transparent mastery and assessment system, time flexibility, curriculum and instruction, leadership for competency education development, and the role of data and information technology in a competency-based education model. We'll be offering webinars in January – March 2013 on these topics so you can hear from the innovators directly. Or check out the wiki to see examples of the tools they use. Stay tuned!
In Making Mastery Work, the authors provide the key characteristics of competency education.  This is an important addition to our understanding as it helps us to better comprehend the nature of competency education and guide us in implementation.
Key Characteristics of Competency Education
1) Students progress at own pace
Transparent system for tracking and reporting progress;
Flexible, learner-centric use of time, often beyond standard school day and year; and
Explicit methods for providing additional support or opportunities for learning
2) Graduation upon demonstration of mastery of a comprehensive list of competencies
Courses designed around set of competencies aligned with Common Core State Standards;
"Credit" awarded upon mastery of competencies associated with course or smaller module, based on summative assessments; and
Transparent system for tracking and reporting progress
3) Teachers skilled at facilitating differentiated learning environments
Frequent formative assessments provide real-time feedback to students and teachers on progress toward competencies and help guide instruction; and
Development of robust approaches to supporting students as they move through competencies, especially those who progress slowly
What do you think?  Are these the key characteristics that you think about? Are there others you think should be included?