Our School's Developing Understanding of Skills and Dispositions
CompetencyWorks Blog
---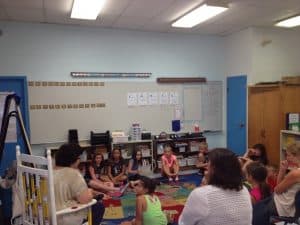 This is the first in a series of articles specific to the developing understanding of skills and dispositions of educators working with students in a competency-based educational system. There has been increased recognition nationally of the importance of skills and dispositions and how these are entwined within the overall growth and College and Career Readiness of learners. The skills and dispositions are referred to in a number of ways (Non-cognitive skills, Habits of Learners, Work Habits, General Learning Outcomes, "soft skills," etc.) Our school has been delving into skills and dispositions for the past few years, but we have found that there are limited resources to support our work. We are very excited about the opportunity to work with the recently released Essential Skills and Dispositions Frameworks (Lench, S., Fukuda, E., & Anderson, R. (2015)) this upcoming school year to support our continued learning in this area. For the purposes of this series of articles, we will be using the term the State of New Hampshire recognizes, Work Study Practices. Locally, we have aligned the Responsive Classroom's CARES to our State of New Hampshire's Work Study Practices, which are referenced in the following article.
Article 1: Our School's Developing Understanding of Skills and Dispositions.
Article 2: Collecting a Body of Evidence.
Article 3: Classroom Instruction of Skills and Dispositions
Article 4: Student Ownership of Non-Curricular Cognitive Competencies
 Jonathan G. Vander Els, Principal; Jill Lizier, 1st Grade Teacher; and Terry Bolduc, 5th Grade Teacher are all veteran educators at Memorial School, a Pre-K to 5 elementary school within the Sanborn Regional School District in New Hampshire.
Last year, I wrote an article discussing the importance of separating academics from behaviors in a competency-based educational system. Our experience, understanding, and knowledge related to Work Study Practices continue to evolve. We recognize as a system that these skills and dispositions are crucial to the continued progression, increased readiness, and overall success of our learners. Our teachers have worked to refine their practice within the classroom, both instructionally, how skills and dispositions are assessed, and by providing opportunities for increased ownership and engagement with for students as self-directed learners.
As I circulated throughout our building at the very beginning of this school year, I was struck by the depth and deliberate focus on WSP by our teachers. I observed the level of engagement of students within these discussions and activities, and the connections many of our students were making to their own learning. It was incredibly powerful to begin to see the impact and connection that students were making to their own learning needs and how this increased self-awareness was allowing them to better engage in their academics.
The insight of two of our teachers describes their growth in understanding as we began the shift to a competency-based educational system, and how this developed understanding informs their practice in the classroom to this day. Their reflections within this particular article are specific to the beginning stages of our work, and how they began to realize that the Work Study Practices needed to become an integral component of the learning process within their respective learning environments.
Jill Lizier, Grade 1 Teacher
 "Please don't talk while others are talking, that is not respectful."
"You need to work together in a group. Make sure you cooperate!"
These are all things teachers have said in the classroom at one time or another. But through Responsive Classroom techniques, students and teachers have worked together to build meaning behind words such as cooperation, assertion, responsibility, empathy, and self-control (CARES).
As teachers, we realize the importance of not only teaching this vocabulary, but creating ownership within students for this learning, and providing an avenue to effectively monitor it. Our teachers at Memorial track student's individual progress through the CARES.
Prior to monitoring students this way, my grade book consisted of academic grades, but nothing about these very important CARES attributes. Teachers spend so much time modeling, discussing, and creating a student's self-awareness of CARES because they know how important it is that their students use these social skills in the real world, so it only made sense to monitor student progress in these areas and assist students in increasing their awareness and skill in specific areas.
Terry Bolduc, Grade 5 Teacher
When our school switched to a standards-based report card, as you can expect, many changes came along with it. As we became more skilled at assessing our students based on standards, one area that required specific attention was Work Study Practices. Gone were the days of simply using a check-plus, check, check-minus system of grading conduct and effort. We began to use the Responsive Classroom acronym CARES to grade students on their habits of learning.
The work began in our PLC groups. We came up with rubrics for these characteristics of successful learners and began to look more closely at the best way to assess these traits in our students. It was clear that, no longer could we just put a grade in a few days before grades closed and expect that to be an accurate depiction of our students' demonstration of these skills. Like with the standards themselves, we needed to compile a body of evidence about these traits and directly teach the children what each trait looked like in the classroom and in the world around them.
So, like all good teachers, I created a visual that I could reference with my students. I used the language of the traits whenever I pointed out positive examples of the behavior or to redirect students to the appropriate behavior. I realized again, that this wasn't enough. When I looked at each of the traits, they each had sub-skills that needed to be assessed independently of the main trait. There was still significantly more work to be done…
As our understanding deepened about our practice within our school, our thought processes began to shift about how to assess Work Study Practices most effectively. Many of the changes that we began to make were a direct result of teacher observation and the questions that came up as a result of the work they were doing. This was most evident when teachers began to collect more data about students' Work Study Practices and we realized that both the assessment of Work Study Practices and the accompanying instructional practices within the classroom, including increased opportunities for student ownership and reflection, would need to continue to evolve.
See also:
---
Jonathan Vander Els is the principal of Memorial School in Newton, NH. Jonathan has presented at multiple local, state and national conferences on topics related to competency-based grading, enhancing teacher leaders in schools, maximizing collaboration of staff through highly functioning Professional Learning Communities, and providing tiered instruction for learners of varying abilities. Jonathan may be followed on Twitter: @jvanderels
Jill Lizier is a first grade teacher at Memorial School in Newton, NH. Jill is an active contributor to Professional Learning Communities within the Sanborn Regional School District. Jill has worked as team leader for her grade level and is currently a Quality Performance Assessment trainer within Memorial School. Jill may be followed on Twitter: @jilllizier
Terry Bolduc is a fifth grade teacher at Memorial School, in Newton NH. Terry has worked as a team leader for her grade level, participates in the PACE initiative as a grade level representative for the Sanborn Regional School District, has been member of the school's Training Team and is currently a Quality Performance Assessment coach within Memorial School. Terry may be followed on Twitter: @tabolduc