Ready by Design
CompetencyWorks Blog
---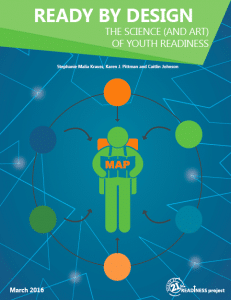 As middle and high schools across the country make the transition to competency-based structures to replace the sorting structures of the traditional system, they have to answer three big questions along the way:
What do you want students to know and be able to do in order to be successful in the transition after they leave your school?
What is your theory of how students develop? What is your philosophy of how to engage, motivate, and empower students to become lifelong learners who can be successful in college and careers?
What is your pedagogical philosophy? What is your strategy of teaching and learning, and how is that put into practice in your school?
Some schools are very clear on these questions while others haven't yet taken into account what research tells us about development, engagement, motivation, and learning. To help you think about the second question regarding adolescent development, take a peek at the new paper Ready by Design: The Science (and Art) of Youth Readiness by Stephanie Krauss, Karen Pittman and Caitlin Johnson published by the Forum for Youth Investment.
For those of us focusing on competency-based education, the authors point out four readiness traps that are a good reminder.
ACCESS AS PROXY FOR QUALITY: When young people's place of residence determines their access to high-quality services and supports. Many systems track and report on admissions and enrollment information or the number of people they serve, sometimes giving those more attention than the quality of programming.
AGE AS PROXY FOR STAGE: When young people are assigned to a program, group, or class based on age, rather than on stage of learning, development, or behavior. Many policies decide when young people start or stop in a system or setting based on their age. There are few exceptions available to children and youth whose age and developmental stage do not match.
COMPLETION AS PROXY FOR COMPETENCE: When young people are allowed to move on to the next stage, grade, system, or setting because they have finished—even if they are not ready. Or, when young people are ready to move on but are not allowed to because of certain policies or requirements. Many systems track and report on completion requirements—successful exits, graduations, number of young people who have aged-out—without also tracking and reporting on their proficiency in critical competencies.
TIME AS PROXY FOR PROGRESS: When young people's time in a system or setting triggers when they move ahead, or when time is used as a way to measure a young person's growth and development. Many system policies use time (e.g., minutes, hours, days, months) as a way to determine where young people are placed, or when they are finished.
I personally find it helpful to look at two or more frameworks when I'm trying to get my head wrapped around an idea – so you might want to also look at Foundations for Young Adult Success: A Developmental Framework and Motivation, Engagement and Student Voice at Students at the Center resource center.