Summertime Reading Part 1: Policy
CompetencyWorks Blog
---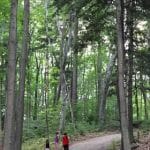 Summertime is a great time to catch up on reading! Today's post highlights important posts about policy in competency education. Policy helps to promote innovation among schools and set a foundation for lasting change in the education system. Below are some posts we think will be helpful in learning about this crucial topic:
Papers:
 Necessary for Success: Building Mastery of World-Class Skills, A State Policymakers Guide to Competency Education
Strengthening High School Teaching and Learning in New Hampshire's Competency-Based System, a new report from the Alliance for Excellent Education

Blog posts:
How States Are Advancing Competency Education
Streams of Innovation: Update on Federal and State Policy
Personalizing State Policy with Extended Graduation Rate
Catch Up On What Other States Are Doing:
Two More States Moving Forward to Competency Education
Oregon Gets An A+ for Its New Grading Policy
Unleashing Innovation in Connecticut Schools
Competency Education in Colorado Takes  A Giant Step Forward
Blended Learning and Competency Education Collide in Colorado

Also, take a look at Maine's glossary of definitions.
Check back in a couple of days to see a catch up list of case studies of competency-based schools.