The Basics of Blended Learning
CompetencyWorks Blog
---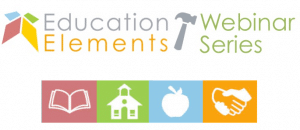 Do you have questions about blended learning but were afraid to ask? Now is the time.
It's important that we use blended learning as effectively as possible in competency-based schools to offer greater flexibility, expanded opportunities to advance beyond grade level, and more intensive feedback in building up basic skills.
Education Elements is offering a three-part webinar series that will walk you through the fundamentals of supporting your teachers, selecting digital content, and selecting hardware.
Part 1
Supporting Blended Learning Teachers: How and Why You Need to Do It
Friday, October 24 from 1pm – 2pm PDT
Register here
Part 2
What You Need to Know About Digital Content Selection
Wednesday, October 29 from 12pm – 1pm PDT
Register here
Part 3
7 Things to Consider Before Purchasing Hardware for Your District
Tuesday, November 11 from 9am – 10am PST
Register here
Interested but can't attend? Register anyway and Ed Elements will send you the recording. I look forward to connecting.