The Best Academic Schools in Tennessee Feature the Best Character Program in the Country
CompetencyWorks Blog
---
This article originally appeared at Education Week on December 11, 2018. It was posted on Vander Ark on Innovation.
"Teaching has to change. If I never tap into your truth, if I never validate your truth, I've failed you as a teacher," said Valor College Prep HS teacher Matthias McNeal. About the morning meeting, McNeal adds, "Circle is getting to the root of what makes you so special."
The best academic secondary schools in Tennessee feature the best character development program in the country.
Valor Collegiate Academies has been in the top 5% of Tennessee schools on growth and achievement every year since it started in 2014. But we visited Valor (seven miles south of the Country Music Hall of Fame in suburban southeast Nashville) because of the well regarded Valor Compass, a holistic human development program.
We found exciting the culture of belonging and inclusivity, the recognition of the humanity and well-being of both students and adults, and the comprehensive approach to helping students building their capacity to know and manage their social and emotional lives in a community and in relationship to their learning.
Developing Valor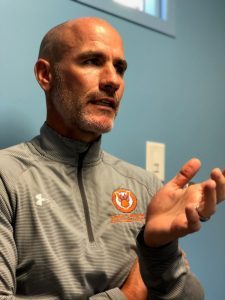 The story of Valor starts with twin brothers Todd (left) and Daren Dickson (featured image). Both earned masters degrees in engineering. Todd went on to teach and lead at Summit Public Schools. After consulting, Darren trained as a Licensed Marriage & Family Therapist and worked as a therapist at Seneca Family of Agencies, providing unconditional care to the most underserved youth in the Bay Area.
For ten years, the brothers have been talking through a broad view of well-being and education that lead to inspired and purposeful lives.
Watching Daren work with children, Todd had a big "aha" moment, "What if we melded these two worlds of high-performing charters and exceptional social and emotional learning?"
Designed around a balanced view of education, Valor is based on the belief that "that in order to live inspired, purposeful lives scholars must develop sharp minds, big hearts, a noble purpose, and aligned actions."
Valor is designed to be diverse with at least half of its students qualifying for free or reduced lunch, and a diverse student body where no one race or culture is a majority.
Growth is at the core of everything that happens in Valor's two middle schools and new high school. It starts with a comprehensive human development model called the Valor Compass.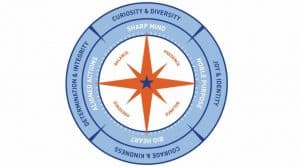 The Compass focuses on developing individual capacities, but in doing so builds a tightly knit community of respect and belonging. (A culture of learning, inclusivity, and belonging is a fundamental aspect of creating a competency-based system, see Principle #3)
Everyone, students and adults, works the Compass at Valor. It means that one is committed to growth in body, heart, mind, and spirit. The compass has four directions – Aligned Actions, Big Heart, Sharp Minds, Noble Purpose — culminating in a fifth, True North. Aligned Actions is based on integrity and determination. Big Heart is based on Courage and Kindness. Sharp Minds is based on Curiosity and Diversity. Noble Purpose is based on Joy and Identity.
Valor uses the metaphor of a compass because they were "inspired by the idea that the drives for agency and communion, or self-determination and connection, are really quests of wayfinding."
True North is the concept of personal agency. Each of us draws on our full resources when we shape the world around us.
Every member of the Valor community is "expected to be developing their own Inner-Compass and to be constantly refining and strengthening it by engaging deeply in their various communities."
For people trying to understand personalized and competency-based learning, Valor is a wonderful example of student agency in its fullest sense rather than the narrow focus on choice that we see in most schools.
Starting in Circles
At the heart of the Valor model is an advisory system that starts with a morning meeting of students in a circle of support as everyone works the Compass. Circle is based on the belief that "our humanity is found through our relationships with others."
"In Circle we discover when someone is going through a rough time, it gives us an opportunity to offer support," said science teacher Steve Nelson.
Students spend 90 minutes per week in Circle. The adults in the school also participate in Circle once a week for 60 minutes.  "As a Valor teacher, I commit to walking the talk," added Nelson.
Circles are facilitated to create safe places with very carefully designed processes and protocols used by students and adults to check in, build trust, allow people to fully be themselves rather than boxed in by our role, and to create community. Circle is designed to:
Identify early warning indicators and check community "vital signs".  

Reinforce and recognize community commitments.  

Create a safe, intentional space for individual, relational, and communal growth.

Develop high trust via hierarchy flattening.
During Circle people talk about what is happening in their lives and look for values and experiences that connect them. There are affirmations, apologies, and reflections. Social connection is forged and as we all know from research on learning, learning is a social process.
Badges are organized around the Compass habits with a developmental progression from 5th to 12th grade. Badges are based on different experiences with students expected to demonstrate that they have met the criteria to earn a badge.
There is a badge for telling your life story. Students interview three peoples in their lives and ask them to provide a title for the student's life story. When the student is ready, they present their life story. Assuming that they don't need to do deeper work (this is a competency-based approach) they earn their badge and move on.
"I strongly believe that our social and emotional program is a major factor in how well our kids perform," said Todd.
Productive Practices
Valor has a world class teacher development system that features over 40 days per year of professional development.
The Valor team is also a leader in using data to personalize learning to develop both cognitive and non-cognitive skills in order to be successful in and beyond college.
There are a number of shared instruction practices that support the culture of learning and inclusivity at Valor. For example, they have created a number of different hand signals to allow students and adults communicate while not interrupting people who are talking. To show love and support is to flutter fingers on one or even both hands towards the person.
In a class, we saw students pressing their first fingers together to show they disagree with a point or put pinky and thumb out to show agreement.
We watched two students talk about their text in an English class, one kept winding one hand around the other encouraging his colleague to build on and go deeper.
Scaled Impact
Schools from all over the country are being trained in the Valor approach. Organizations such as The City Fund, The Bill & Melinda Gates Foundation, The Walton Family Foundation, New Profit, New Schools Venture Fund, Scarlett Family Foundation, The Overdeck Family Foundation, The Kern Family Foundation, Chan-Zuckerberg Initiative, The Carnegie Corporation, and The Calder Foundation supports the adoption of Compass by leading networks including Achievement First, and Summit Public Schools.
Todd Dickson said there might be a need for a preparatory stage for low trust, low equity schools to strengthen their culture before they bring Compass into their school.
Valor has trained over 85 schools in leading circles reaching 18,000 students in 11 states. The goal is to reach 120,000 students by 2021.
See also: