Pt. England Primary: The Cherry or the Orchard
CompetencyWorks Blog
---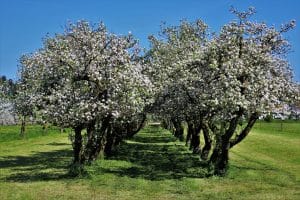 This is the eighth article in the series Baskets of Knowledge from Aotearoa New Zealand, which highlights insights from a totally different education system about what is possible in transforming our education system. Read the first article here.
As I wrapped up the conversation with Russell Burt, principal of Pt. England Primary in Auckland, I mentioned that the U.S. was building up capacity around school design. Burt immediately suggested that our focus is too narrow. He explained, "If you cherry pick, which is what happens with many charter schools, you will, no doubt, bless the cherry, but you probably won't bless the tree, and its most unlikely that you will bless the orchard. We need to work in such a way that we bless the orchard. In other words, we want to see the whole community improve with 'all boats rise on a rising tide.'"
This idea of the American focus on school design without considering the ecosystem in which schools sit continues to challenge my thinking. New Zealand's Tomorrow's Schools policy created autonomous schools that have been structurally designed for a sustained relationship to their community with an elected board of trustees made up of parents and community members. It's not a silver bullet. There are still poor performing schools that continue until public will builds to demand a change. However, the ongoing assumption is that individual schools are responsible and have the autonomy to respond to the aspirations and needs of their communities.
I've searched my mind about school designers and leaders who think about their role within the broader community. There are many examples of superintendents who extend their leadership beyond the school as part of the grasstops leadership of a community. But when I tried to identify examples of well-developed models in which schools perceive themselves as having responsibility for the well-being of the community as well as the well-being of children, I only came up with three examples.
The first the came to mind is the affiliates of IAF, a faith-based community organizing network developed by the Alliance Schools several decades ago. Alliance Schools are developed when principals understand themselves as school leaders and IAF leaders. They begin to wear two hats, as an employee of the school district and as a community leader, and make decisions based on the intersection of the two. (The mention of IAF can cause some people to start ranting about socialism. However, I know their work very well and can testify that it it is made up of 'everyday' people in the community — teachers, people in the service industry, bus drivers, mothers, fathers — who simply want to take care of their communities and their families. What is scary to some is to see low-income people building power to ensure that public systems respond to their needs, including equitable distribution of resources.)
The second example of a community-oriented school leader is Future Focused Education. Founder Tony Monfiletto spoke at iNACOL 18 regarding the reciprocal relationships that the network of schools is creating with the community and employers.
The third example can be found in the community schools movement that recognizes the role of schools in serving the broader community. Under the 21st Century Community Learning Centers policy, the emphasis narrowed to expanded learning and wraparound services for children. However, there are models that understand that schools can also be community centers and educational centers for the entire community.
I'm sure there are other school designers and district and school leaders that see the value of reciprocity and the responsibility of schools to strengthen communities. However, most of the "choice" advocates I know understand their role as "saving children" with less attention for the impact of choice policy on communities.
I first noticed this when I heard the disdain education reform leaders held for parents holding a hunger strike to keep their "low performing" school open. No one asked why parents would put themselves in harm's way to save their school. No one understood that the parents experienced all of the public systems failing them — not picking up garbage, street lights left unrepaired, police either ignoring their neighborhoods or locking up their young men at shockingly high rates. No one thought about the patterns of institutional racism that had locked African-American into segregated neighbors and low quality education. (See The Warmth of Other Suns.)
Schools are an important component of any community — a place where adults meet, relationships are formed, and a sense of community and neighborhood identity form. I know this to be true because all I have to say is that I am a Manual Thunderbolt and an immediate relationship is formed when I meet another alum, whether they are 70 or 20 years old. Parents were hunger striking in order to keep their school as a community school with the expectation that they would continue to pressure the district to send equitable resources, effective teachers, and the resources that schools in upper income communities received. They were striking to demand respect with the only resource they had at hand — their bodies.
As inequity grows in the U.S., it may become essential that we shift our thinking from schools as service providers to schools as catalytic community organizations. Efforts to deconstruct districts and schools may be considered innovative in the short-run, but through a community development lens it may be doing irreparable harm. Again, turning to New Zealand's example, perhaps if every school was autonomous with boards of trustees from the community, we might have an altogether more responsive public education system where parents don't have to protest to get a district to listen to them.
What does this reflection have to do with competency-based education? As districts and schools begin the transition to personalized, competency-based education many start with engaging their communities in building shared vision and values. This is a precious opportunity to think about what those values are and how they are interpreted. This is an opportunity to shape schools in which students build agency over their learning as well as in shaping the community in which they live.
Read the Entire Series: