The Sound of Learning at Create House at Kettle Moraine Middle School
CompetencyWorks Blog
---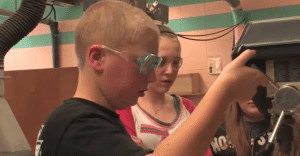 This article is part of a series on personalized, proficiency-based education in Wisconsin and the fourth in a ten-part series on Kettle Moraine. Please read the first post on Kettle Moraine before continuing to read this post, as it will prepare you to fully take advantage of the ideas and resources shared in this series.
I honestly had a huge moment of cognitive dissonance as I walked into Create House at Kettle Moraine Middle School. Superintendent Pat DeKlotz was enthusiastically explaining the model to me, and I just couldn't understand a thing she was saying because my mind was so busy trying to understand what I was seeing (i.e., working memory overload!). Across a very large open space surrounded by a few smaller rooms, there were students at low tables working as a group, students lying on their stomachs, students at high tables, students on cushy chairs, and a cluster of students sitting on a floor while a teacher provided a quick mini-lesson. Almost every student had a computer open or by their side. And most were using it as a productivity tool in some way or another. In one classroom, students were talking to scientists through Skype. It wasn't quiet. But it wasn't loud either. Create House was humming with the sound of learning. (See video on Create House, bottom left corner.)
Create House has been organized as a multi-age school with 75 students and four teachers. Students may be at different grade levels (think performance levels) in different academic domains. Each student is working on where they are in their learning and skill-building process (i.e., on a customized pathway based on meeting students where they are).
Once I was able to tune in again, DeKlotz explained how Create House was designed to strengthen relationships. "Learning is very social and depends on the quality of the relationships between student and teachers. The size of the school is important. The multi-age structure allows these relationships to grow. Our teachers know our students more than a semester or a year. Our teachers really get to know the children and guide them in the journey. This is absolutely critical in helping students build the skills of independent learners," she said.
A student explained to me how their school worked, "We are always asking the question What do I need to do? I focus in on the learning targets that I'm working on and sometimes the ones that are coming next so that I'm already thinking about how I'm going to learn and demonstrate my learning." A teacher chimed in, "The targets are important but they don't have meaning until we are able to make connections. We want students to understand why they need a target, how it might help them in the future, how it will open doors professionally."
As to the question of what happens if a student doesn't demonstrate proficiency on a test or in their evidence of learning that they submit? Students explained that they received feedback, would keep practicing or learning while working more closely with the teacher, and would then submit evidence of their learning or take a reassessment. There isn't credit or a point system awarded for homework. It isn't graded. Homework is considered practice and formative work so teachers can understand student progress. The actual grading system at Create is what I would call a hybrid, tapping into some aspects of standard-based grading (in which schools commit to helping students learn all the standards) as well as some aspects of traditional grading. Students didn't seem to care about the grading much. They were much more interested in talking to me about what they were working on. Some were too engaged to give me much time.
One of the things that KM has done is invested heavily in formative assessment. I could hear it in the conversation with students and teachers. The phrases "failing forward," "learning from my mistakes," and "not afraid of making mistakes" indicated a culture of learning and an understanding that mistakes open up opportunities to learn.
Coaching students in building the skills required for being independent learners was a constant theme in my short visit to Create House. I had the opportunity to watch it in action. Terry Kaldhusdahl, a sixth grade teacher who teaches social studies and writing, explained how he was helping his students build a sense of awareness of how they approached learning by talking about waiters (those who wait until the teacher prompts them); those who hover (dependent on the teacher for direction); and drivers (those who take the lead in their learning). I watched Kaldhusdahl interact with a student who later identified himself as one who is comfortable hovering. The student explained, "I'm not really confident until I understand what I'm supposed to do." Kaldhusdahl took this opportunity to discuss the impact of so many questions (I never realized it was unfair to the other students who might want to talk with you too.) and talk through a strategy with the student (How about I just ask one question a day? I'll figure out which one is really more difficult or unclear.), and how he might find answers to his other questions (Look it up or ask another student.).
Michael Comiskey, principal at KM Middle School, explained that academic and career planning or advisory was another opportunity for building agency. Students are engaged in goal setting and reflecting on their goal setting and goal achievement. They talk with students and parents about how at some point in everyone's life, you become the owner of your destiny and of your life. They don't say it has to happen right now. Just that the day will come, and it's important to begin thinking about What kind of learner am I? Are my behaviors matching up with the goals I'm setting? The Academic and Career teacher is one of the core teachers at Create House.
Create House is not done innovating. Assistant Superintendent Theresa Ewald, whose own son is enrolled at Create House, explained that the size of the schools has enabled much more rapid refinement. There aren't long processes for planning and implementation. The team of educators can come together and decide "this is how we are going to roll." Coaches, often administrators, are available to help teachers and principals navigate the issues that do arise in the personalized learning environment.
Read the Entire Series: