Upcoming Webinars
CompetencyWorks Blog
---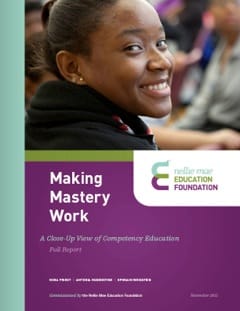 Drawing upon the knowledge in Making Mastery Work: A Close-Up View of Competency Education, CompetencyWorks is hosting a series of six webinars that allow you to hear directly from your peers about how they are managing issues in school design and operations. You can sign up for the webinars now!
Thursday, January 31st  3:00p – 4:00p ET
Aligning Competencies with the Common Core with Beatriz Zapater and Alison Hramiec of Boston Day and Evening Academy and Rebecca Wolfe, Jobs for the Future. (Register)
Friday, February 1st  2:30p – 3:30p ET
Creating Systems of Assessments will highlight efforts at Casco Bay High School in Portland, Maine and Vergennes Unified High School in Vermont in building capacity of their schools to provide meaningful assessments. (Register)
Tuesday, February 12th  3:30p – 4:30p ET
Student Experience: Pacing and Personalization will look at two different models, and how they are organizing resources to respond to the different needs of students. Joining the webinar are David Osborne, National Center for Education and the Economy, Andrew Skarzynski, Medical Professions and Teacher Preparation Academy, and Ephraim Weisstein, Schools for the Future. (Register)
Tuesday, February 26th 3:30p – 4:30p ET
Spanning the Grades: A Look At Elementary, Middle School And High School Competency-Based Models highlights the work of  MSAD 15 in Gray-New Gloucester, Maine in rolling out competency education across all their schools. (Register)
Thursday, February 28th 3:00 – 4:00 pm ET
Re-Engineering for Competency Education: Information Technology Design Considerations will feature Liz Glowa as she walks through her findings on the challenges of designing information management systems that support student learning.
Thursday, March 21st 3:30p – 4:30p ET
The Learning Edge: Supporting Student Success in a Competency-Based Learning Environment will explore in more depth the design principles for embedding support within competency-based models. (Register)