Wading into the Water: Curriculum Design for Competency Education
CompetencyWorks Blog
---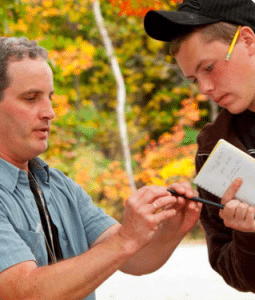 The section on Curriculum and Instruction in Making Mastery Work: A Close-Up View of Competency Education is chock full of insights into the dynamics of setting up and sustaining a competency-based school.
It's not surprising (but still frustrating) to learn that the curriculum publishing industry "has yet to wade successfully into the waters of competency education[…]"  This means that teachers are "being stretched to develop and adapt curriculum and formative assessments[…]" So clearly when planning for competency education it's worth it to take some time to see if you can borrow other schools' curriculum and assessments as a starting point. It probably won't meet your teachers' preferences exactly, but it is often easier to adapt than to start from scratch.
So what makes curriculum for competency education different than traditional time-based curriculum?  Here are a few things that jump out of the report:
Design for Significant Scaffolding:  In a competency-based school, instruction is provided at the targeted levels for each student, not at the level they should supposedly be at because of their age or grade-level.  So the curriculum needs to be able to reflect that. As highlighted in an early blog post, this is an issue at any school serving low-income students or whose parents didn't go to college, not just alternative schools.
The authors point out: "At Diploma Plus in Charlestown and Brockton and at BDEA, teachers became curriculum designers out of necessity because they were unable to find published curricula that met the needs of the full range of students they serve. A typical BDEA or DP classroom has students whose skills range in level from third grade level to eleventh or twelfth. While a few vendors are developing products that may be robust enough for widely heterogeneous programs and include the strong performance-based assessment and blended online methods competency education schools want today, for now those schools must choose between curricula for standard high school programs, products designed to provide remedial interventions, or products created for independent, computer-based use, none of which satisfy their needs."
Instructional Shifts: Many curricula assume teachers are delivering instruction in the traditional time-based/A-F structure.  In addition to the issue about scaffolding mentioned above, competency education requires students to be able to know and unpack the learning targets.  Furthermore, the curriculum has to be designed for the higher order skills that are expected to get a 3 or 4, to meet or exceed proficiency.
So schools have to invest time and resources to pull together curriculum. The report highlights examples:
Big Picture Learning has just launched a three-year project to develop a set of prototypes for "critical reasoning and problem solving" and "communicating two of its five learning goals." The prototypes will be designed and field-tested in BPL schools.
Expeditionary Learning is developing elementary and secondary level Common Core curriculum modules with two partners, New York State and Student Achievement Partners1. These model curricula combine rigorous academic content and higher order thinking skills with EL's instructional practices, and are being developed by practitioner teams consisting of EL Coaches, teachers, and leaders from EL schools.  EL is also creating resources to help teachers with the "how" of teaching the standards. They have been working with their high-performing Mentor Schools, including Casco Bay, to create a series of Teacher Toolkits that address the key instructional shifts required to implement the Common Core Standards. The first Toolkit focuses on student-engaged assessment…
Blending:  If schools weren't interested in integrating blended learning before, once they are competency-based, they certainly will.  It just makes sense to expand 24/7 learning opportunities and to provide multiple ways for student to practice and demonstrate proficiency.  The report highlights the efforts of Diploma Plus:
Several years ago, DP invested in the development of a competency-based learning management system known as DP.net. DP.net was designed to provide teachers with a way to create curriculum for a fully self-paced, blended-learning environment[…]Diploma Plus has had extensive conversations about where curriculum should be designed, and until this year the belief was that teachers remain best positioned for this work. However, as the field of blended learning advanced, DP leaders began to explore the possibility of purchasing curriculum and retrofitting it to align with DP's competency-based approach. Over the course of this project, DP worked with curriculum designer Education Connection to import six online units into DP.net and pilot them at their Charlestown and Brockton sites. However, the process was more complicated than they expected. As they began to use the courses, teachers realized that they were constructed as the online equivalent of a student textbook, were very text heavy, and required independent learning skills many DP students lacked. Overall, they did not fit the blended learning scenario that best suits DP students, which entails a mix of online and classroom-based experiences.
As Diploma Plus New England Coach Michelle Allman put it: The distinction between curriculum and instruction became much clearer throughout this work as the need for the instructional side of learning wasn't well met by the materials we provided…so, while this project has allowed us to bring very high-quality, interesting, and aligned online curriculum to our schools, it has also raised for Diploma Plus the challenge of addressing the instructional demands.
I'm guessing that these are only  a few of the ways that developing and using curriculum will need to change in a competency-based school, especially if there is a high degree of student-centeredness or personalization. Any thoughts about how you see curriculum changing?