Welcome to Mastery Assessment Week!
CompetencyWorks Blog
---
This article originally appeared on Springpoint's blog The Launch Pad as part of Mastery Assessment Week. See the original here.
Mastery-based learning—also known a competency-based education (CBE)—has the potential to transform how students understand content and acquire skills. In a mastery-based system, assessing student performance goes well beyond testing knowledge. Assessment acts as a valuable learning experience in itself that also provides tangible evidence about what students can do with the skills they have built through the process of acquiring knowledge. Conversely, in a conventional educational model, assessment most often focuses on solely testing knowledge—with rewards for students who perform well on tests, and repercussions for students who do not demonstrate the same comfort with traditional assessment practices.
For students, mastery-based assessments can show them where they are, allow them to see where they are going, and help them build on and apply new skills to help them get there. For learning facilitators, mastery-based assessments can unearth student needs and assets and inform the design of instruction and learning to focus on building students' skills. For school leaders, mastery-based assessments can surface key data points that allow them to support teachers in developing rich learning experiences and iterate on their school models. For families, mastery-based assessments can serve as a foundation upon which to engage in transparent conversations about student growth and progress.
Emily Rinkema from Champlain Valley Union High School uses a GPS analogy when talking about mastery assessment: students are on a path toward a concrete goal or destination—a learning target; they always know the location of their "blue dot" and the optional routes that can get them to hit their next target. That is what good assessment shows students and adults. Emily and her co-author Stan Williams also note in their upcoming book, The Standards-Based Classroom: Make Learning the Goal, that mastery assessment shifts the paradigm from one of "compensation" (i.e., a student gives a teacher a piece of work and receive a grade in return) to "communication" (i.e., students and teachers have an ongoing conversation about where the student is and where she is going).

Mastery assessment includes many moving parts—individual assessments, systems of assessment, grading and reporting—that rely on the development of thoughtful and robust artifacts and materials. For example, rubrics—like this Exhibitions of Learning rubric from Making Community Connections Charter in Manchester, NH—are the root of transparency in mastery assessment systems as they outline clear expectations for students and let educators develop a common understanding of rigor and standards. Other artifacts, like this grading policy from our partners at Urban Assembly Maker Academy and this grading guide from Casco Bay High School, give all stakeholders clarity on assessment elements like grading scales, assessed skills, and revision processes. (For more examples and resources, we recommend this performance assessment resource bank and our paper Inside Mastery-based High Schools: Profiles and Conversations, which provides a rich set of resources along with case studies.
At its core, assessment in a mastery system is a way for students and learning facilitators to have an ongoing conversation about progress, skills, and growth. Whereas letter grades are often fixed and transactional, mastery progression imparts self-actualization, teaches self-advocacy, and establishes a partnership between students and learning facilitators. For these reasons and more, good assessment is essential but it is also complex. That's why Springpoint has joined forces with national partners and schools to present Mastery Assessment Week—five days devoted to all things mastery assessment that starts today.
Springpoint has partnered with Center for Collaborative Education, reDesign, NGLC, KnowledgeWorks, 2 Revolutions, Assessment for Learning Project, Getting Smart, Mastery Collaborative, and others to share expertise around some of the most common topics around mastery assessment. Throughout this week, organizations and practitioners will share their experiences with mastery and their role in ensuring that assessment practices and structures support and accelerate student learning. We hope this compilation of best practices, tools, tips, ideas, and open questions can spark an insightful conversation and prove useful for educators and school leaders as they iterate on their mastery assessment frameworks.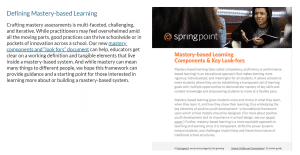 We believe in the power of sharing strong resources and best practices in order to build out the collective knowledge of the education field. We have seen time and again how learning from great practice can help educators build strong school models that meet the needs of their students. That's why a major component of the Mastery Assessment Week is devoted to finding and sharing some of the best resources out there.
During this week, we hope to highlight and share as many resources as possible in the hope that practitioners can find useful and applicable materials that will help aid their conversations around mastery-based learning. Here are some school spotlights to kick off the conversation:
Since its founding in 2014, The Urban Assembly Maker Academy (UAM) has developed and implemented a mastery-based grading system. The school was founded on the belief that the world needs problem solvers who can find and solve challenges to create positive change in the world. To achieve this mission in their students, UAM has developed a set of school-wide Design Thinking and Core Value standards that are assessed in all courses. This allows students to see their progress in these skills across all subject areas. Each course also has 10-15 standards on discrete content knowledge and skills. UAM's full bank of standards can be found here. Now that the school has grown to serve all high school grades (9-12), each subject area team is working to identify a set of 3-5 power standards that will be assessed in all grades, across all courses in each department. This will facilitate vertical alignment of curriculum, and allow students to see their growth in the essential skills in each discipline across their high school experience. Since developing their mastery-based practices while designing and expanding the school, the UAM design team has repeatedly iterated on their approach as they discovered what works for their student population, school culture, and staff. As UAM designed their own prototypes and tested other platforms, the design team found it essential to use grading policies and reporting tools that provide teachers with data to inform their instruction, display accessible feedback to students and parents, and recognize student progress over multiple assessments.
As part of our work with Barr Foundation's Engage New England initiative, we support several partners designing new school models, including Map Academy. There, the co-founders are building a mastery-based learning system that can support their students, all of whom have been failed by traditional high schools. In their mastery-based system, the purpose of assessment as a way to deepen student's skills while accelerating their learning. Students will engage in cross-disciplinary learning experiences, which shows students how skills are transferable across subjects and contexts. This approach serves to impart deeper relevance in the learning process since it mirrors how skills are demonstrated and developed in the workplace. The mastery system at Map Academy is organized into three major categories—literacy, thinking, and expression—that break into a set of five to six discreet competencies. Each of those competencies is broken into three levels and three increasingly-complex objectives. Assessment is structured along the levels, which include the learning level (entry point), functional level (akin to proficient), nuanced level (deep and comprehensive understanding). Customized examples of learning products showcase what proficiency looks like across each of the three levels. Pacing is flexible based on mastery of skills while content acts as the vehicle through which skills are taught and measured. Map Academy's co-founders were inspired by several visits to innovative schools across the country, including a visit to Bronx Arena High School and others, where they sourced inspiration for their approach to mastery assessment. This is among the many reasons we bring our partners to see great practice in action at. Our schools to visit guide can is a good place to get started for those who are interested in exploring great practice nationally.
For the past six years, Building 21 has been developing its open sourced competency-based framework called Learning What Matters (LWM). Originally developed with the School District of Philadelphia, this work has continued to evolve as the Building 21 network has grown to eight schools across the country. The LWM Framework includes all competency sets, scoring guides called "continua", recommendations for grading and crediting policies, and recommendations for graduation requirements. The purpose of the Framework is to replace all time-based, age-based, course-based, and grade-based structures of the traditional factory model with an approach that is more equitable for all students. At the heart of the framework are the continua–a student-facing set of scoring guides. These guides demonstrate how student work is assessed and they clearly convey expectations around growth and performance. Continua are used by teachers for planning and design. They are also regularly used by students to develop artifacts and show their learning. Most importantly, they are used by students and teachers in partnership as the basis for feedback, reflection, improvement. The LWM Framework includes competencies that span across three domains: Academic, Habits of Success, and NextGen Essentials. Within each domain is a set of competencies that include competency statements, skills, performance levels, and indicators. Every skill in the LWM Framework has a continuum that describes how each skill becomes more sophisticated as it develops toward mastery. Level 10 denotes college and career readiness and Level 12 is college level work. You can see a sample continuum here.
The Young Women's Leadership School of Astoria has a school-wide mastery based grading system. One of the cornerstones of our assessment system is that every course uses shared outcomes that integrate "21st century skills": Plan, Argue, Discern, Communicate, Conclude, Be Precise, Collaborate, Create, Innovate, Investigate. This shared language allows for natural cross-curricular planning and continuity from course to course. Students are able to share their progress in Argument, for example, across all of their courses. Within each content area there are 10-15 discreet learning targets that fall under the umbrella of the larger 21st century shared outcomes. Rubrics have been developed that spiral criteria for each outcome target from 6th-12th grade using a scale that includes the following designations: "Not Yet", "Meeting Standards", "Exceeding Standards." By systematizing the language and expectations, practitioners are able to focus on thoughtful curriculum planning, individualizing coaching, and providing meaningful feedback. Click here to explore the rubrics and outcomes that form the basis of the mastery-based assessment system at The Young Women's Leadership School of Astoria.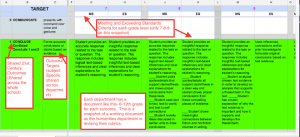 Participating in Mastery Assessment Week
Everyone is invited to contribute to Mastery Assessment Week by joining the conversation and sharing their best ideas, tools, questions, and resources on social media with the hashtag #masteryweek. Virgel Hammonds of KnowledgeWorks will be hosting a Twitter Chat on Wednesday 8/29 at 7pm ET.
We also encourage you to check out Masteryweek.org—the hub where we'll collect great resources, tools, and articles. Here is what you can expect to see each day:
Monday, August 27 we'll be shining a spotlight on a few key examples and getting the conversation started.
Tuesday, August 28 we'll talk about design principles and approaches for every high-quality assessment
Wednesday, August 29 we'll discuss how a series of high quality individual assessments come together to form the mastery assessment system
Thursday, August 30 we'll focus on different approaches to grading and reporting.
Friday, August 31 we'll close out with a big resource share. This is your time to share articles, tools, and resources that can keep the conversation and discovery going! Tweet them out using #masteryweek and we will feature them on the site in a robust roundup.
We're so excited to hear stories from the field and answer questions that come up throughout the week. We hope you join us in sharing communication strategies that help make the case for mastery-based learning!