Why We Use Digital Badges at Del Lago Academy
CompetencyWorks Blog
---
This post originally appeared at Getting Smart on March 23, 2017.
Del Lago Academy in Escondido, California, is a public high school of about 800 students focused on Applied Sciences. Educators here really want students not only to have desirable skills and knowledge for potential employers but to do meaningful work in school that feels relevant and connects to their lives now.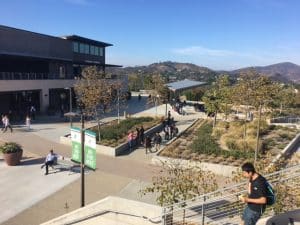 In order to ensure we're meeting these objectives, we realized we needed a way to assess what students were doing throughout the scientific process and not just by observing the final projects they turn in. Thus our digital badging system, Competency X, was born.
Digital badges fill in the gaps for how we describe what scholars know and can do in the real world. Traditionally, most scholars only have a transcript of coursework to represent what they can do. Digital badges unbundle the competencies within both courses and workforce experiences to help fill in the gaps of larger credentials (e.g., degrees and certifications). This allows them to be more precise about what a learner is capable of accomplishing.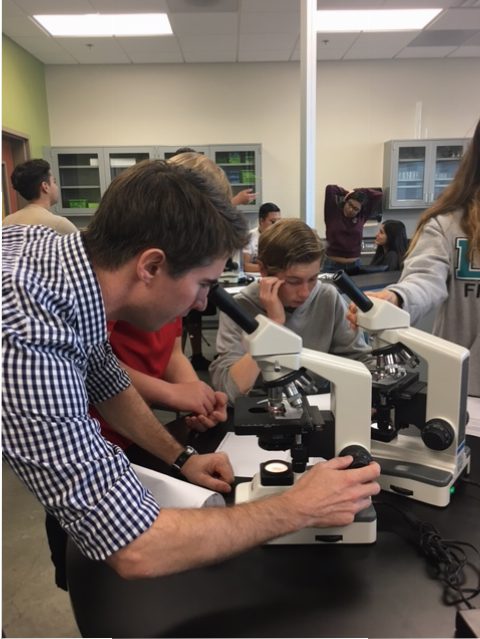 Science is not just a body of knowledge about physical and biological phenomena but a process for humans to answer questions through scientific inquiry. Scientists conduct this inquiry using a toolbox of skills and knowledge that has been articulated by the Next Generations Science Standards (NGSS) as "science and engineering practices." We do this with a digital portfolio that scholars use to track and reflect on evidence of their competency with science and engineering practices.
Digital badges that are validated by industry and college partners are assigned when our scholars meet specific criteria for these practices in their digital portfolio. The digital badges are used by scholars as evidence of their competency with the knowledge and skills required to be a scientist for their internships and their college applications. Our website will be a hub for this system.

Paper vs. Graphics
Initially, we imagined paper certificates that would map out learning progressions and be used to earn internships. The problem with these certificates is that they are not easily linked to the evidence a student curates to earn them. Linking evidence with a digital badge is useful in several important ways.
It allows prospective employers to assess the credibility of the micro-credential. With a click on a badge, the evidence can be viewed that shows how the learner earned the badge. Our industry partners loved the idea of being able to watch a quick video that shows the learner demonstrating a concrete skill.
It allows learners to reflect on what led to success with current and past practices. If a learner wants to re-learn a particular skill set, all they have to do is click on their badge to view the tips and strategies that helped them previously reach success.
It creates opportunities for learners to be engaged in a larger community of practice. Mentors can provide feedback on formative artifacts that will become evidence used to earn a badge. Also, this allows artifacts of skills, knowledge and dispositions to be used across multiple digital badges. This helps illuminate the interconnections between digital badges and prevent the compartmentalization of skills and knowledge.
Creating Digital Badge Graphics
We wanted our digital badge graphics to represent the community we serve, which is why we recruited scholars from our Principles of Design 3 course to build our badge graphics. Each of these scholars took Principles of Design 1 and 2, which meant that they demonstrated competency with the necessary design and technology skill sets to produce the badge graphics.
Teacher Aled Anaya supported scholars with using digital tools to create the digital badge graphics. They took the description of the badge expectations and evidence to ideate graphic designs, and we love what they came up with! These graphics serve as the icon for the digital badges and are given out as physical stickers when scholars earn a badge. Below is an example of a few badges in Experimenting, one of our three learning progressions: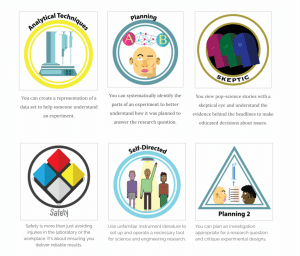 A version of this blog originally posted on Del Lago Academy's Competency X blog.
See also:
---
Alec Barron is the Principal Investigator for Competency X and a Science Coach in the Escondido Union High School District. Follow him on Twitter: @alecbarron