Press Release
Aurora Institute Releases New Publication Exploring Next Gen Credentials and Flexible Learning Pathways
---
ARLINGTON, VA – (June 26, 2023): Today, the Aurora Institute, a national nonprofit organization focused on education innovation, released a new publication focused on exploring next generation credentials and flexible learning pathways with generous support from the Stand Together Trust. The publication outlines state policy recommendations aimed at transforming how we document and validate learning both inside and outside of the classroom.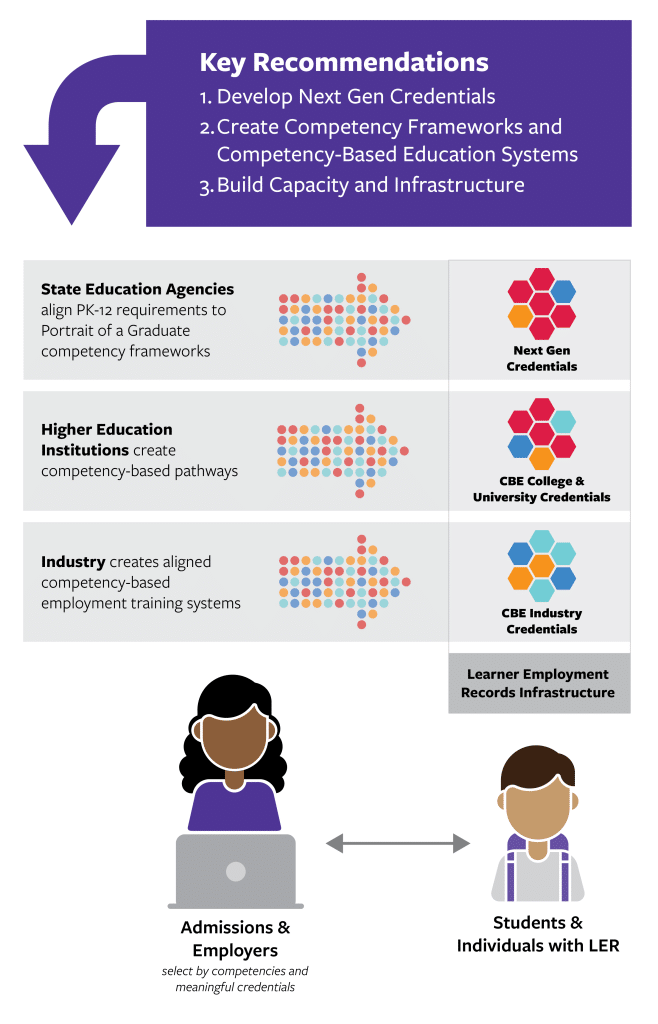 The typical student walks away from their K-12 education with a high school transcript – a laundry list of all of the courses they took in high school and the grades they earned in those classes. But these static documents have never truly captured the full breadth of what a student knows and is able to do upon leaving high school, let alone be helpful for continued learning after.  
"Every learner takes their own path in life, and it doesn't end at high school," said Laurie Gagnon, program director of the CompetencyWorks initiative at the Aurora Institute, and co-author of the report. "Effectively capturing what an individual knows and is able to do over their lifetime of learning requires far more than a traditional high school transcript or diploma. Our new publication seeks to lift up meaningful alternatives to the traditional high school transcript, and examines breakthrough models to transform how we document and validate learning both inside and outside the classroom."
You can download the publication here. Policy makers at all levels are encouraged to contact the Aurora Institute Center for Policy for more information or assistance. 
###
About the Aurora Institute
The Aurora Institute's mission is to drive the transformation of education systems and accelerate the advancement of breakthrough policies and practices to ensure high-quality learning for all. Aurora is shaping the future of teaching and learning through its work in policy advocacy, research, field-building, and convening. With a national and global view of education innovation, we work on systems change in K-12 education, promote best practices, examine policy barriers, and make recommendations for change to yield improved outcomes for students. Aurora envisions a world in which all people are empowered to attain the knowledge, skills, and dispositions necessary to achieve success, contribute to their communities, and advance society.