Press Release
How Are States Funding Education Innovation?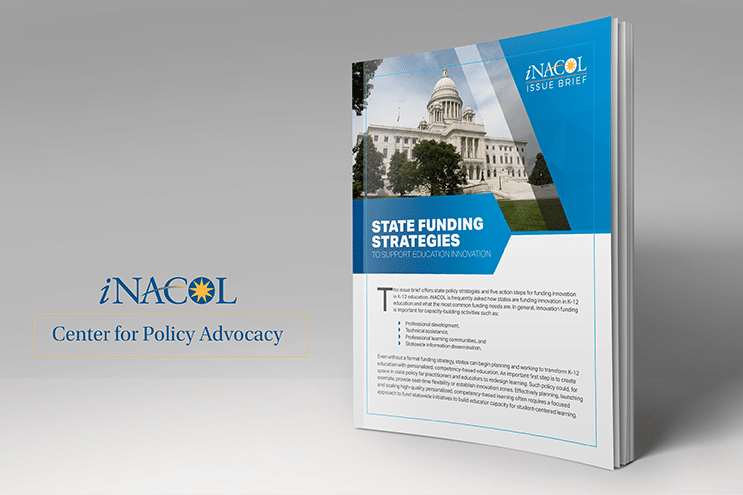 ---
WASHINGTON, D.C. (June 26, 2018) — Today, iNACOL (@nacol) published a new brief answering one of the questions most frequently asked of its policy experts: How are states funding the capacity needed to support the transformation to innovative models of personalized, competency-based education?
State Funding Strategies to Support Education Innovation chronicles the approaches undertaken by leaders in Vermont, New Hampshire, Rhode Island, Arkansas, South Carolina, Utah, Idaho and Georgia. Their efforts to establish effective funding strategies offer rich examples for other states to follow.
"Building capacity for leaders and teachers to design modern learning environments with personalized, competency-based pathways is essential to ensure every student can succeed," Susan Patrick, iNACOL President and CEO, said. "States are funding pilots and creating professional learning opportunities to help drive this transformation."
For individual public schools and districts to plan, launch and scale high-quality, innovative learning models, a focused approach to funding at the state level is of growing interest to school leaders and policymakers.
States are realizing the one-size-fits-all model of traditional education no longer serves well the needs of students in building the knowledge and skills required for success. Varying levels of policymaking activity to support personalized, competency-based education have occurred in 48 states. Innovation funding is needed for activities such as:
Professional development,
Technical assistance,
Professional learning communities, and
Statewide information dissemination.
In addition to state funding strategies, the issue brief suggests how the Every Student Succeeds Act (ESSA) can be used to leverage federal funds for personalized, competency-based learning. It also offers five action steps state policymakers can take to start the process of building a solid funding strategy, among them repurposing existing funding and assessing how much funding is needed to do the work.
To effectively implement innovative learning models, most educators and school leaders will need ongoing supports, training and professional development. In devising sustainable funding strategies, however, state policymakers have an important opportunity to propel the transformation of education systems, drive educational equity and ensure high-quality learning for all students.
Download a full copy of this issue brief, State Funding Strategies to Support Education Innovation.
---
About iNACOL
The mission of iNACOL is to drive the transformation of education systems and accelerate the advancement of breakthrough policies and practices to ensure high-quality learning for all. Visit our website,  like us on Facebook,  connect with us on LinkedIn and follow us on Twitter.