Press Release
Personalized Learning Is Growing in K-12 Education in the United States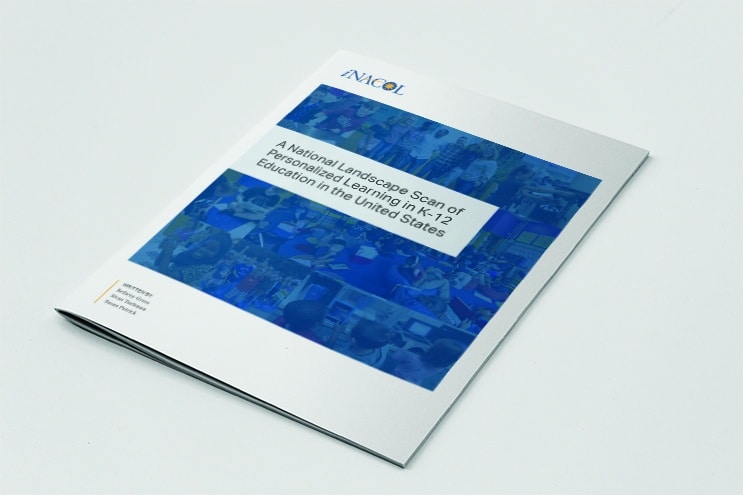 ---
Washington, D.C. (June 14, 2018) – Today, a new report published by iNACOL, A National Landscape Scan of Personalized Learning in K-12 Education in the United States, provides findings from a national survey of teachers and students to examine what core elements of personalized learning are taking hold in K-12 schools and districts across the United States. The report finds that teachers across America are working to create learning environments that center on the learning needs of their students, but also require additional support to better tailor teaching to the unique backgrounds and interests of each student.
iNACOL partnered with the Center on Reinventing Public Education (CRPE), NORC at the University of Chicago, and LEAP Innovations to conduct a national survey of more than 3,600 teachers and 1,000 students. This report summarizes what these responses reveal about how personalized learning is emerging and developing in schools across the country.
The report found notable progress in creating learner-focused classrooms: more than 50 percent of teachers reported that they understood the learning challenges and strengths of at least three-fourths of their students, and 50 percent of students agreed that their teachers knew how they learned best and understood their interests. However, only 40 percent of students agreed that their teacher knew what activities they like to do outside school, and only 20 percent of students reported that their teachers would let them skip a topic if they could show they understood it.
Susan Patrick, iNACOL President and CEO, said, "The field of K-12 education is in the earliest phases of a systemic transformation to personalized learning, where each student's unique needs are addressed. The surveys of teachers and students show how important empowering relationships are for personalizing learning. Teachers empowered with the strategies for personalizing learning are getting to know their students better, are working together to map goals and are using personal learning plans for each student to build the knowledge and skills needed for success. Eliminating gaps in learning and harnessing each student's interests and passions to make learning relevant are important aspects of personalizing learning."
Phyllis Lockett, founder and CEO of LEAP Innovations, said, "The transition to personalized learning in schools is still nascent; studies like these are important tools to understand what is happening in schools and what additional supports are needed. This is why LEAP developed our survey tools, to ensure that we're learning from the early work taking place and providing teachers, schools and districts with the data they need to understand how their efforts to implement personalized learning practices are impacting the learning experiences of students."
Download a full copy of A National Landscape Scan of Personalized Learning in K-12 Education in the United States.
iNACOL is hosting a webinar exploring findings in this report on June 26, 2018 from 3-4 p.m. ET. Learn more and register.
---
About iNACOL
The mission of iNACOL is to drive the transformation of education systems and accelerate the advancement of breakthrough policies and practices to ensure high-quality learning for all. Visit our website, like us on Facebook, connect with us on LinkedIn and follow us on Twitter.