Press Release
Virginia Teacher and Leader in Competency Education Win iNACOL Innovator Awards
---
National Awards Honor Individuals Who Advance New Student-Centered Learning Models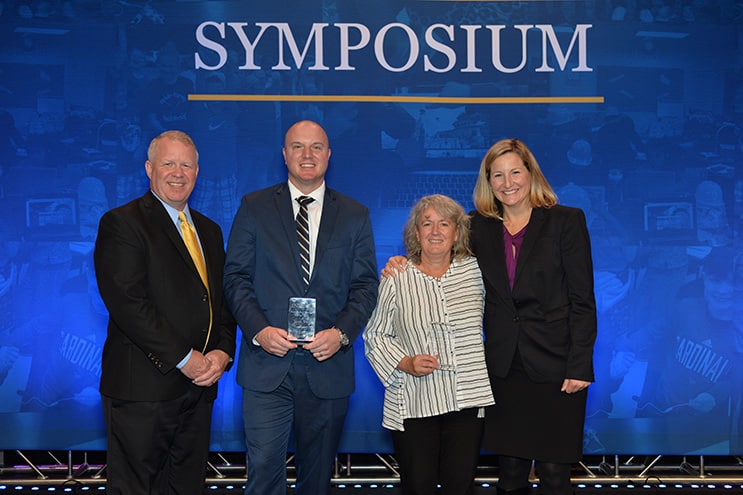 NASHVILLE, Tenn. (Oct. 23, 2018) — iNACOL (@nacol) recognized two outstanding leaders as recipients of the 2018 iNACOL Innovator Awards today at the iNACOL Symposium running through Oct. 24, 2018 in Nashville.
iNACOL's Teacher of the Year Award went to Jason Vest, an educator at Hungary Creek Middle School in Henrico County, Virginia. The annual award honors a K-12 educator whose efforts as a personalized learning teacher exemplify a commitment to student success, knowledge and skill as a professional educator and dedication to his or her students.
Chris Sturgis, co-founder of iNACOL's CompetencyWorks initiative, received the Outstanding Individual Contribution to Personalized Learning Award, which recognizes an individual whose insight and innovation has significantly increased the credibility and advancement of K-12 personalized, competency-based education.
Susan Patrick, iNACOL President and CEO, said, "The field profoundly benefits from educators who, despite the lift required, show us what's possible with personalized learning in classrooms around the country. Likewise, we are honored to recognize those who spark new thinking and new breakthroughs in student-centered learning models."
Learn more about the iNACOL Innovator Awards and the iNACOL Symposium.
---
About iNACOL
The mission of iNACOL is to drive the transformation of education systems and accelerate the advancement of breakthrough policies and practices to ensure high-quality learning for all. Visit our website, like us on Facebook, connect with us on Linkedin and follow us on Twitter.