Book
A Promise for Equitable Futures: Enabling Systems Change to Scale Educational and Economic Mobility Pathways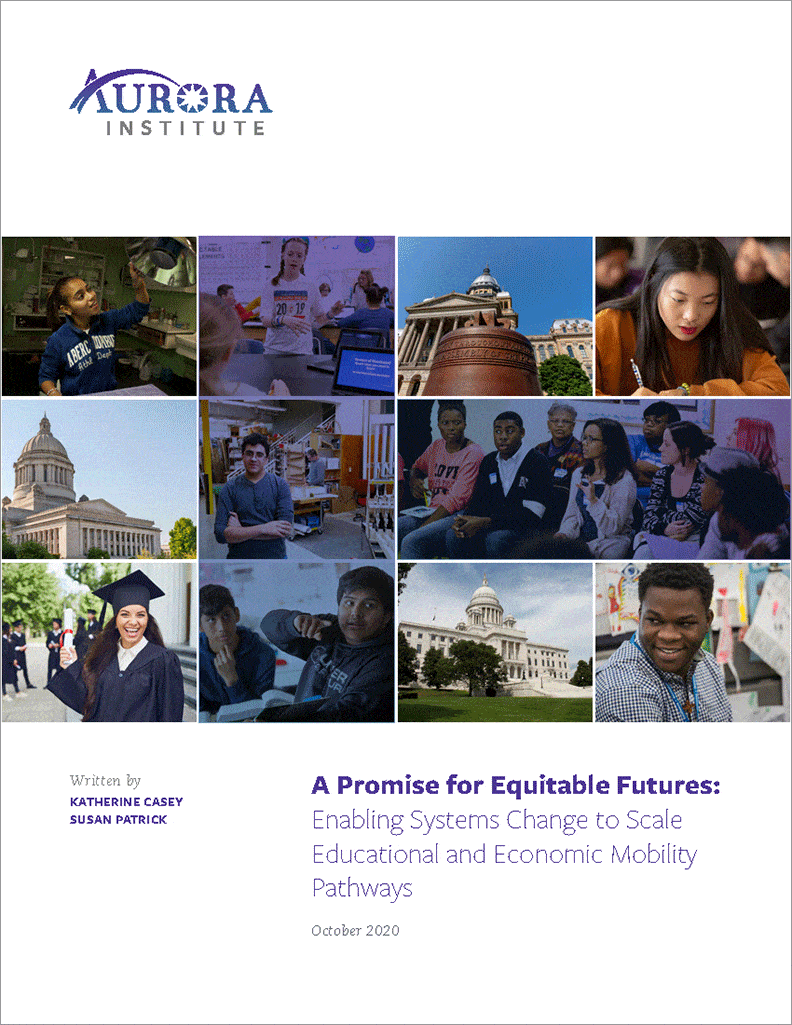 ---
Fewer than one in five American students follow a clear and uninterrupted path from high school through college to career.  The promise of a public education is to prepare all learners to engage in, contribute to, and achieve purpose in the world, both as it is today and as it will be tomorrow. And yet, the American education system as we know it is insufficient to realize this commitment.
The idea of a compulsory high school education was developed in the early 20th century, when the Commission on the Reorganization of Secondary Education proclaimed the purpose of secondary education to be "health, citizenship and worthy home-membership and, only secondarily, command of fundamental processes." Education leaders designed the American high school system to ensure that 20 percent of students would be prepared for college, 20 percent for skilled trades, and that 60 percent of young people would be prepared for "life adjustments" to become fully American.
This paradigm's time is up. Today, complex and compounding forces compel something more than incremental change in public education. Skyrocketing racial and economic inequality perpetuates generational poverty, predominantly for Black, Latinx, Indigenous people, demanding that education do more to create social and economic mobility. The future of work means that a person entering the workforce from low-income households today will likely work for six or more decades, during which time they will change jobs every four and a half years and "upskill" every five.3  Social changes and advances in technology push more and more learning outside of formal institutions, creating opportunities for dynamic learning ecosystems to take the place of linear, time-bound institutions of schooling.
Call to Action
This book issues a call to action for states to enact a Learner Promise: a commitment that every learner will have access and support to pursue a certified pathway with system-wide opportunities that guarantee entry into a meaningful, chosen career that will build social and economic capital over the course of their lives. Operating under this promise, states would enact systems of governance, policy, and infrastructure to certify that learners who demonstrate competencies in K-12, postsecondary, workforce, and community settings along a supported pathway will have access to continuing education and a purposeful, living-wage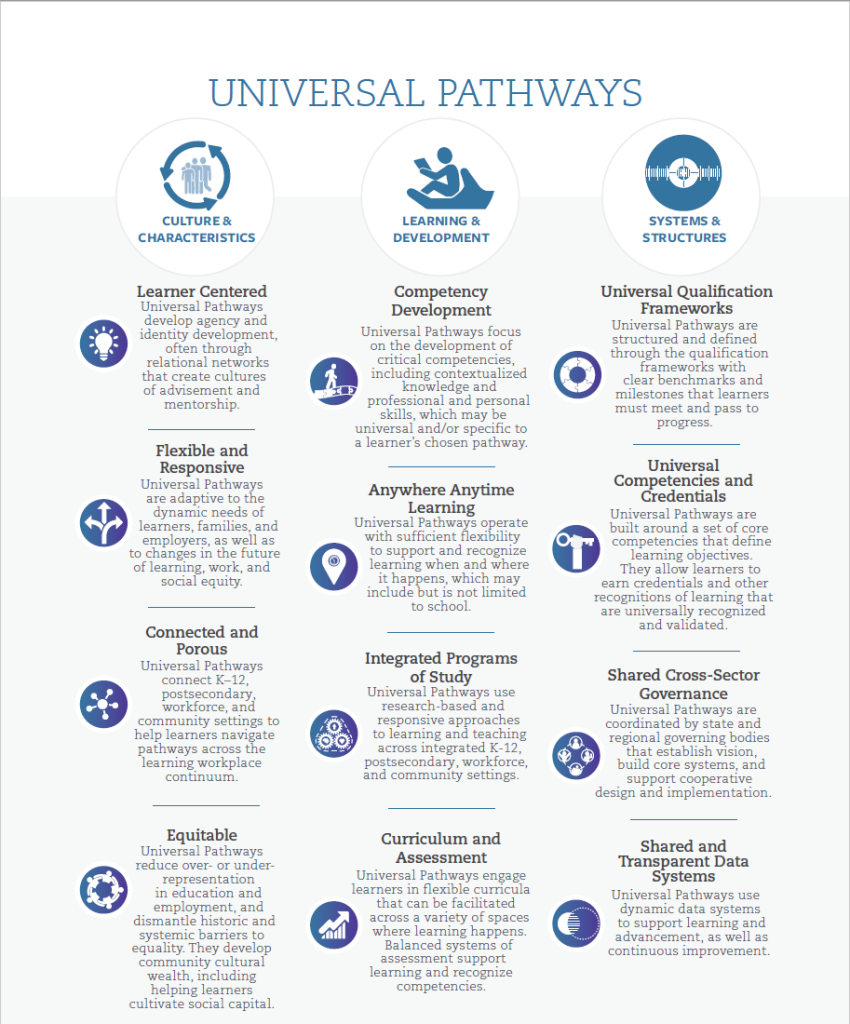 career. States would commit to taking the systemic action necessary to disrupt inequities in access, engagement, and attainment for Black, Latinx, Indigenous people, and people from low-income households. And, states would reimagine education not as a linear, time-bound sequence of learning that occurs within institutions of formal education, but as a learning ecosystem. This ecosystem would be an equitable, dynamic, and responsive system in which learners can customize their learning experiences as they navigate experiences across schools, workplaces, and communities.
What might this system look like?
A system of universal pathways would articulate and certify multiple career pathways from K-12 through postsecondary education, career, and continuing education. Pathways would be transparent, universal, and recognized by schools and employers across the state. Each pathway would be defined by a progression of qualifying milestones and recognized credentials, which would certify that a learner has demonstrated a set of competencies across contexts and institutions on the basis of performance assessments. Coordination across K-12, postsecondary, workforce, and community would be enabled by a strong system of shared governance and dynamic, transparent data systems.
A system of universal pathways would focus on the development of critical competencies that support learners' personal, professional, and academic development. It would recognize and support learning when and where it happens using balanced systems of assessment to evaluate and reward deep learning. It would prioritize cultural competency and align teaching with the learning sciences.