Issue Brief
Aurora Institute's 2022 State Policy Priorities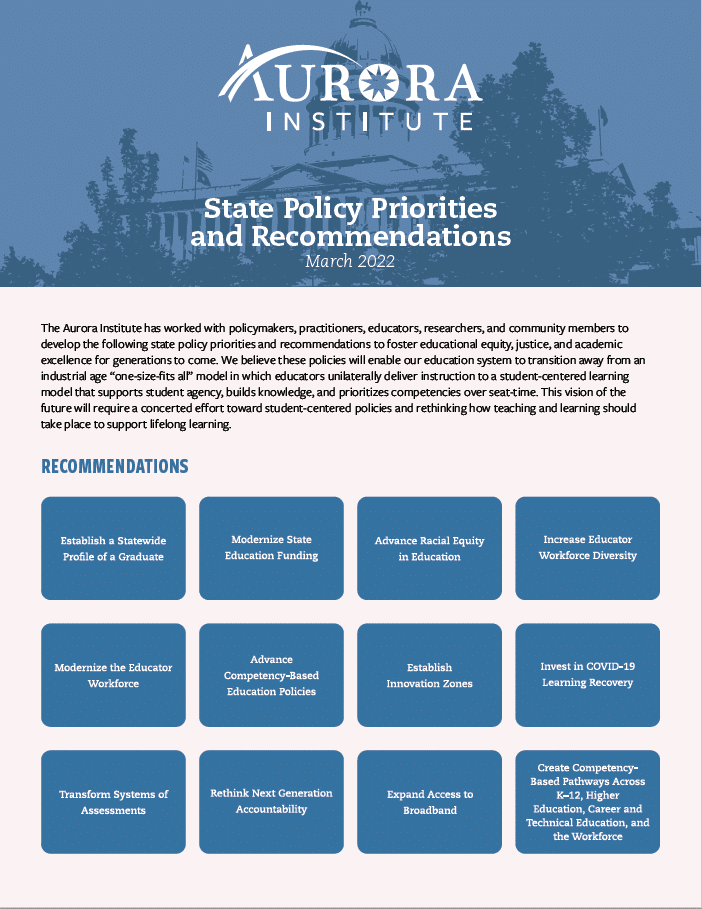 ---
The Aurora Institute's new broad-based policy agenda issues a call-to-action for state education policymakers and provides twelve recommendations informed by the wisdom and expertise of more than 8,500 members in its community. Taken together, the policy priorities challenge lawmakers and education decision-makers to wield their influence and take advantage of existing opportunities to disrupt the traditional one-size-fits-all model of K-12 teaching and learning and unleash learning from the confines of place and time. The priorities include:
Establishing a statewide profile of a graduate

Modernizing state education funding

Advancing racial equity in education

Increasing educator workforce diversity

Modernizing the educator workforce

Advancing competency-based education policies

Establishing innovation zones

Investing in COVID-19 learning recovery

Transforming systems of assessments

Rethinking next generation accountability

Expanding access to broadband

Creating competency-based pathways across K-12, higher education, career and technical education and the workforce
Download our 2022 state policy recommendations for a full analysis of these issues. Policymakers at all levels are encouraged to contact the Aurora Institute Center for Policy for more information or assistance.