Report
Blending Learning: The Evolution of Online and Face-to-Face Education from 2008–2015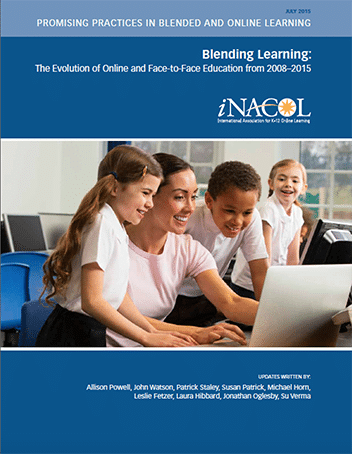 ---
This report explores the development of blended learning from 2008-2015, the evolution of definitions across blended learning models and effective blended instructional strategies grounded in case studies. The paper depicts how schools are implementing blended learning, increasing student engagement and academic success, and using digital content and curricula for data-driven instructional models while empowering youth. The case studies illustrate a range of blended learning implementations and provide insights for increasing program effectiveness.
In 2008, iNACOL produced a series of papers documenting promising practices identified throughout the field of K–12 online learning. Since then, we have witnessed a tremendous acceleration of transformative policy and practice driving personalized learning in the K–12 education space. State, district, school, and classroom leaders recognize that the ultimate potential for blended and online learning lies in the opportunity to transform the education system and enable higher levels of learning through competency-based approaches.
We worked with leaders throughout the field to update these resources for a new generation of pioneers working towards the creation of student-centered learning environments.