Issue Brief
Future Focused State Policy Actions to Transform K-12 Education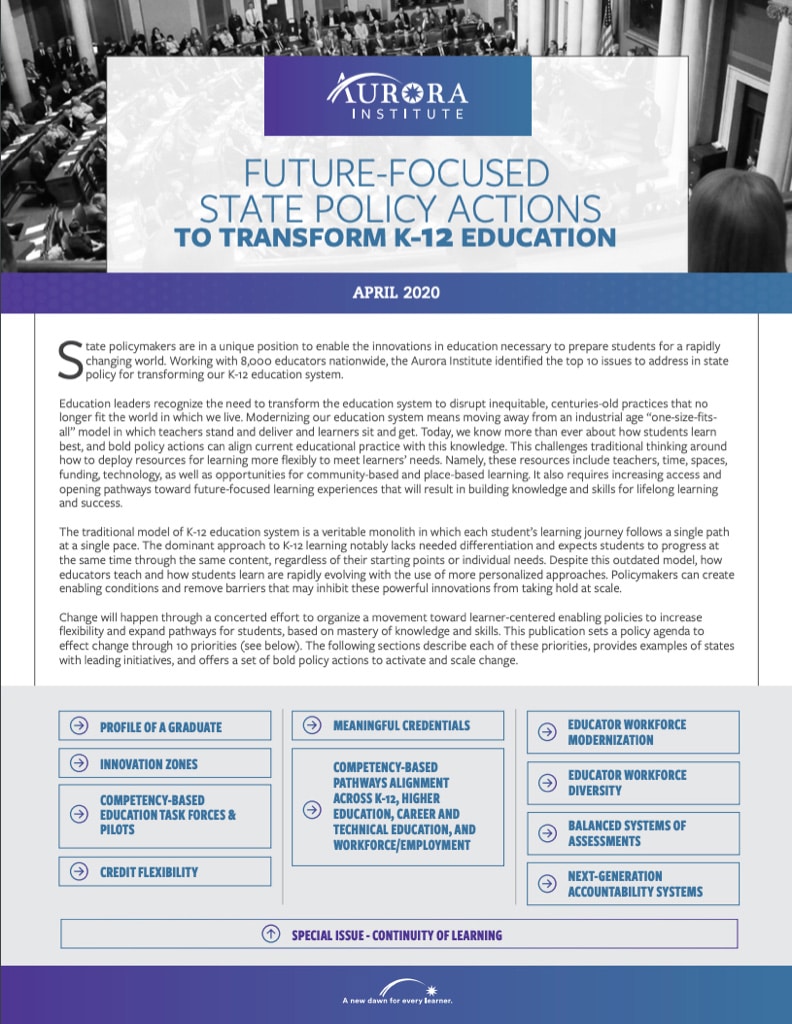 ---
State policymakers are in a unique position to enable the innovations in education necessary to prepare students for a rapidly changing world. Working with 8,500 educators nationwide, the Aurora Institute identified the top issues to address in state policy for transforming our K-12 education system, with a special issue dedicated to continuity of learning in the wake of the COVID-19 crisis.
Guided by values of educational equity and future-readiness for all learners, this publication is a set of 11 opportunities to make the nation's education system fit for purpose. At the state level, the Aurora Institute Center for Policy is supporting policy analysis and making recommendations governors, state legislators, education agencies, school leaders, and other policymakers to work together with their communities to:
 

Establish Profiles of a Graduate

 

Launch Innovation Zones

 

Create Competency-Based Education Task Forces & Pilots

 

Offer Credit Flexibility

 

Make Credentials Meaningful

 

Align the pathways between K-12, higher education, career and technical and education, and the workforce — and make them competency-based

 

Modernize the Educator Workforce

 

Diversify the Educator Workforce

 

Produce Balanced Systems of Assessments

Create Next-Generation Accountability Systems

Ensure Continuity of Learning
Taken together, these policy priorities challenge lawmakers and education decision-makers to wield their influence and take advantage of existing opportunities to disrupt the traditional one-size-fits-all model of K-12 teaching and learning and unleash learning from the confines of place and time.