CompetencyWorks, Report
Maximizing Competency Education and Blended Learning: Insights from Experts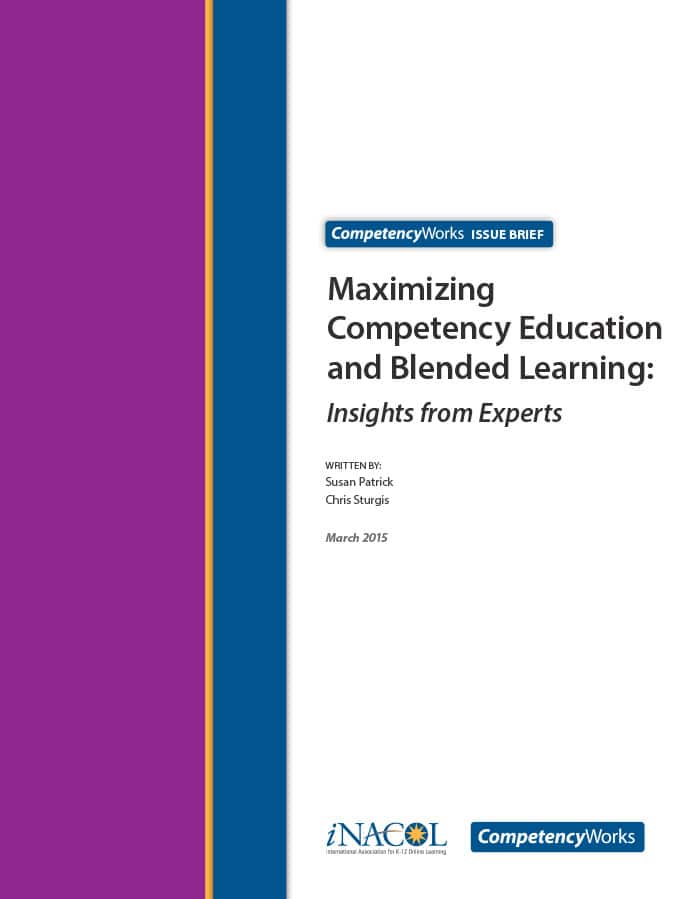 ---
This report includes information on implementing blended, competency-based education. It discusses the implications of personalized learning as a main pillar of school design, structured around ensuring equity and quality.
To assist school and district leaders in their efforts, the report emphasizes five fundamental conditions that are required to shift to personalized learning models:
Leadership: Updating the Human Capital Pipeline
Resources: Innovating Along a Continuum
Supportive Policy
Data Infrastructure and Technology Ecosystem
Community Engagement and Public Will
In May 2014, CompetencyWorks brought together twenty-three technical assistance providers to examine their catalytic role in implementing next generation learning models, share each other's knowledge and expertise about blended learning and competency education, and discuss next steps to move the field forward with a focus on equity and quality. Our strategy maintains that by building the knowledge and networks of technical assistance providers, these groups can play an even more catalytic role in advancing the field. The objective of the convening was to help educate and level set the understanding of competency education and its design elements, as well as to build knowledge about using blended learning modalities within competency-based environments. This paper attempts to draw together the wide-ranging conversations from the convening to provide background knowledge for educators to understand what it will take to transform from traditional to personalized, competency-based systems that take full advantage of blended learning.