2015 Education Highlights in Policy and Practice
Education Domain Blog
---
2015 has been an exciting year for competency-based, blended, and online learning. We've witnessed breakthrough policies signed into law, hundreds of districts and schools shifting toward a new era of personalized learning, and an unwavering focus on doing what is best for kids. As 2015 comes to a close, below we reflect on the 2015 education highlights in policy and practice throughout the year.
2 Federal Policy Highlights of 2015
The Historic Passage of ESEA
From iNACOL's perspective, the most important education highlight of 2015 is the historic passage of ESSA. The Every Student Succeeds Act (ESSA), signed into law by President Obama on December 10, 2015, reauthorized the Elementary and Secondary Education Act and replaced No Child Left Behind. This signifies a historic shift and it ushered in a new era for K-12 federal education policy, holding significant implications for K-12 education. ESSA gives states the flexibility to redesign assessments around student-centered learning, to rethink accountability for new learning models, and to modernize educator and leader development. It also provides funding to states and districts to implement personalized learning and invests in research on the digital equity gap.
#ESEA Reauthorization was a historic, bi-partisan effort. Huge thanks to Congress and #POTUS for new law as #ESSA was signed today! @nacol

— Susan Patrick (@susandpatrick) December 10, 2015
This 'sea change' in federal education policy allows K-12 education to move from an old era of data poverty to a new era of multiple measures to evaluate student success. This will provide a catalyst to examine what it means for each and every child to be prepared with a quality education and engage as thoughtful citizens in their communities for the future.
For more information:
The White House Summit on Next Generation High Schools
In November, the Obama administration announced more than $375 million in public and private support for next generation high schools. The White House hosted the first-ever White House Summit on Next Generation High Schools, which highlights students, educators, philanthropists and entrepreneurs who are reinventing the high school experience to better empower students to seize opportunities and prepare students for success in college and career. This showcases a broad federal and private commitment to creating personalized, deeper learning experiences to improve graduation rates throughout the nation.
4 Highlights from 2015 Grounded in Practice
The RAND Study and Personalized Learning
Districts and schools across the country are shifting their focus toward personalized, competency-based models of learning. The RAND Study that came out in November 2015 provides shows promising evidence on student achievement in personalized learning environments across 62 schools over a two-year period. According to the study, there were positive effects on student mathematics and reading performance, and the lowest-performing students made substantial gains relative to their peers. This exemplifies the promise of personalized learning models to improve and transform K-12 education and to advance equity.
NGLC Initiative and Getting Smart on Regional Next-Gen School Design
The NGLC initiative has created powerful, personalized learning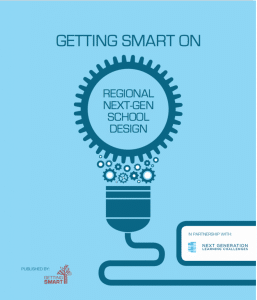 opportunities for students in six regional hubs for innovation, including schools in New Orleans, Chicago, Washington, D.C., Colorado, New England, and Oakland. The regions create iterative approaches to the design, research and development of new school models that accelerate student outcomes and achievement through personalized, blended and competency-based models. They are incubating, innovating, and sharing best practices and lessons learned within and across regions, creating thriving next generation regional ecosystems.
For more information:
Bundle: illuminates best practices and stories of 6 regional hubs for innovation
Chan Zuckerberg Initiative
The announcement of the Chan Zuckerberg Initiative has the potential to have a huge impact on the future of personalized learning. Mark Zuckerberg has been exploring how to have the biggest philanthropic impact on education worldwide through personalized learning. Although personalized learning has been around for decades, we only recently gained access to the technologies and tools to empower teachers to personalize learning for every student. Zuckerberg has focused on connecting education to real-world experiences and grounding learning within the wider community, which exemplifies the supports necessary to promote equity, access and opportunity for all students. For example, for students who live in poverty and come to school hungry, part of personalization is the supportive social services—the meals, community healthcare, resources and supports—so that students can meet their potentials academically, socially and emotionally.
For more information, here is a thoughtful and very detailed account of the Chan Zuckerberg Initiative mission and philosophy.
Assessment for Learning Project
The Center for Innovation in Education and Next Generation Learning Challenges announced the Assessment for Learning Project, which is a grant initiative that will support educators as they fundamentally rethink the core role(s) that assessment can play to support deeper learning. They are offering nearly $2 million for 12-15 grants. This financial commitment to rethink systems of assessments to align with student-centered learning will help to catalyze new and scale existing innovations in assessment, and advance system enablers such as building educator capacity and use the power of technological tools to drive richer and deeper student success. (CompetencyWorks covers the implications of this grant initiative here.)
As we reflect on a year of progress and look forward to the field's potential in 2016, we are thrilled about the momentum, energy, and unwavering commitment to transform K-12 education through high-quality learning opportunities that prepare all students for a lifetime of success.
What policy- and practice-related highlights would you highlight from 2015? Share them with us through comments or by tweeting us at @nacol.