Inspiring Innovation and Optimizing Learning through Maker Spaces
Education Domain Blog
---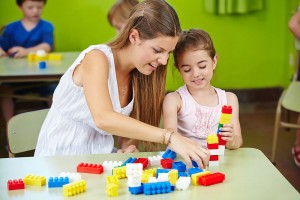 The White House declared June 17-23, 2016 as the National Week of Making, inviting libraries, museums, recreation centers, schools, universities and community spaces to celebrate ingenuity, inspire creative problem solving, and support opportunities for those from all backgrounds to tinker and make.
This initiative is designed to give all students access to a new class of technologies, including 3D printers, laser cutters, and tools for digital design—enabling students to design, build, invent and problem solve in new and unique ways to optimize learning.
Students engaged in making and designing can transform ideas into reality, developing prototypes to solve the world's most challenging problems. These experiences spark student interest in STEM careers and develops growth mindset in students, enhancing their curiosity, collaborative problem solving, grit and self-efficacy.
The Maker Movement is inspiring the next generation to invent and learn vital skills to be successful in college, career and citizenship. It is advancing the potential to personalize learning for each student, driving student agency, enhancing student engagement, and providing multiple pathways toward college and career readiness.
As part of National Week of Making, iNACOL responded to the White House's call for commitments on new, measurable ways we are supporting students with the tools, technologies and resources to invent, create, and make a stronger, more innovative future.
How iNACOL is Advancing Innovation through Making
By supporting a culture of making, educators across the United States are creating opportunities for interactive, hands-on learning in and outside of the classroom, empowering students to solve real-world problems. iNACOL is supporting educators and driving innovation through our annual iNACOL Blended and Online Learning Symposium, by publishing cutting-edge research on emerging topics in personalized learning, acting as a knowledge hub and building field capacity, and working with policymakers to remove barriers that hinder innovation.
iNACOL will be highlighting maker initiatives through workshops and sessions at the annual iNACOL Blended and Online Learning Symposium to bridge the gap between concept and practice, stimulate knowledge building, and share best practices. The iNACOL Symposium, being held in San Antonio, Texas on October 25-28, 2016, gathers 3,400 leading-edge practitioners, innovators, leaders, policymakers and experts to transform K-12 education toward powerful, personalized learning, including the use of maker spaces to advance personalized learning and spark student agency and engagement. Through thought-provoking sessions and information sharing, these leaders shape the future of education. The Symposium will provide the opportunity to build field knowledge around maker spaces. (Attendee registration is open—register here.)
By publishing cutting-edge research to advance K-12 personalized learning, iNACOL convenes innovative leaders to share best practices and lessons learned on emerging topics such as maker spaces, building field knowledge and capacity to implement K-12 personalized learning for all students.
iNACOL connects, identifies and offers a voice to leading K-12 educators and practitioners in schools and districts who can share stories of success, identify lessons learned, explore tough issues, share promising practices, and express thought leadership in K-12 personalizing learning through maker spaces, cultivating learners into 21st century problem solvers.      
Personalized learning requires removing policy barriers and creating enabling legislation to foster innovation, expand access to educational opportunity and ensure quality. iNACOL recently released Promising State Policies for Personalized Learning which provides state policy exemplars for policy leaders seeking to help enable educators advancing personalized learning environments in K-12 schools. iNACOL advocates for providing all students with access to high-quality educational opportunities, with multiple pathways such as maker initiatives, to advance K-12 personalized learning and provide all students with the knowledge, skills and dispositions to be successful in college and careers, and as citizens.
Ways to Get Involved:
Learn More: