Tackling Issues of Equity in Personalized Learning
Education Domain Blog
---
This blog post first appeared on CompetencyWorks on June 14, 2016.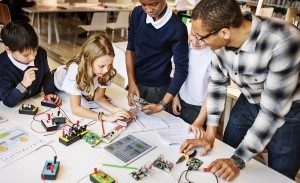 Personalized learning has become a critical element of most next generation learning models, as we are faced with the challenge of ensuring all students get what they need to be successful in their transition to college and careers. We know we can't reach that goal by delivering one-size-fits-all instruction. The only way we can do it is through personalizing education.
Students differ in so many ways — personality, life experiences, physical and emotional maturity, learning styles and challenges, opportunities to explore the world, responsibilities, habits for study and work, and academic skills. Thus, the overall concept of personalization and the specific approach of personalized learning is designed to improve educational outcomes of underserved populations by responding directly to individual student needs, strengths, and interests. Instead of moving students through one curriculum and the same instruction in the same set of time, personalized learning seeks to be responsive to students.
Personalized learning raises concerns about equity in two ways. First, there is a worry that personalized pathways could result in different expectations. Second, if educational experiences vary, they may also create or exacerbate/increase patterns of inequity unless careful attention is given to monitoring student progress and outcomes and providing the necessary supports for all students to achieve mastery. We know that using the same textbook and sitting in class the same amount of time has not resulted in economic or racial equity. With a focus on equity and setting the same high levels of competencies and standards for all students, many innovators see personalization and competency education as complementary approaches to better serve students and provide a more transparent structure around performance to ensure equity while still offering a more student-centered approach to learning. For more information on issues of equity in personalized learning, competency education and blended learning, see this CompetencyWorks report.
As Susan Patrick mentions in this blog, "Standards, world-class knowledge, and skills are critical as the floor (not the ceiling) of expectations for each and every student." It is important to set high academic standards and raise learning expectations, arming students with the critical problem-solving skills to succeed in today's globally competitive economy.
How does personalized learning address equity in your state, district or school? Let us know in the comments below or tweet to us here: @nacol, @CompetencyWorks, @sturgis_chris.
For more information, explore this whole blog series on confronting equity issues in personalized, competency-based and blended learning:
Blog 1 in series: Addressing Equity Issues in Personalized, Competency-Based and Blended Learning
Blog 2: How Competency Education Drives Equity
Blog 3: How Misconceptions About Competency Education Could Undermine Equity
For more information, see: