Wells High School: The Timeline to Transformation
Education Domain Blog
---
This post first appeared on CompetencyWorks on January 13, 2016, and it is part of the Maine Road Trip series by Chris Sturgis.  This is the fifth post in the Road Trip to Maine series. The first post is on lessons learned, the second is a look at Richmond Middle and High School, the third looks at meeting students where they are, and the fourth looks at moving beyond the test score with hope.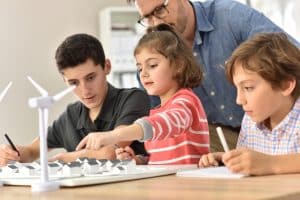 The sign that greets you as you drive into Wells, Maine labels the town the friendliest in Maine. Certainly the young women working at Aroma Joe's, where I stopped to get my caffeine fix on a brilliant fall day, were over-the-top friendly.
Wells High School is situated along the Maine coast, serving a student population of 440 students running at about 18 percent FRL. This means the school has to mitigate a huge gap in terms of social and educational capital available to students outside of school. They are doing very well with a 98.4 percent four-year graduation rate, the highest in Maine.
Principal Eileen Sheehy explained, "Wells doesn't lose kids. We take it as a personal challenge to make sure every student gets the help they need. If kids are failing, we feel that we are failing." On the cusp of moving into a new facility in January, Wells is also moving toward creating a proficiency-based diploma to comply with the state legislation by 2021. This is the first district I have encountered that is approaching PBL under the umbrella of compliance. Yet, even with this overtone of compliance, there was a strong commitment to doing what is right by kids.
Assistant Principal Josh Gould explained that it is important to really pay attention to what is important for preparing students for college and careers. The standards are important, of course. However, at Wells High School they think that passion and persistence lead to success. Part of this is to make sure students can always get the help they need. For example, there are already strong strategies for providing extra support. Every Friday the principal runs a list of students who are failing in any class, and then staff meet with them to identify additional resources needed to help the student succeed. For those who need extra help – to understand the course content or because they fell behind on assignments – they are scheduled for the Warrior Lab. For example, students might drop an elective to spend time in the Warrior Lab. For seniors, failing has the immediate consequence of losing their senior privileges.
Established by current superintendent Jim Daly, The Warrior Lab is a dedicated space with resources to help students get back on track. It's staffed with education support personnel who are ready to assist students. Tim Roche, football coach, is head of the Warrior Lab. Teachers stop by during their prep time to help students if they need re-teaching. Roche explained, "When students begin to disengage, they are pulling themselves out of instruction. We know something is going on. We want to pull them back in." The immediate targeted intervention ensures students get timely support.
Student success is at the forefront of all of Wells' decisions. Whether it be for the two students who just gained entrance to Princeton and M.I.T respectively, or if it be with the established vocational tracks, Wells uses student data on a daily basis to ensure each student has access to the resources needed. This personalized efforts led Wells' students to pass 99.02 percent of the courses they were enrolled in during the past trimester. Many of the greatest success stories are celebrated at the monthly Breakfast of Champions initiative, which in part seeks to recognize students who achieve under challenging circumstances.
In order to help Wells High School make the transition, the district is adding to their capacity by hiring a team of people who have a deep understanding of personalized learning, including Josh Gould and Stacey Schatzabel, Director of Instruction, also with roots at Noble High School. In recent years, the school has accessed external resources to help develop common assessments and used models created by the Great Schools Partnership to aid in the development of a proficiency-based infrastructure.
Their definition of proficiency-based learning emphasizes an aligned instructional system:
Clearly articulates the necessary skills in a given content area.
Uses formative and summative assessment to help students understand their own skills.
Provides increasing levels of sophistication in content and assessment.
Expects students to demonstrate mastery of all skills.
They've already started down the path – they have created scope and sequence charts in most subject areas, prepared units to meet scope and sequence, identified mastery objectives in most subjects, and started to develop common assessments.
When I visited, the academic departments were beginning to work through graduation standards. This process started by reviewing previous documents used to guide curriculum development, then reviewing the expectations set out by LD 1422, and then looking at the exemplars developed by Great Schools Partnership. By cross-referencing these documents with local values of the school district and other state or national standards, departments are creating the graduation requirements that will be officially adopted by the school committee as graduation standards.
The timeline for going forward includes: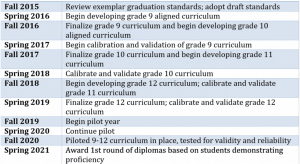 Gould explained that Wells has a strong orientation of personalization upon which to build the proficiency-based system. "Our staff has already focused on building relationships with students and helping them to find ways to create meaning, including experiences in the real-word. The thing that will be new for our team in the proficiency-based system is calibration. It's clear that it will help us to sharpen our teaching." He discussed how focusing on standards rather than grade-based curriculum can open the door to new opportunities such as introductory courses to make sure students have the pre-requisite knowledge for cross-disciplinary courses and projects. Gould also explained that Wells wants to keep expanding their capacity to provide deeper learning. "We have to balance depth and breadth. If the focus is on content, then it can slip into coverage. If the focus is on building skills, then we have to make sure there is breadth." Students are at the heart of the discussion on personalization and proficiency. This fall, Superintendent Jim Daly added two students as voting members to the school committee.
The district is planning on moving all schools to proficiency-based over time. Elementary school is already using standards-referenced reporting, and there are early conversations between the principals of the high school and middle school about supporting students. Students who are able to advance more rapidly will be able to stay in school and take college-level courses through AP and dual enrollment. It's pretty easy when York County Community College is only one mile away.
One of the things I learned through my conversations with Gould and Schatzabel is that the process of aligning systems can be very iterative. For example, the teachers at Wells selected the Danielson model to support the teacher evaluation system. A strong system, it also tends to be based on more traditional classrooms where students are in rows and teachers are directing the activity. Thus, Wells is also using Marzano's library of resources and videos as it is more aligned with a personalized, proficiency-based system. Using iObservation, teachers are beginning to understand what level of knowledge they are using to design instruction, activities, and assessments. Like most districts making the transition of proficiency-based learning, Wells is focused on ensuring higher order thinking is at the heart of all instruction. Gould noted that in the spring they are planning on initiating the process of creating rubrics that can begin to create more consistency across teachers as well.
It's at schools like Wells, with a mix of socioeconomic backgrounds among its students, where we hope to see the value proposition behind competency education come true. If there is transparency about what students need to learn and what proficiency looks like, if there is guidance in building the skills needed to be self-directed learners, if there is adequate support, and if there is opportunity to discover and pursue things that are meaningful to students – will we see all students, including those with significant challenges and other historically underserved students, strive and thrive?
See also: