What Does Personalized Learning Mean for Students?
Education Domain Blog
---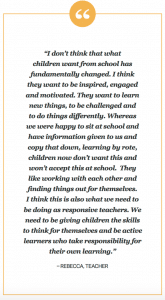 This is the second blog in a series on What's Possible with Personalized Learning? Read the first post or download the entire report.
Education leaders, parents, teachers, students and communities are sparking conversations around what modern learning environments look like and how schools can best prepare students for postsecondary success. Many are turning to personalized learning models to better ensure that students will graduate with the knowledge, skills and experiences they need for a well-rounded education and to be prepared for future success.
To put it simply, personalized learning means that each student will have their learning needs met. Many schools begin the shift to personalized learning because they are responding by listening to conversations across their communities with students and their families who share their frustrations with the limitations of the current one-size-fits-all education system and want to see new approaches put into place. In other words, because students and families gain the most from the shift to personalized learning, they are typically the biggest drivers and advocates for these changes.
Students are excited about personalized learning for these reasons:
Students have a say in their learning.

The individual needs of each student are met, so each student is successful.

Students have a clear understanding of their learning goals and know how to achieve them.

Students get to make choices about how they "show what they know."

Students get the support they need when they are challenged or need help with new concepts.

Students get the encouragement they need when they are ready to move forward.
Below, students tell their stories depicting why personalized learning is so important to them.
Michael's Story
Michael is a 10th-grade student at Lindsay Unified High School. His perspective is shared in a new book (Beyond Reform: Systemic Shifts Toward Personalized Learning) featuring insights from teachers and leaders in the Lindsay Unified School District, published by Marzano Research.
"To Michael, it felt like he had always had trouble in school. He struggled to comply with expectations and had little confidence in his own ability to succeed. He tried to fly under the radar, avoiding interactions with his teachers as they were negative more often than not. As Lindsay schools transitioned to a new system, Michael began to notice that not only his teachers but also other staff were talking to him about his performance at school. What were once trips to the office due to misbehavior became discussions with his learning facilitator about what he needed to be learning. When calls came home to his family, they were laced with reports of positive growth and behaviors. Even at lunch, the food services staff member asked how his classes were going as she filled his plate. It seemed everywhere Michael turned, school staff were demonstrating concern and consideration for his well-being. Within the first two years of Lindsay's school district performance-based system, Michael changed his behaviors in class, moved ahead of pace in his strongest subjects and even voluntarily stayed after school to work with peers. Whereas he felt alienated and rejected by school staff in a traditional setting, in the new system he was motivated and supported. By graduation, he had a network of staff members that celebrated his success and encouraged him in his next steps and career goals."
Jack's Story
Jack is a junior at Dupont Manual High School in Louisville, Kentucky. He spoke to about 3,000 teachers and leaders at the iNACOL Symposium as part of a student panel on personalized learning. (Watch the student panel keynote video here and subscribe to our YouTube channel.) This is an excerpt from Jack's speech, which you can also hear on the podcast "The Voices of Tomorrow's Leaders."
"Like everything in my life, it's complicated. I spend half my days in accelerated classes and the other half in special ed. I didn't start talking until I was almost 3, but it was worth the wait because my first word was "wow." I didn't learn to read until I was almost 10, but two years later, I won an award for my ACT score in reading – a 34. When I was 14, I actually got a perfect score… I have autism, ADHD and Tourette's – which make my life pretty challenging. Sometimes it seems like people think that I have consciously chosen to have a brain that is physically different from others. Nope – I do not have a designer brain! When it takes me longer to finish a test or when I need to get up and pace, believe me, that's not what I would have designed. Would you? A lot of the time I feel like I'm on trial – that I have to prove that I need help. That's how it is with hidden disabilities, which by the way, 70 percent of all disabilities are.
Mostly I was homeschooled because we couldn't find a school that wanted me or that was a good fit. I did go to a school for kids with learning differences for third grade. At the end of the year, they said we needed to find a new school because I scored too high on standardized math tests. The funny part is that they had to put me in remedial math classes because I couldn't read the story problems. It took several months and my mom pushing before they realized that not being able to read didn't mean I couldn't do the math…"
My teachers are really nice. They try hard and care a lot. But my general ed teachers have to teach to the AP and other tests, which makes for mostly boring classes, and my special ed teachers are not trained to teach what I really need to learn or to help me with subjects like Calc B/C. I feel like a lot of my time in school is wasted. Instead of motivating or inspiring me, it just leaves me feeling exhausted. Homework would be mostly unnecessary if what we did in classes was exciting and if those classes were organized by skill levels instead of grades – more like homeschooling, actually."
What if classes were as long (or short) as they needed to be instead of a fixed amount of time? What if instead of taking tests, the students created them? That would be so much more interesting and useful.
Please don't listen to my story and think, 'Oh, he's just an outlier,' because while that's true in some ways, it's not true when it comes to what is most important. I am just like each of you when it comes to wanting friends, wanting to do interesting work, wanting to feel like I am heard, and wanting to enjoy my life. Although I do not believe our election process is rigged, I do believe that in many ways, our education system is. In two years, I'll be able to vote, but I shouldn't have to wait until I am 18 to be heard."
You can tell from these students' stories that personalized learning is about focusing on each student's needs. This means the level of instruction is offered at a level appropriate to a student's learning goals and strengths, instruction may be offered in a variety of learning modalities, and there is real-time feedback for students and teachers on a student's progress. Teachers can personalize instruction for each student with help from the effective use of technology. As practitioners and educators work together to innovate and design new models, it can be helpful have educators and students to share stories on what it looks like for them with parents and communities to demonstrate the promise of personalized learning approaches.
To learn more about What's Possible with Personalized Learning, stay tuned for upcoming blogs in this series and review the following resources.
Blog series:
Resources: