What We Can Learn from Chugach School District
Education Domain Blog
---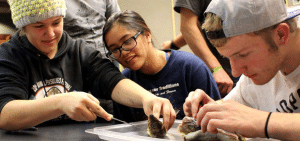 This post first appeared on CompetencyWorks on March 8, 2016. You can find the original post here.
It's kind of amazing, isn't it? The first district to design a competency-based system was a relatively new one, located in the most northwestern corner of our country and serving remote villages of Native Alaskans. You can read all about it in the new report Chugach School District: A Personalized, Performance-Based System.
Staying the course for over twenty years, Chugach has developed a personalized, performance-based system that places students at the center and deeply values teaching and teachers. As we know, competency-based education starts with the idea that we can actually design for success and eliminate the traditional practices that lead to sorting and inequity. It also positions districts to manage continuous improvement processes that are constantly helping to build the organizational and instructional capacity of schools.
What Chugach helped me to understand is how profoundly competency-based education positions teachers to be able to use (and develop) their instructional expertise, their assessment literacy, their creativity, and their relational skills in helping students become independent learners.
Although I think this report will be helpful to anyone interested in competency-based education, it will be particularly useful to those interested in teaching and learning within competency-based schools, those working in rural communities, those thinking about how to create the competency-based infrastructure, and those working with Native American, Native Alaskan, and Native Hawaiian communities.
If you want to learn more about Chugach, we highly recommend Delivering on the Promise. It's a great read for anyone who is trying to understand what competency-based education is really about.