Three Lessons Learned from PACE
CompetencyWorks Blog
---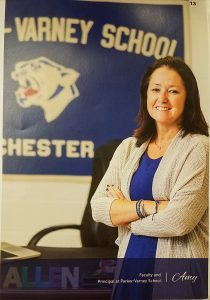 Parker Varney Elementary School in Manchester, NH has been involved in the PACE initiative since 2015. (You can read more about Parker Varney here and here.) PACE, or the Performance Assessment for Competency Education, is an initiative designed to transform classroom practice to improve college and career readiness by building educator capacity and increasing student engagement through the design and use complex performance tasks. The initiative is also helping to build a shared understanding of proficiency for ELA (third and eighth grade) and math (fourth and eighth grade) across New Hampshire by using cohorts of districts that work together for a year.
As we moved to personalized, competency-education, there could have been many missteps. However, the strong network of district leaders, principal, and teacher leaders proved invaluable. With a powerful network supporting us, what might have been missteps instead became powerful lessons learned.
#1 Making the transition to personalized, competency-based education with performance assessments is paying off.
Our students are more engaged in learning than ever before. The result has been deeper, more authentic learning opportunities and greater student engagement. At Parker Varney Elementary, students in a multi-age 2/3-grade classroom exhibited significant progress in reading achievement. At the start of the 2016 school year, 29% of Grade 2 students and 75% of Grade 3 students were proficient in reading as measured by the district's benchmark assessment. By March 2017, 77% of Grade 2 students and 85% of Grade 3 students were proficient in reading as measured by the district's benchmark assessment.
From September 2016 to April 2017, special education referrals declined by 21%. At the start of the 2016 school year, our Grade 2 and Grade 3 English Language Learners were 54% proficient in reading as measured by the district's benchmark assessment. By June 2017, 85% of those students were proficient and making at least one year's growth as measured by the district's benchmark assessment.
In the student exhibitions, you see students shining as they take on the role of experts. During a tour, I brought two national visitors to our innovation-learning lab. Eighty-nine students were showcasing their Jr. Steam projects in which they had designed robotics to solve environmental problems. With 100% of the class participating, the room was filled with students excited to share their ideas, learning, and success. These deeper learning opportunities removed the barriers encountered by students in special education, English Language Learners, and poverty.
One of our parents called me after the presentation and told me that they had to move across town and would have to enroll in a different elementary school. She said she was concerned that her student would not have the same experience at the other school as she did at Parker-Varney. I asked her to clarify and she said, "My child has never been so excited for learning. He has always felt that he was not as smart as his classmates. We moved a lot and he has always been catching up. I saw him today and he was glowing. He was so proud to show off his robot and how it would improve pollination. He loved talking to every visitor and answering questions. He used words that I have never heard but more importantly, he knew his information and he has never felt so smart." Every parent wants their child to love to learn and feel good about themselves; competency-based personalized learning has opened that door for our students.
#2 Meeting students where they are is a whole school commitment.
Parker-Varney Elementary (Pre-K-5)is a high poverty school in Manchester, the largest city in New Hampshire. With roughly 650 students speaking 11 different languages, we relied on personalized learning to help address our equity issues. In 2016-2017, we participated in the NG2 pilot: No Grades/No Grades. Teachers created "grade-band" configurations: K/1/2, 2/3, and 4/5. Students were placed on teams (Team Empathy, Cooperative, Panther United) and worked with two to four adults daily. The rooms were decorated by themes, and we purposefully omitted the traditional grade levels. Students moved seamlessly through classrooms, depending on the standard they were working on. In the K/1/2 bands, I would hear, "I am going to the lake for reading, or I am heading to the mountains because I can work best over there." We intentionally built opportunities for student choice and nurtured student agency even with our youngest learners. Students were engaged in their learning and were able to see learning as a journey of growth.
We are now having conversations about our next steps with our students who have met 5th grade competencies but may not be emotionally/developmentally ready for middle school. We are engaging in conversations with the student, their families, the middle schools, and local charter/virtual schools in order to create options for all of our students.
#3 Building teacher capacity around performance-based assessment has improved our assessment literacy and our instruction.
We have always believed that we need to put students in the center of learning. PACE placed teachers in the center of their own learning. Building teacher capacity around performance-based assessment has improved our assessment literacy and our instruction. We wanted to make sure that capacity building around performance assessment was school-wide. Over the course of two days, our entire faculty engaged in the performance assessment cycle. Teachers from every discipline and grade level went through the task validation process and the calibration of student work. This teacher-centered learning builds upon their instructional expertise while building the capacity for our school to offer deeper learning through a validation and calibration process.
Teachers found that they had their beliefs and assumptions about their students challenged. A veteran teacher admitted she doubted that her students would be able to complete such complex and rich tasks, "I could not believe the level of engagement during these performance tasks. Every one of my students, regardless of disability or English Language skills, took the same test. They were able to demonstrate their knowledge in multiple ways, and you could sense the excitement in the room and the confidence of success."
Since our original training in early 2015, our teachers have taken the lead in this process. Voluntarily, they bring their tasks for validation and student work for calibration in impromptu learning circles before and after school. It is an additional time where they give feedback, reflect, and make adjustments to their instructional craft.
As a principal, you know that something has value to teachers when they become the leads in the process and their own learning.
See also:
---
Amy Allen is principal at Parker Varney Elementary School in Manchester, New Hampshire.