3 Ways Parents Can Spot Student-Centered Learning
CompetencyWorks Blog
---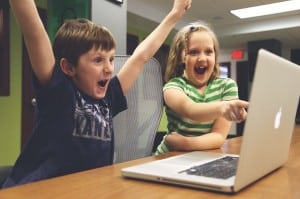 This post originally appeared at Getting Smart on February 26, 2015.
Recently I had the opportunity to learn alongside my seven-year old daughter, as we used the occasion of yet another snowed-in February day to scratch the itch of one of her many curiosities. Driven partly by me and largely by a friend at school, she's been talking a lot lately about computers and how they work so we sat down together to try the Hour of Code. It was fun for the two of us to share a learning experience that we were both coming to completely new.
So many of our experiences alongside our children often involve us teaching them things that we ourselves have already experienced or mastered. It didn't take long, however, before I realized the greatest lessons for me in that hour wouldn't be about coding. What I gained that snowy afternoon was a set of new insights into how my daughter learns, what motivates her, what frustrates her and how my interactions either supported or discouraged her learning. I was floored by how much she was able to learn in just one hour–the same hour that could've instead been spent watching half a movie or playing another spirited round of tag with her sister through the house.
So what was it about that learning experience that made it so powerful?
Student-centered learning is a term that Nellie Mae Education Foundation describes as having four components:
Learning is Personalized
Learning is Competency-Based
Learning Happens Anytime, Anywhere
Learning is Student-Driven.
Because I work as an advocate for student-centered learning, I recognize that these four characteristics were definitely factors in contributing to her powerful learning experience with the Hour of Code. But how do these components translate to real classrooms and real teachers? Is it possible for teachers to create the same type of experiences for kids in schools and classrooms?
How can parents recognize student-centered learning?
Here's my advice from the perspective as a mother of two school-aged children, a former classroom teacher and a current advocate for student-centered learning:
Students are in the driver's seat.
There are a few key questions to ask to determine if your child is in the driver's seat of their own learning.
Teachers help plan the routes.
Your child's teachers should know where your student currently is academically, where they've been and where they are going. Ongoing, meaningful assessment of knowledge and skills is essential to obtain insights needed to personalize learning. This knowledge generated from these assessments should inform your child's learning experience. Good teachers have long known the importance of getting to know individual learners and differentiating instruction in this way. We're big believers in the potential of technology such as adaptive learning tools and blended learning classroom models to help teachers efficiently gather and track powerful student data to inform their instructional path.
Chris Sturgis & Laurie Gagnon recently shared these helpful questions that can assist parents in better understanding the kind of assessments needed to make student-centered classrooms work.
How has the school organized its learning and assessments?
Where are you in terms of how the learning is unfolding for the students? Are they starting a new module, working on a new concept or skill, or applying concepts and skills they have learned to new situations?
What is the purpose of the assessment: is it within a unit or project, or is it a yearlong or culminating project such as a capstone?
How do teachers share their work together through designing and validating tasks, calibrating student work scoring, revising tasks, sharing instructional strategies, etc.?
How do students share their work with each other through collaborative work, peer review, etc?
Are there portfolio reviews, exhibitions, or other opportunities where students present to authentic audiences, such as members of the community, parents, or other students?
Everyone has access to the "map."
In a student-centered learning environment, everyone – students, teachers, parents – has access to and understands the landscape–with an awareness of the roadblocks that may be coming ahead and a plan to work through them. To find evidence of the "map," reflect on or ask these questions:
Does your child's teacher have a system for tracking individual student progress toward overall academic goals across various content areas?
What is your child's involvement in tracking their progress and setting their own goals?
Does your child have a strong sense of their strengths, weaknesses and overall progress?
Can parents easily access information about their student and get an accurate picture of how their student is progressing? (Student data backpacks and expanded learner profiles are one way schools are approaching this.)
Whether you are currently choosing a school for your child or whether you are just curious to know more about their current learning environment, this list can help generate powerful insights about their learning. Don't be surprised if you do not find evidence of all three of these components in your child's current school setting. For many schools that are in the earliest phases of shifting to more personalized and student-centered learning environments, this list is more aspirational than it is currently in practice. Parents can be powerful advocates for shifts like these as schools and districts increasingly acknowledge the importance of parent and community support.
If your child's current school feels far off from the student-centered learning, determine what factors matter most to you and to your child and start there. Seek informal and formal learning opportunities for your child outside of the school day that are based on their interests and needs.
Above all else, engage your children in conversations about their own learning, then hand them the keys and send them on their way. You may even want to join them for the ride.
---
Carri Schneider holds diverse experience across K-12, higher education and education policy. Since leaving her second grade classroom, Carri has been actively involved in supporting education policy efforts to advance innovations in teaching and learning. She served as an online educator from 2005-2013 in a fully online Master's program in Educational Leadership and taught graduate-level courses in School Law and Curriculum. She has authored several pieces on the future of education. Carri manages Getting Smart's publication portfolio and co-authors dozens of pieces with writing partner Tom Vander Ark. Carri has also presented at national conferences including SxSWedu, iNACOL's Blended Learning Symposium and AERA. She holds a M.Ed. in Educational Administration and an Ed.D. in Urban Educational Leadership with emphasis on education policy and social justice.