It Starts with Pedagogy: How Lindsay Unified is Integrating Blended Learning
CompetencyWorks Blog
---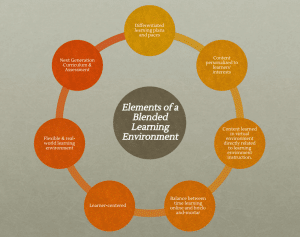 This is the fifth post in a series on Lindsay Unified High School. See the first, second, third, and fourth posts. 
The first thing you need to know about blended learning at Lindsay Unified School District is that they never use the term blended learning.
Joe Vagt, Director of 21st Century Learning and Technology, explains:
In our process of developing a personalized, performance-based system, we have had rich conversations about pedagogy, instruction, and assessment. We didn't see blended learning as something new or different – it's just a way for us to use technology in a way that provides even more opportunities for our learners.
When I went to the pre-conference workshop with Heather Staker at the iNACOL Symposium, it confirmed for me that we had the pedagogical pieces in place. We also already had a strong orientation to learner ownership, offering students choice in how they convey their learning. Essentially, the philosophy of performance-based learning was the same as that of blended learning.
The question we have to ask ourselves now is how to leverage technology to make our philosophy even more viable throughout the district. Technology is another tool to make PBS (performance-based system) a reality.
How is LUSD thinking about using technology to support learning and teaching? 
Vagt explained, "We are trying to create a model that allows technology to enable a cycle of inquiry that leads to higher order skills. In many cases, Learning Facilitators (LFs) already put their curriculum online, but we weren't drawing on the full benefits of technology. We want to see technology used to support learners developing foundational knowledge (Level 1 and 2 learning) and then lead them into further inquiry and application working with their peers and LFs. We want to make sure LFs are able to use their time to work with students around Level 3 and higher learning."
LUSD created a design team – including Chief Academic Officer Lana Brown, Performance-Based Specialist Rebecca Midles, learning facilitators, and technology specialists – to develop their technology-supported inquiry approach. The team reviewed all the different models of blended learning and realized that there were core elements to each one, including:
Learner centered
Personalized to learner interests
Differentiated pace
Multiple means to demonstrate knowledge
Balance between online and brick-and-mortar setting
Use formative feedback to inform instruction daily
Vagt pointed out, "We do not tell LFs which model to use – we want to empower them to make the choice that is right for them and their learners. We are exposing them to different models and then allowing them to decide what works best for them and their kids."
LUSD has also invested in improving the platform to support their PBS system. Working with Three Shapes, they are co-designing a student information system called Empower to be rolled out in 2015. In addition to supporting student ownership of their education, Vagt pointed out that this new system "will reduce hours (and hours and hours) of clerical time for LFs. Students will be able to submit assignments directly into Empower and directly into the class grade book, making it easy for LFs to score and provide feedback. Managing all the data about learning is one of the challenges of PBS, and we think Empower is going to help streamline it so that LFs can spend more time on instruction."
At LUSD, LFs are developing their own online curriculum with the assumption that it will eventually all be on the Empower platform. In the meantime, they have been using Google for Classroom. The LFs are organizing the learning into units of study for each measureable target. They are using their own resources, sharing these resources with each other, and mining OER for additional support.
The district purchased a select set of instruction-based software that includes Lexia Reading, a suite of Scholastic products, and Imagine Learning. Vagt explained that they want to be more strategic in the future about purchasing content. "We are going to create a protocol to help us evaluate the impact of purchased content on students. We are also going to create a protocol to help us think deeply about how a software will benefit learners before adopting it. It is easy to get seduced by the bells and whistles and get excited about what the salesperson says it can do without thinking about whether we really need it and how is it going to impact student learning. We have learned that there can be difficulty in adopting adaptive software because of translating it into our performance-based system. Our students and LFs want to know the level of rigor."
Lessons Learned
I asked Vagt to share his three big lessons learned:
Plan before purchase: Similar to many districts, LUSD purchased devices without the full plan in place. Vagt reflected, "I wish we had purchased devices once we had the plan in place of how they were going to be utilized in learning environments. In addition, we needed to have the digital resources and an effective system in place to support this initiative. We are a tech-rich environment with 1:1 devices, but now we need to establish a sound pedagogy to leverage these resources to enhance learning. The devices are fine and the learning facilitators have been very effective with integrating them into their learning environments. But it's always harder to go back and engage the learning facilitators in the conversation about how technology can enhance student learning. Devices really should be the last step."
Pay attention to developing the full infrastructure: Vagt explained that the district had focused on several of the pieces of the infrastructure that were needed, including expanding bandwidth and a system to monitor learner devices. "However, we forgot an important piece – how to repair learners' laptops. We knew we didn't want to have our parents pay the full cost if a laptop broke, as many are low-income. So we decided to self-insure the devices with a co-payment of between $10 to $30 based on severity of the damage. However, we didn't figure out how the actual repairs were going to be made. Now we are putting together the in-house capacity. We are tapping into the Computer Service Repair career pathway with the help of the assistant principal, who is setting up internships for seniors to repair the computers at the tech department. We were successful in resolving the problem by finding ways it can enhance the overall learning experiences at LUSD."
Support Learning Facilitators with technological support: Vagt explained that one of the best things they have done is to have a cadre of technology specialists called a Culture Development Team (CDT) available to support learning facilitators. "The Learning Facilitators don't have to spend time trying to learn how to use technology. They have CDTs  assigned to them who can help them use technology within the curriculum. They often end up teaching the LF and students at the same time. And of course then students will teach other students and even serve as a support to the LF in the classroom. That's the culture of LUSD – we are always supporting each other in our learning. The Culture Development Team is one of the reasons we've been able to integrate technology so smoothly into our schools."
Future Focus
Vagt highlighted that as LUSD advances, they are looking forward to online curriculum to help them address two challenges the district faces. First, they would like to expand learning opportunities so that "fast-paced runners at the high school level can start taking college courses. We are in a rural community, and it isn't easy for learners to access college level courses."
Second, they want to better respond to the students who aren't graduating. Vagt explained, "We think technology can help us respond to what Michael Horn refers to as non-consumers. There are students who need to work. We believe that by providing additional opportunities through blended learning, we can support them to complete their diploma with a much more flexible schedule that can accommodate their work requirements."
—
Click here to see an overview of LUSD Blended Learning, and stay tuned for learning about Empower once it is rolled out at Lindsay.