Are Non-Traditional Diplomas and Transcripts Barriers to Implementing Personalized Learning?
CompetencyWorks Blog
---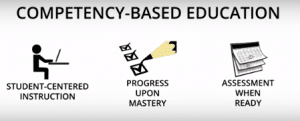 As part of its efforts to build understanding and advance policies to support personalized learning and mastery-based education, ExcelinEd's advocacy of innovation and pilot programs is identifying state policies that hinder full implementation of personalized learning as well as those that can provide better support.
Below is a quick overview of personalized learning, challenges related to nontraditional diplomas and transcripts, and a recommendation for state policy that you can use to engage state policymakers.
WHAT IS PERSONALIZED LEARNING?
Personalized learning tailors a student's educational experience to meet their unique strengths, interests, and needs while empowering students to play a greater role in their learning. Coupled with flexibility in pace and delivery, personalized learning is grounded in the idea that students should progress when they demonstrate mastery of key content and skills regardless of the time spent in class or even where instruction takes place.
POLICY BARRIER
Non-traditional diplomas or transcripts can place graduates from schools implementing personalized learning at a disadvantage when applying for admission to colleges and universities as well as financial aid.
Personalizing learning for students can provide individualized pathways to college and career readiness. And their focus on progression through mastery means that student transcripts may not feature typical elements required for postsecondary admissions applications such as GPA or class rank. (Mastery means just that, after all – not an A-F grade in a traditional high school course.) Despite the benefits of this approach, parents justifiably fear their children's prospects for college admission could suffer or render them ineligible for certain scholarships or financial aid. For educators, these concerns translate into time-intensive efforts to convert mastery-based outcomes to traditional course grades – as well as a broader wariness of exploring more innovative approaches to evaluate student achievement.
RECOMMENDATION
States should pass legislation to ensure fair and equitable access to institutes of higher education as well as scholarships and financial aid for graduates of schools implementing innovative school models and utilizing non-traditional diplomas and transcripts.
Schools implementing personalized learning programs need flexibility in postsecondary admission and financial aid requirements for high school graduates. Providing this flexibility is neither difficult nor unprecedented. Many states already provide such flexibility for students enrolled in home education programs, and institutions of higher education regularly accept non-traditional transcripts and diplomas from international applicants. It's time for states to extend these practices and flexibilities to include students graduating from personalized learning schools or programs.
See also:
---
Karla is the State Policy Director of Competency Based Learning for the Foundation for Excellence in Education. Previously, she served as Special Assistant to the Deputy Superintendent of Policy and Programs at the Arizona Department of Education. Karla also served as the Education Policy Advisor for Governor Brewer and as the Vice-Chair of Arizona's Developmental Disabilities Planning Council. Her experience includes serving as Director of State Government Relations for Arizona State University (ASU) and as a senior policy advisor for Arizona's House of Representatives. Karla received her B.A. from Indiana University and an M.P.A from Arizona State University. Contact Karla at Karla (at) excelined (dot) org.