Best Practices for High-Quality Work-Based Learning
CompetencyWorks Blog
---
This post is the second in a series related to the Aurora Institute's report, Expanding Student Access to Work-Based Learning: Federal Policy Recommendations, which outlines the importance of implementing and incentivizing innovative career pathways and presents a role for the federal government to better support and guide states to carry out work-based learning programs.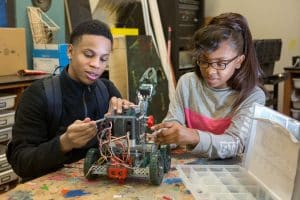 Work-based learning (WBL) is a learning strategy that provides the opportunity for students to gain on-the-job training, develop transferable skills, and apply their knowledge to real-world situations through a partnership with an employer. The first post in this series explored how WBL aligns with components of competency-based education (CBE), including by actively engaging students in the learning process and expanding how students learn to better prepare them for post-secondary learning, career, and life. This post explores evidence-based best practices for designing effective WBL experiences.
Centering Equity in WBL
We know that a student's success after high school is directly correlated to their family's educational background, their household income, and the quality of their schooling, which is largely determined by zip code. High-quality WBL opportunities can play a role in alleviating inequitable access that many low-income students and students of color face.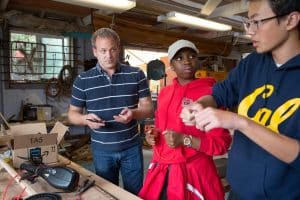 Similarly to CBE, WBL can guide students on personalized, competency-based pathways. WBL prepares students to confidently make informed decisions regarding their futures. WBL does not assume that every student is aware of what they want to do after high school or how they will get there, but instead provides a step-by-step process in which students can explore their interests and future career paths.
For WBL to drive equitable outcomes, it must provide students with experiences that are meaningful and dynamic. Students must be able to connect what they are learning in the classroom to the real world and see how they can make a positive difference with their skills and talents.
What Makes a High-Quality WBL Program?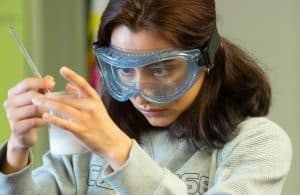 The purpose of WBL is to provide students with the opportunity to develop and advance professional skills and experiences while also supporting students to apply their knowledge and skills in the real world. According to the Brookings Institution, high-quality WBL programs assist students with structuring their networks, building positive relationships with adults, and advancing their social and human capital. The experiences and skills students develop through WBL strengthen their career identity and create a pathway towards their future.
The following list synthesizes research from several reports from organizations leading on WBL. These reports are also at the end of this post for more in-depth reading. For an effective and high-quality work-based learning strategy, the program must:
1. Fit within a continuum of experiences
WBL experiences provide students with career development throughout the span of their K-12 learning experience. WBL programs should include opportunities for career awareness through field trips and tours, career exploration through job shadowing, and career preparation through skill application in internships.
2. Be equitable to all students
WBL experiences must be accessible to every student regardless of race, identity, ability, and socioeconomic background. To alleviate financial challenges that could prevent students from participating, on-site WBL experiences, such as internships and apprenticeships, should be paid. This allows for students who would otherwise need to be employed to still have an opportunity to gain income.
3. Promote student choice and autonomy
Students should have a choice in the industries they want to explore and their worksite locations. Developing individualized learning plans and identifying career goals allows students to show leadership in their learning. During the program, students should receive support both from the school and workplace to realize career and personal growth.
4. Create collaborative WBL ecosystems
WBL is multidimensional and requires an in-sync collaboration between educators, employers, and the community. All partners should have a clear understanding of their roles and responsibilities throughout the program. Partners should remain engaged with one another to ensure a successful program.
All members of the WBL ecosystem must receive proper training and support to carry out a successful program. Appropriate planning requires identifying methods of communication to foster a collaborative partnership and program.
5. Have clearly defined measurements
For WBL to be effective, there should be clear definitions of goals, expectations, and procedures to help guide and support the WBL ecosystem in carrying out the program. Measurements must identify what makes a WBL program successful and track student progress throughout the program.
6. Provide quality work experiences
Internships must offer high-quality experiences and make a student's investment into the program worthwhile. Students should engage in work experiences that offer hands-on experience and expose them to real-world situations. The work experience must be safe, legal, and comply with federal regulations. The tasks given to the students should be meaningful and contribute to the student's skill development and overall learning plan.
7. Help participants develop transferable skills
In high-quality WBL, students learn skills that are applicable to the classroom, their personal lives, and the workforce, regardless of industry. In the workplace, learning experiences should build on the school-based curricula, which should create a foundation for, support, and reinforce the academic and career skills gained during those experiences. Because of this, students can see how what they learn in school can be applied to real-world situations.
Work Based Learning Ecosystem
Successful WBL experiences are dependent on the strength of what Getting Smart and GPS Education Partners call the Work-Based Learning Ecosystem, composed of educators, employers, the community, and intermediaries. Collaboration within the ecosystem is crucial throughout the WBL design and implementation process.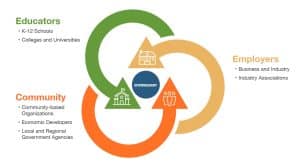 Educators
To implement a successful WBL program, schools must restructure their approach to teaching and learning. Optimally, they would also transition to a competency-based approach. This approach allows schools to accommodate time off campus, have flexibility in learning, and provide personalized instruction for each student to make progress in WBL opportunities (such as earning certifications) at their own pace. Restructuring the currently predominant learning model will cultivate a culture that can nurture WBL programs in schools.
Employers
Employers can support WBL through communicating with schools to determine essential skills students need in the workplace, construct training plans, and deliver on-the-job training. Employers play an essential role in developing successful WBL programs – providing compensation, assisting in defining students' learning and training goals, and facilitating the learning that takes place.
Community
Community-based organizations like regional economic advocacy and workforce development organizations can support the ecosystem by providing information about the surrounding community, such as economic trends and demographic shifts. They are crucial in providing context and highlighting the needs of the community.
Intermediaries
Sustainable and effective WBL depends on effective partnerships between schools and employers. Intermediaries can play a key role by coordinating work opportunities for students and facilitating relationships between stakeholders to increase the impact of WBL programs. Intermediaries often provide support in other areas such as:
Developing new roles for educators to find high-quality placements and supporting students in preparing for and learning in a work placement or taking on these functions directly.
Designing clear competency frameworks for the personal and professional skills students are developing in their internships.
Intermediary organizations can also play an essential role in implementing equitable WBL. For example, the Boston Private Industry Council is a part of a larger initiative led by the Massachusetts Department of Elementary and Secondary Education. The organization strives to connect students from marginalized communities to robust economic opportunities and access to social capital. They support students through professional development and career exploration activities, such as resume workshops, mock interviews, career panels, and job shadowing. Over the course of 40 years, 87 percent of BPIC's career opportunities were filled by students of color, which shows their commitment to serving traditionally underserved students and their intentionality in building their program.
Conclusion
WBL is an educational strategy that aligns with CBE and can provide answers to the inequities within education that prevent students from pursuing career options due to their lack of opportunity. WBL helps students develop into well-rounded learners, and can support students in making an impact within their communities. For WBL to be effective, the programs must be of high quality, supported by a sustainable ecosystem, and committed to advancing equity.
Learn More
Read the reports about WBL used in this blog post:
Read the blog posts in this series: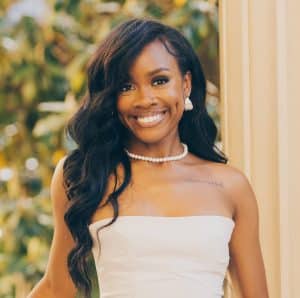 Khamiah Alderman joined the Aurora Institute as an intern with CompetencyWorks in January 2023. She is a recent Public Policy graduate from the University of North Carolina at Chapel Hill. She is passionate about educational equity and is working to better the education system for all learners, regardless of race, gender, religion, and ability.
She currently serves as the Youth Program Manager for the Center for Racial Equity in Education in Charlotte, North Carolina. In this position, she is building a program dedicated to developing leaders who are informed and empowered to act locally at their schools and at the district level. In the past, Khamiah served as a research assistant for professors at UNC-Chapel Hill where she gained valuable research experience grounded in education equity, intersectionality, and African American history. She hopes to continue her work to transform the education system to be accessible for all.