Increasing Access to Work-Based Learning: Federal Policy Recommendations
Education Domain Blog
---
Today the Aurora Institute released the report, Expanding Student Access to Work-Based Learning: Federal Policy Recommendations. The report outlines the importance of implementing and incentivizing innovative career pathways through work-based learning (WBL) and presents a role for the federal government to better support and guide the creation of WBL programs.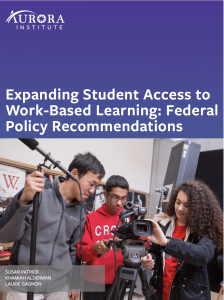 WBL is a tool with the potential to transform education through its emphasis on real-world learning. Within WBL programs, students gain exposure to industries through field trips and workshops, explore career interests through job shadowing, and demonstrate skills through internships or apprenticeships. WBL can be integrated into flexible, competency-based pathways that prepare learners with the knowledge and skills they need to navigate post-secondary opportunities with confidence. As discussed in the report, supportive federal guidance and policy plays a key role in developing and sustaining WBL pathways. This blog post highlights the report's federal policy recommendations and examples of what successful WBL programs look like in practice.
Federal Policy Recommendations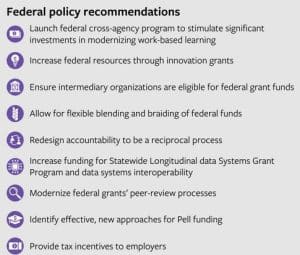 The federal government plays an important role in shaping WBL, even though the nexus of the work is done within state and local contexts and depends on the economic opportunities and needs of different geographic regions. There is an opportunity to use federal policy to provide guidance and incentives to states and localities to leverage federal resources effectively and equitably. The Aurora Institute offers the following federal recommendations to advance WBL:
Launch a major federal cross-agency program to stimulate significant investments in modernizing WBL through grants focused on innovating state and regional WBL and competency-based pathways programs, including paid work placements, that span PK-12, CTE, post-secondary education, and industry/workforce. Special attention should be paid to systems that include competency-based credentials and micro-credentials that recognize and validate learning anywhere, anytime and the need to bridge these systems with institutions of higher education.
Increase federal resources through innovation grants to states and intermediary organizations to align and coordinate transformation efforts across education and employment pathways in states. This includes:

Expanding equitable access to WBL by race, identity, disability, or opportunity (such as students who are disengaged or behind in attaining credits).
Supporting states moving to competency-based systems for education, workforce training, and credentialing.
Incentivizing creating competency frameworks and the infrastructure needed to support competency-based pathways for building knowledge and skills.
Incentivizing mapping system alignment across early learning, PK-12 education, CTE, post-secondary education, and workforce to support competency-based pathways.
Supporting development and implementation of high-quality professional learning for educators and WBL providers.

Ensure intermediary organizations are eligible for federal grant funds to support WBL and pathways to coordinate partnerships across state, regional, and local entities.
Allow for flexible blending and braiding of federal funds into state, regional, or local innovation revolving funds and provide more flexible reporting for blended resources. Consider simplifying, combining, and/or allowing recipients to combine existing funding sources, such as within WIOA and Perkins V, to reduce silos and focus federal funds to increase their impact.
Support redesigning accountability to be a reciprocal process with Elementary and Secondary Education Act pilots to support performance frameworks codesigned with local families, workforce, and community that may include paid WBL integration and career exploration.
Increase funding for the Statewide Longitudinal Data Systems Grant Program and data systems interoperability across different aspects of the education system (including early childhood, PK-12, and post-secondary education) and across other education and employment systems. Data systems support pathways and learner education and employment records, offer technical assistance for improving and moving to competency-based credentials, and modernize data infrastructure needed to transform education systems. Additionally, removing the ban on collecting data on student outcomes in the Higher Education Act could help to create a secure, privacy-protected, student-level data network at the National Center for Education Statistics.
Revamp and modernize federal grants' peer-review processes to support innovative approaches to reimagining lifelong learning systems.
Continue and evaluate the Experimental Sites Initiative for the Federal Work-Study Program to identify effective, new approaches for Pell funding, including dual enrollment and competency-based education. Increase the maximum Pell Grant award amount and provide more funding for WBL internships, such as through the Federal Work-Study Program. Extend Pell Grant eligibility to high school students taking college courses while still enrolled in high school programs to help scale proven solutions for increasing access to and completion of post-secondary education.
Provide tax incentives to employers supporting WBL.
State and Intermediary Examples: Leading the Way to Implement High-Quality Work-Based Learning Programs
States and local governments can reimagine education to be flexible and designed around relevant learning rather than measuring education in seat time with one-size-fits-all classroom instruction. A key step is to recognize the need to transform education so that all students have access to diverse, high-quality pathways that effectively prepare them for post-secondary success. The following examples spotlight innovative WBL efforts by states and intermediary organizations that can inform federal policy directions and opportunities to expand federal investment in WBL.
ALABAMA – Braiding funds to create competency-based pathways that connect education and workforce. Through the Alabama Career Development Model, Alabama developed a continuous learning system with competency-based pathways in PK-12 education, CTE, post-secondary education, and the workforce. State leaders are developing in-demand career pathways that align workforce development programs—such as industry-recognized and registered apprenticeships through the Alabama Office of Apprenticeship—around the attainment of valuable credentials, post-secondary credits, and WBL experiences.
DELAWARE – Breaking down silos between youth, educators, and employers for sustainable access to pathways, with cross-sector collaboration and braided funding streams. Delaware leverages federal, state, institutional, and private funding streams to support high-quality career pathways through an initiative called Delaware Pathways, a coordinated effort between education and workforce development systems to connect students, educators, communities, and employers. Starting as early as exploration in the middle grades, Delaware Pathways builds on traditional CTE programs to create true school-to-career pathways. These pathways respond to the economy's changing needs and allow students and adults to successfully pursue their education and career goals.
CAREERWISE COLORADO – Modeling WBL innovation and leading the way for youth apprenticeship. A leader in youth apprenticeship, CareerWise Colorado is one of two learning hubs in New America's Partnership to Advance Youth Apprenticeship (PAYA) network. It offers more than a dozen occupational pathways that lead to high-paying, high-growth careers in fields such as advanced manufacturing, business operations, financial services, education, health care, and information technology. Apprentices earn a wage while receiving hands-on work experience, an industry-recognized credential, and/or college coursework credit.
FUTURE FOCUSED EDUCATION (NEW MEXICO) – Responding to the need for paid WBL for high school students. In New Mexico, high school students struggle to contribute financially to their families and stay in school, resulting in too many youth dropping out of school to work, but without good prospects. Future Focused Education (FFE) serves as an intermediary to develop paid WBL opportunities for high school students through its X3 Internship Program in Albuquerque. The program started as a pilot program in 2017 with five interns. As of spring 2023, it has provided 1,033 placements in paid internships.
Conclusion
In the context of rapid change in education and the workforce, policy makers need to take a long view on the future of education and work. The system needs to be reorganized to build knowledge and skills in the midst of changing trends, with more aligned structures, incentives, and support for learner-centered pathways.
To facilitate this systems change, policy makers will need to support expanding WBL through pathways that accelerate successful outcomes and invest in systems change to drive the complex coordination and the competency-based education and employment infrastructure required to make expanded, aligned pathways possible.
We must challenge mindsets and investments that perpetuate tinkering with the existing system, rather than reimagining it. To ensure all learners are prepared for life's uncertainties, as well as a more knowledge-driven workforce and economy, we must restructure the education and workforce systems to universally recognize anytime, anywhere learning and support pathways for equitable futures. The time is ripe to redesign education to align with future needs and purposes to achieve human flourishing.
Read the Related WBL Series on the CompetencyWorks Blog