Blending Toward Competency: A Closer Look at Blended Learning in New Hampshire
CompetencyWorks Blog
---
Originally posted May 21, 2014 at

Christensen Institute.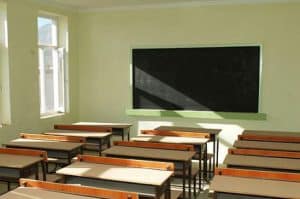 Blended learning comes in various shapes and sizes in New Hampshire.
In 2007, Exeter Region Cooperative School District (SAU 16) in Exeter, N.H., applied for a statewide charter to launch the Virtual Learning Academy Charter School (VLACS), New Hampshire's first fully virtual charter school. Steve Kossakoski, the district's then assistant superintendent for technology and research, took the helm as CEO of VLACS in 2008. Under Kossakoski's guidance, VLACS has grown into the leading competency-based online course provider in the state. VLACS students move through online courses at their own pace, and the school has implemented competency assessments that require that students not only complete coursework, but also demonstrate mastery of each competency associated with a given course.
In 2008, in Durham, N.H., Celeste Best, an award-winning science teacher at Oyster River High School, noticed that her students lacked ownership of their learning. Best decided that instead of teaching all of her students at once, she would assign students to different projects or learning opportunities—either online or offline—depending on how they were progressing through the material.
That same year, in Litchfield, N.H., Campbell High School received a Federal Title-II-D grant to implement technology in its classrooms. But Andrea Ange and Justin Ballou, a library media specialist and a teacher, respectively, at the high school, noticed that the program fell short because the software programs they purchased were not user-friendly. As a result, the two decided to start their own company, Socrademy, which launched in 2012. Socrademy aims to serve as a personalized learning platform, where students can select and complete competency-based, modular content focused on their passions at their own pace.
What do Kossakoski, Best, Ange, and Ballou all have in common? All four are of course interested in technology as a tool to personalize teaching and learning. But more specifically, all four are operating in a particular policy environment that places a special emphasis on allowing students to advance upon mastery. In 2005, New Hampshire abolished the Carnegie Unit, the century-old metric by which the country has measured academic credit in hours, rather than learning. In its place, the state mandated that all high schools adopt competency-based education models by the fall of 2008. As a result, practitioners like Kossakoski, Best, Ange, and Ballou are in the relatively unique position of considering how blended learning can enhance competency-based models in schools and statewide.
In a paper released today, "Blending toward competency: Early patterns of blended learning and competency-based education in New Hampshire," we take a closer look at how blended learning is enhancing New Hampshire educators' efforts to implement competency-based models throughout the state. This paper is the second in a pair of papers looking at what New Hampshire's bold competency-based policies look like on the ground. In the first paper, we investigated how 13 schools across the state are transitioning away from time-based practices to embrace the flexible pacing, multiple pathways, and performance assessments of competency-based approaches. The second paper, "Blending toward competency," looks at how some of these schools are using blended learning to bolster teaching and learning.
We discovered that among these schools, disruptive blended-learning models appear best suited to support those schools that are pursuing competency-based education. These disruptive models—defined in detail here—include the A La Carte courses, Flex, and Individual Rotation. These models allow students to move at a flexible pace and sometimes allow for various learning pathways to mastery. Other schools that have remained relatively time-based are using sustaining blended learning models—such as the Station Rotation and Flipped Classroom. These models, on the other hand, tend to operate in more traditional classrooms, where students still move at a course-wide pace and are assessed at fixed times.
We also believe that there is an important element of scale to consider when we analyze the role of blended learning in competency-based models. Indeed, two smaller schools in our sample have been able to construct robust competency-based pathways for students without school-wide blended-learning models in place. At these schools, both of which are project-based, teachers assign a variety of materials and projects—online and offline—to students on a one-off basis, depending on students' needs and interests. We hypothesize, however, that in environments serving larger student populations, technology may be a tool that can systematize and scale those teacher and student interactions and assignments. For example, the rapid growth of an effort like VLACS demonstrates the enormous potential of online learning to promulgate competency-based pathways at scale.
These conclusions and hypotheses offer an exciting glimpse into where personalized learning may be headed, and the online tools and school design that might help us reach that vision. We also encourage practitioners from New Hampshire and beyond to share additional insights on the role of blended learning in competency-based environments by contributing to our Blended Learning Universe.
---
Julia researches innovative policies and practices in K-12 education, with a focus on competency based education policies, blended learning models, and initiatives to increase students' social capital.