Buzzing Toward Personalized Learning in Wisconsin
CompetencyWorks Blog
---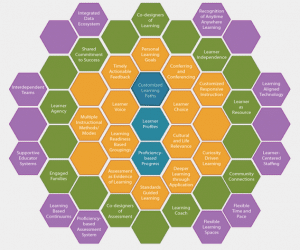 This is the first post in a series on my visit to Wisconsin.
We know there are different entry points to developing a personalized, competency-based system. But what we don't know is whether they all get us to a high quality competency-based system, what the primary features of the system will be, and what the journey might look like. My visit to Wisconsin in the spring suggests that starting with a strong orientation to customized learning paths and proficiency-based progress may help us to leapfrog out of the age-based "covering the standards" approach that so many schools still find themselves in to a learning continuum that provides much more flexibility and the ability to meet students where they are.
It's taken me a very long time to write up my visits to Waukesha School District and Kettle-Moraine School District because of their orientation and approach…and because the way they are organizing their schools is substantially different than what I've seen before. I find that writing about the most innovative models takes me the longest because I don't want to push them into the themes and boxes of my previous understanding. They need to be described in a way that captures their values, framing, and spirit.
The Institute for Personalized Learning, launched by CESA #1, has played a very influential role in introducing Wisconsin districts to the concepts of personalized learning. They define personalized learning as an approach to learning and instruction that is designed around the individual learner readiness, strengths, needs and interests. Their approach to school transformation, 27 Personalized Learning Elements, is fondly known as the honeycomb. Originally, proficiency-based learning was just one of 27 elements of personalized learning. Now it is one of the three core elements along with learner profiles and customized learning paths. Thanks to Jim Rickabaugh, the founding director of IPL and now a senior fellow, and Ryan Krohn, current director, for all their help in introducing me to their approach to personalized learning.
The Personalized Learning Honeycomb
Starting with 27 elements is a lot to make sense of, but IPL has organized it with four levels that you can use to get your head wrapped around it:
The assumption is that a school can start anywhere to begin the transformation to personalized learning and that eventually, all three of the core elements have to be put into place. IPL thinks of three stages of implementation: getting started/design; implementation/revision; and expansion/systemic change. Districts and schools know that when they start with one or two of the pieces of the honeycomb that the work isn't done until they are fully implementing across the four types of components.
Similar to LEAP's framework and the Nellie Mae Education Foundation's definition of student-centered learning, IPL has incorporated competency-based or proficiency-based progressions into the overall definition. I've been slow to write about this only in that I have been watching and listening to see if inserting competency education as one of many elements of a broader definition, especially when describing it as part of the instructional model, is going to take us to a very different place than the competency-based culture and structure that we focus on at CompetencyWorks.
We certainly don't know the answer to that yet. However, based on the work in Wisconsin, its safe to say that the framing of the three core components has lifted schools quickly out of the trappings of delivering curriculum based on age and into a much more flexible structure that enables teachers to meet students where they are, opens up the opportunity for co-design for students, and challenges many of the rituals and routines of traditional schools. I'll describe this in the forthcoming articles on Waukesha and Kettle-Moraine.
At CompetencyWorks, we've documented the process that many districts, informed by the Chugach School District and the Reinventing Schools Coalition, now at Marzano Research Labs, have used (See Implementing Competency Education in K-12 Systems). Great Schools Partnership is generous with its materials that describe its approach to helping districts make the transition to proficiency-based learning. The IPL's honeycomb approach definitely offers another meaningful strategy for change. After sitting with the honeycomb for a while and reflecting on my visits to Waukesha and Kettle-Moraine, it's clear to me that it is very important for our next steps going forward to better document these approaches and others – their entry points, their journeys and missteps, and what the models look like after several years of implementation.
(If your organization has developed an approach to guide other districts and schools to personalized, competency-based education and you are willing to share it with others, please let us know. We want to make it easier for districts and schools to learn about different approaches so they can select the one that is right for them.)
You may be interested in the following resources: