Casco Bay High School: We Will Shape our School by our Learning
CompetencyWorks Blog
---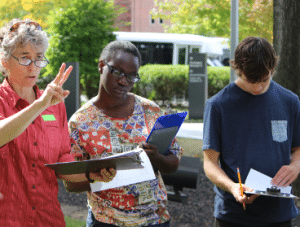 This post is part of the series Road Trip to Maine. This is the fourth of a four-part look at Casco Bay High School. Read Tips and Takeaways (Part 1), Learning as Exploration (Part 2), The What and HOW of Learning, and We Will Shape our School by our Learning (Part 4). 
As is the case with everything at Casco Bay High School, the system of supports is designed around making sure every student can participate in support (i.e., access). It is designed to be meaningful whether you are a student learning English, have an IEP, are struggling to get a "meets" (i.e., proficiency), or are generating a 4.0 in the academic grades by constantly producing work that gets an "exceed." Support doesn't happen once in awhile – it is embedded throughout every part of the Casco Bay High School experience.
Several staff members mentioned that "we shape our school by our learning." That seems particularly true as I pull together all the different strategies they mentioned to engage and support students to ensure they are making progress:
Crew: Every student is in a Crew they stick with throughout their high school experience. The design of Crew is to have a team of people who are dedicated to your success and will have your back if you start to stumble. This is a very powerful strategy that unleashes the leadership of the students to wrap another layer of support around their schoolmates. The advisors in Crew monitor how students are doing and set up conferences early enough in the year so there is time to make adjustments as needed.
Student Support Team: Grade level teams review student progress to see how students are doing across the disciplines and make adjustments as needed. The student support team meets with grade level teams when a student is identified as having some troubles. They review the discussions about the student, see what has been tried, identify the concerns, and then engage parents and students.
Academic Support: The schedule is organized so that students have approximately three hours per week of extra support. It's not a random study hall – teacher teams are assigned to about 100 kids who need extra help. For those excelling in school, there are organized efforts as well as book clubs in the ninth and tenth grade for kids who can't get through enough books fast enough.
Block 7: Need more support? Every day after school is a time set aside for students to get extra help.
Extra Time: If students have a 3 on the Big 3 Habits of Work (attendance, homework, and deadlines) they have free access to extra support. If their HOW is less than 3, there is a sliding scale. Casco is never going to turn a student away, but they want to have logical consequences.
Mud Season: In March, students have two three-hour sessions to spend more time on topics that are difficult for them.
Summer school: Casco offers a "trimester" for students with a 2+ at the end of the third trimester to provide more time to get "meets" on the specific standards they are missing.
There are also three other strategies I would mention:
Investing in Maturity and Intrinsic Motivation: Each year, students participate in expeditions and other rich life experiences that build a sense of community in Crew, expose them to learning new skills (kayaking, swimming, making videos), and take them to different parts of the country. These all create experiences beyond academics that students can reflect upon and use to understand themselves in new contexts. They also widen students' horizons, pique their interests, and connect their learning to the real world. Through these processes, they develop motivation that is deeply personal to their lives and their unfolding futures.
Heterogeneity: All classes are heterogeneous in terms of skills, with the literacy skills of students stretching from third grade to post-secondary in any given classroom. There are no honors classes. (There are, however, AP Environmental Science, Literature, and US History. AP courses are open to all juniors and seniors who want to give it a try.) Any student can do honors-level work in class, which is reflected in scoring between 3.25 and 4. As one student explained, "The grading system helps me push myself because there is always something I can work toward and I am not stranded getting 100. I can revise to push myself to exceed." Another said, "If I can get a 'meets,' then I have the confidence that I can get an 'exceed.'" A third jumped in with, "I like the rubrics because they show you exactly what you need to do and where you need to be to get the grade that you want. We all know the teacher's expectations and it gives the student a lot of power to reach that 4 when you know what is expected of you."
Another student commented on the heterogeneous classes with, "Teachers want to make sure students are meeting standards. If you miss class, teachers help kids meet the standards. If you want to exceed they will help you do that as well. Recently I've learned that being in a mixed class, I've become a better student because I learn the material well enough to help other students learn. Being in honors doesn't mean that I'm better, it means that we are coming from a different place."
HOW: There is a very intentional strategy to use HOW to help students achieve and build the skills to be independent learners. They also use the HOW to get across the idea that learning never ends. To meet the HOW standard of "reads regularly," summer reading is expected of all students. Casco's strategies also include how to help students with lower HOW scores, including helping them see that they are empowered to change their own behaviors and setting shorter time frames to help them build up the stamina in HOW.
This is such an important part of their overall design that I will dig into this in more detail below.
The Power of HOW for Struggling Students
Derek Pierce, principal at Casco Bay High School, explained that using HOW makes a huge difference for students with IEPs or are ELLs. They may be making adequate progress given their disabilities or language background, but it isn't the same as meeting the general standards. The HOW grade is a way for rewarding them for really hard work, persevering, and doing their best. He noted, "We want the grading system to reward students for doing their personal best even if they aren't at grade level. Our system reflects their progress and their HOW."
He then began to talk out how students have different trajectories. In general, students from Somalia may not be literate in their native language or English as compared to those from Burundi, who are often highly educated but don't know English. The students have different trajectories based on the levels of education they arrive with when they enter Casco. The current system of four years of high school creates inflexibility, as it usually takes seven years to become fluent in another language. The combination of HOW grades and also seeing their progress in learning English can be helpful to students on very steep trajectories.
In general, nearly 100 percent of students are accepted at college at the time of graduation. Pierce was candid, "We aren't at the 'without remediation' stage yet. So some kids can stay in school longer but there is a cultural stigma that is hard to break through." Furthermore, up to now, Maine state policy has only considered the four year graduation rate, discounting students who graduate later on.
Pierce pointed out, "Kids don't say, 'I'm so stoked to make this standard today.' They come to school because people care, there is meaningful and relevant curriculum, and clear learning targets. We need to offer great teachers and engaging curriculum." He then expanded, "For students below grade level, we have to get to know them really, really well. We want to know what motivates them because they are going to have put in extra work and time to catch up. We will customize a path for them. The bottom line is that they need to feel loved every day so that they are willing to put in some extra work every day."
There are, of course, students who are getting less than a 3 on their HOW. Pierce explained that they use a different set of responses and interventions for them. "We are constantly saying that they can get a 3 on their HOW – it is in their control. We also create shorter time frames so they can see success – can they come to school every day for a week? Can they do their homework for two weeks? It takes a month to create a new habit, so we help students build up to it. The most important thing is that we don't penalize or shame. We keep the focus on getting the work done."
– – –
Staff at Casco Bay High School describe their school as "under construction" because they are always trying new things. As they seek to find ways to get every student ready for college without remediation, I am sure we will be hearing about new ways to provide additional support.
See also: